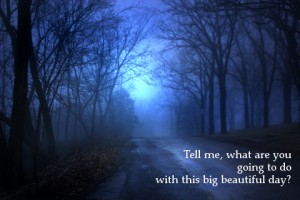 February 2012 Blog
BlessBack, This Dream Made Real
" … there should be long obedience in the same direction;
there thereby results, and has always resulted in the long run,
something which has made life worth living."
— Friedrich Neitzsche, Beyond Good and Evil
February, 2012
I am sitting here, like I do most daylight hours, trying to create a worthwhile combination of words — words that will evoke meaning and emotion. Words that will make someone's life different, if only for one hour.
Seems like I have sat here for years, typing in the same direction, trying to make that happen.
But today, the result of the "long obedience" Nietzsche talked about, has happened for me. The result came in four ten-pound boxes delivered to my door by a man in a brown jacket. He wanted to know what was in the boxes because they were heavy.
"Inside those boxes is a dream made real," I said. "They are copies of a book I have worked on for years."
This journey to publication has been anything but a solo accomplishment. It is the result of perseverance to be sure, but it also the result of the Divine putting me into situations to listen and tell other people's incredible adventures.
When I wanted to stray from or abandon this project, many people helped provide encouragement and direction to keep me going on the long publication path. Thank you. You were coaches when I needed one and helped me get to this day.
I hope you enjoy BlessBack. Let its pages help you rediscover how much of a life you've truly made for yourself. Open the pages of your good life and you'll uncover a life and many people who have passed through it, who are worth remembering. Let this book be the catalyst for positive change and a joy-filled life.
Until next time,
Julie
Julie Saffrin is the author of numerous published articles and essays. Her latest book, BlessBack: Thank Those Who Shaped Your Life, explores the power of gratitude and offers 120 creative ways to journey toward positive, lasting change.