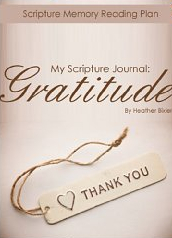 For my summer devotional read, I am using My Scripture Journal: Gratitude by Heather Bixler and enjoying it. On July 17, 2012 this book is available on Amazon for free. Click here to download it instantly!
My Scripture Journal: Gratitude's format is so simple that it might cause one to consider it trite or maybe even not worth the time. But if you are looking for a short guide that allows you to explore Scripture, one that does not spoon-feed you answers, then this book/journal is for you.
Benefits of this guide:
First, the format is easy to do. Bixler makes it clear the key to retention of Scripture memorizing is repetition. I agree. Bixler has seven different activities, one per day, to help us improve our chances of doing so. Though Bixler's guide is designed for an 8-week study, I chose to do it in days rather than in weeks. I wanted to delve into Scripture more than I wanted to memorize.
Second, Bixler's study puts one in a contemplative mood. For me the two most beneficial parts to this study are Day No. 5, which asks you to read a chapter in Scripture, and the Discussion Questions. With each Scripture verse and chapter I read and studied, new revelations came. One version of Scripture of Psalm 71, "Put your ear to the ground and listen, give me space for salvation," had me investigating the phrase "put your ear to the ground." I found fascinating stories of people who had done this and what they heard. One story, in Iceland, people put their ear to the ground and heard Lake Kleifarvatn draining. I wrote a paragraph about gratitude and how importance listening is. For when we listen as though our ear is to the ground, we're focused, looking for that something in being grateful, that no one else is seeing or acting upon. Bixler knows the power of contemplating Scripture and I am so glad she has us explore it in this way.
Third, this study can be done individually or in a small group. I chose to do this as a self-study, but this study would work very well meeting a friend once a week to discuss or with several women.
Lastly, Bixler's study works to train your brain to think about gratitude in fresh new ways. Scripture tells us that when we read it, we will be changed because we did so. When I stilled myself and I worked my way through these lessons and allowed the Holy Spirit to work on my heart, I received some wonderful, personal insights about gratitude. I loved that Bixler just simply guided me through this. My responsibility was to give myself the time and quiet to allow God to speak to me, which is Who I want to take direction from.
What you'll want to have near you as you work through Bixler's Scripture Journal.
1. A Bible.
2. A journal or spiral notebook to use as you work through this.
3. Three versions of Scripture. I downloaded the YouVersion® app for my phone but something like Bible Gateway would work just as well too.
4. Post-it® notes for you to place around your home.
To purchase Heather Bixler's book, click here.
To purchase the paperback version of BlessBack: Thank Those Who Shaped Your Life, click here.
To purchase the e-book version of BlessBack: Thank Those Who Shaped Your Life, click here.
To follow BlessBack's Facebook Fan Page, click here.
To follow BlessBack @blessback on Twitter, click here.
[pinit]
Julie Saffrin is the author of numerous published articles and essays. Her latest book, BlessBack: Thank Those Who Shaped Your Life, explores the power of gratitude and offers 120 creative ways to journey toward positive, lasting change.