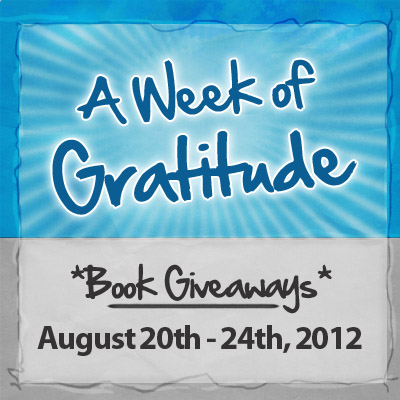 I, along with two other gratitude writers, are excited to bring to you a Week of Gratitude Giveaways, where you'll be able to win prizes, get inspired and more! Join best-selling authors Julie Saffrin, Shelley Hitz and Heather Bixler for some great prizes.
 Monday – August 20 – enter to win print copies of BlessBack®: Thank Those Who Shaped Your Life, by Julie Saffrin.
Wednesday – August 22 – Download a FREE Kindle copy of 21 Days of Gratitude: Finding Freedom from Self-Pity and a Negative Attitude by Shelley Hitz AND enter to win a gratitude journal with thank-you notes.
Friday – August 24 – Download a FREE Kindle copy of My Scripture Journal: Gratitude by Heather Bixler and enter to win a print authographed copy.
Join us this entire week, full of fun, prizes and a focus on gratitude!
Gratitude Giveaway for Monday August 20
 Enter a comment for your chance to win a paperback version of BlessBack®Thank Those Who Shaped Your Life.
Book Description (written by the author):
About 15 years ago, on a particularly blue day, I found myself knowing I was in a funk but not knowing how to get out of it. I was also in a reflective mood, reassessing my life. I went to my bedroom closet and took a shoebox down filled with saved thank-you notes and letters I had received.
I sat down on my closet floor and started reading. Time spilled out as I read saved letters and cards. I spent the afternoon filling my soul with altruistic feelings by rereading these messages of my life and gratitude. I discovered in these letters the great give-get of thanks, both in its ability to validate the receiver's existence as well as to reinvigorate the giver's soul.
Because of my having felt the benefits of gratefulness expressed, I determined to start writing what I call BlessBacks. BlessBacks give thanks backward, where we look into our past and express thanks to those people who were our illuminators. These people helped us take a pause, pivot or advance in our life journey. They are the people who when we think of them we think, "I can breathe deeply here." They can be safe harbors, trailblazers or maybe even foghorns, depending on what we needed or where we were at the time.
My book teaches readers why our memories hold power to create positive, lasting change both in our lives and the world around us. BlessBack, guides readers to reflect, connect with, and thank the significant people who shaped their lives.
With a blend of true stories and research, BlessBack:
Reveals the benefits of why giving thanks matters to you, both mentally and physically, as well as to your recipients
Explores how practicing gratitude creates a cycle of sustained happiness and a transformed life
Offers 120 creative and compelling ideas to help you journey toward positive, lasting change
Who are you thinking about today, that influenced your life? Leave a comment about it and you will be entered into a drawing for a FREE PAPERBACK copy of BlessBack®: Thank Those Who Shaped Your Life!
Julie Saffrin is the author of numerous published articles and essays. Her latest book, BlessBack: Thank Those Who Shaped Your Life, explores the power of gratitude and offers 120 creative ways to journey toward positive, lasting change.