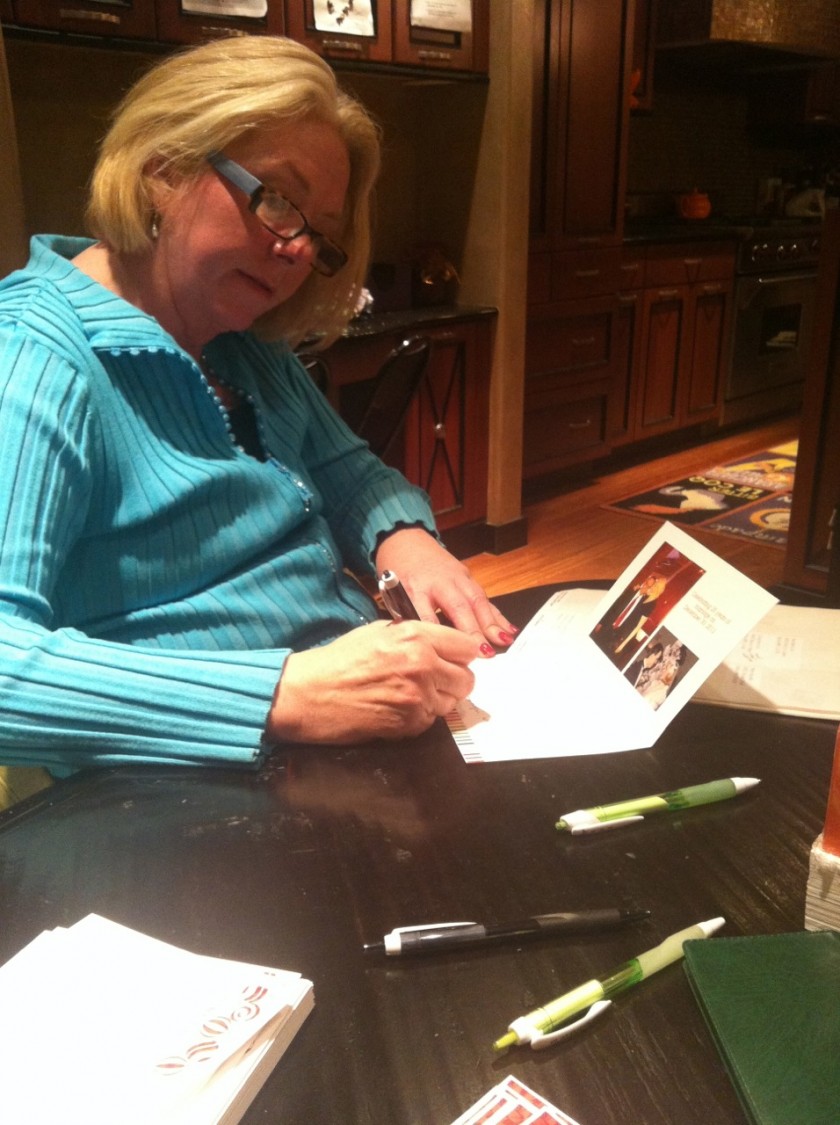 Meet Bonnie McGrath: Writer of 800 Christmas Cards Each With Handwritten Note
EDINA, MN — Think you have a big Christmas card list? You haven't met Bonnie McGrath. Not only will Bonnie send 800 Christmas cards in December 2013, she'll write a personal note in each one.
"For me, it is just very meaningful that I put something in the note that lets the person know how I feel about him or her," Bonnie said. "I feel it's the only time I might have to talk to a person and I want to stay connected."
Seems a lot of us feel that way. As much as we write correspondence electronically, at Christmastime, we like to connect with a postage stamp. For Bonnie that means purchasing $368 in stamps to do so.
According to Hallmark Cards, Inc., Americans flood the U. S. Post Office with 1.5 billion Christmas cards. That's down from a half-billion from the turn of this century, but the number still is staggering. It's just shy of a billion more active Twitter users and beats Facebook users by 4 million.
Shelley Patenaude, product manager for season cards for the company that helps us "send the very best," seems to think we send out Christmas cards because we're a tactile bunch. "Receiving a card says that someone cared enough to pick out a card just for you, hand-write a note, and place it in the mail or deliver it by mail," Patenaude said on the company's website. "Unlike a message that shows up on your computer or mobile phone, greeting cards make a lasting impression. You can display a card on the mantle for all to see or keep it forever as a memento. And with the hustle and bustle of the season, a greeting card provides that moment of peace that's just between the sender and the recipient."
Bonnie feels the same way, which is why she has some self-imposed rules when she sends her cards. As staggering as sending 800 cards may seem, each is a controlled send. If Bonnie doesn't have something to say to a recipient, then she won't send that person a card. "The thing I've learned from doing this is that there were some people who did drop off my list, but that is because I realized the relationship had run its course," Bonnie said. "It doesn't mean that the relationship couldn't reopen at some point. But it used to be that if I knew somebody, it was like I would know that person forever, I committed forever and then I realized that that is not appropriate. This process every year, makes me know who are the people who are really important to me, even if it's only once a year. This really is a meaningful experience for me."
Another rule? "If I don't have time to write a personal note, I don't send it," Bonnie said.
Bonnie's note-writing is not just for Christmas. It is a way of life and is a part of each day. She posts on average six to 10 thank-you notes a week. The art of sending thank-you notes is Bonnie's own distinguishing characteristic. "My mom never sent thank-you notes," she said, "But I always liked to write letters and stationery and pretty pens. When I was young, one of my best friends moved away and at that time long distance calls were expensive and so I would write her as a way to keep in touch."
She discovered that writing letters was a fun way to communicate, and she though she enjoys receiving a thank-you note, she does not have expectation of receiving a letter or thank-you note.
That wasn't always the case. "I used to be judgmental about that and I'm not anymore," she said.  "When I was younger, I'd wonder, 'How come I haven't gotten a thank-you note?' Now it doesn't matter to me. But when I do receive one, I'll think, 'Oh that is so sweet. Just so thoughtful.' But that way of thinking has evolved. I wasn't always like that."
Her way of life has made its impact. Not long ago, she wrote a handwritten note to a businessman in his late thirties. Two years later, that man learned Bonnie was at the same conference as she and made a point to meet her. "I just wanted to say thank you for your note," he said. As he spoke, she remembered her note as being short but personal, thanking him for taking time out of his busy schedule to do a training session for her. She was surprised that he even remembered she'd written him. "You don't understand," he said. "I don't know anyone who writes personal notes."
The act of handwriting a note has made her intentional in thought and forced her to slow down before writing. She said, "I bring extra cards because sometimes when I read my note back . . .there's no erase . . . I can't scratch it out, so I do slow down and I'm more careful."
Big events, little moments of daily life. They all count as a reason for Bonnie to write a thank-you note. "I send little notes for everything."
She has her favorite stationery from Papyrus, but waits until it's on sale to buy it. "I just love beautiful things and I don't know, I don't think people get thanked [with high-quality stationery] very often, so it's meaningful and the card stands out a little more."
As for pens, she's never found an exact one that she always uses, but she does favor the old standby, Bic. "They're nothing special but I buy them in bulk on Amazon. I like ballpoint and I always buy black ink."
A big part of Bonnie's thank-you note writing stems from her love of people. "I'm a people connoisseur. I think people are so fascinating. I love to learn and with meeting people, you learn something new every day."
If you're a people connoisseur, too, and Bonnie's way of life fascinates you, feel free to write her at [email protected].
Who knows what might show up in your mailbox?
Julie Saffrin is the author of numerous published articles and essays. Her latest book, BlessBack: Thank Those Who Shaped Your Life, explores the power of gratitude and offers 120 creative ways to journey toward positive, lasting change.