BlessBack®: Thank Those Who Shaped Your Life
Formats: 232 pages, 6" x 9", paperback: $14.99 US
ISBN-10: 061559305X and ISBN-13: 978-0615593951
Publisher: Ottertail Press
The perfect read for your book club or small group!
Imagine if you and your memories held the power to create positive, lasting change, both in your life and the world around you. In BlessBack® Julie Saffrin guides us to reflect, connect with and thank the significant people who shaped our lives.
With a blend of true stories and research, BlessBack:
Reveals why giving thanks matters to you, both mentally and physically, as well as to your recipients
Explores how practicing gratitude creates a cycle of sustained happiness and a transformed life
Offers 120 creative and compelling ideas to help you journey toward positive, lasting change
In BlessBack®, not only does author Julie Saffrin explore the power of gratitude as it pertains to each of us, but she explores gratitude's power to change the world exponentially.
— Dr. Dwight "Ike" Reighard, co-author of One Year Daily Insights with Zig Ziglar

A perfect measure of inspiring stories and practical advice. Savor each page and you'll find yourself remembering, noticing, and blessing back those who have already blessed your journey through life.
—Jane Kise, Ed.D., author of LifeKeys and Soul Types

An injection of positive inspiration that makes me eager to thank those whom I appreciate from my past and opens my grateful eyes to those who help me in countless ways today.
— Margaret Wakeley, Gratefulness.org

What a beautiful book filled with wonderful ideas on gratitude. BlessBack® is an incredible gift. It teaches, inspires and offers practical, real-world advice on how to extend and expand your appreciation through offering BlessBacks. Once you get reading BlessBack®, it is hard to put it down!
— Leigh Anne Saxe, Happiness Coach and Inspirational Speaker, (www.livinginthemoment.ca), Toronto, Canada
21 Days of Joy:
Stories that Celebrate Mom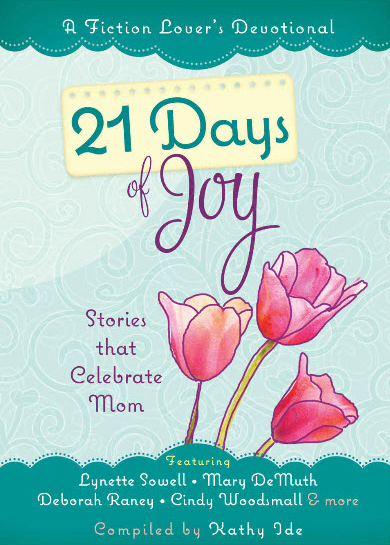 21 Days of Joy: Stories that Celebrate Mom 
Whether you are a mom, have one, or know one, these heartwarming fictional stories will touch your soul and help you see that you are not alone. Julie's story, The Invitation set at the Hotel del Coronado, in San Diego, is part of this book.
Excerpt from Julie's story:
"Plan on walleye for supper unless I catch one worthy of a taxidermist," Daniel told Elizabeth with a wink as he and their twenty-five-year-old son, Tyler, set off for Little Island.
Elizabeth never saw Tyler alive again.
She learned the sketchy details of her son's death frm the water safety sheriff's report. A drunk driver had broadsided their boat, killing her only child….
Julie's story is No. 9 in this compilation of stories.
Formats: 176 pages, 5" x 7", hardcover: $14.99 US
ISBN-10: 1424552273 and ISBN-13: 978-1424552276
Publisher: Broadstreet Publishing Group, LLC (April 1, 2016)
Kissing the Shoreline:
Quotes and Reflections to Live By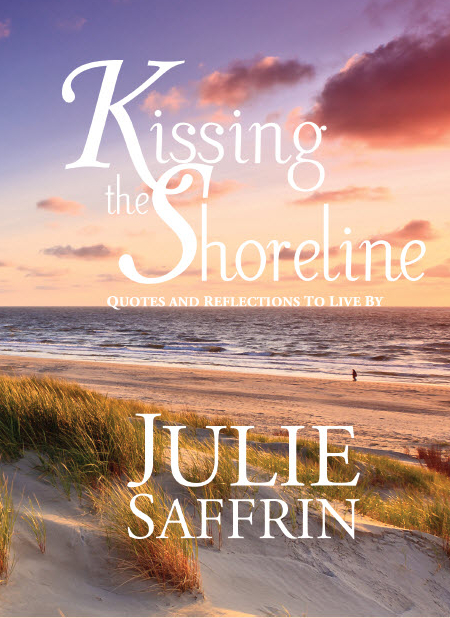 Formats: 122 pages, 6" x 9", paperback: $7.99 US
ISBN-10: 0692244417 and ISBN-13: 978-0692244418
Publisher: Ottertail Press
A Vibrant Collection For the Tides of Life
Open Kissing the Shoreline: Quotes and Reflections to Live By and you will find words that inspire and replenish. Use it when you need to exercise courage, capture fresh insights, and face daily challenges.
"Inspiring, captured promises of a new day." Gloria Plaisted, President and CEO of Son Group, LLC
"A timeless legacy of beauty and wisdom." Joy DeKok, author of Between the Lies and Under His Wings: Lessons Learned While Watching the Birds
Chicken Soup for the Christian Women's Soul:
Stories to Open the Heart and Rekindle the Spirit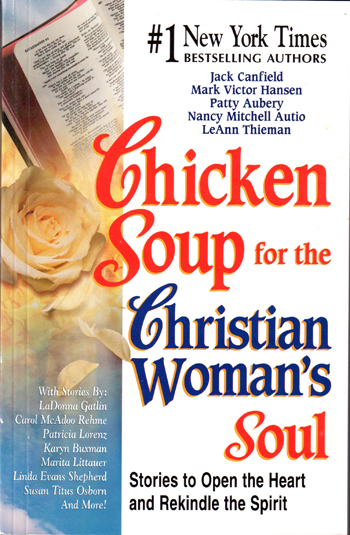 Julie Saffrin shares "Mercy's Time" – a story about God's healing power in this bestselling book.
Christian women who make God and family a priority in their life will love Chicken Soup for the Christian Woman's Soul, an affirming collection of stories that share the miracles that are possible when their hearts are open to God.
This wonderful new addition is filled with compelling real-life accounts of how women from all denominations were buoyed by their faith during incredibly challenging circumstances: amazing women who maintained faith in God's divine plan instead of succumbing to fear and doubt; caring women who offered compassion instead of criticism when others needed help; and dedicated women who chose the righteous path when there was an easier one to take.
With chapters on God's Healing Power, Friendship, Making a Difference, Challenges, A Matter of Perspective, Miracles, Insights and Lessons and The Love of a Family, this faith-filled collection will encourage Christian women to follow Jesus' example on their walk through life.
Like a favorite passage from Scripture, this book will offer hope, support and inspiration to Christian women.
Journeys of Friendship:
30 True Stories of Kindred Connections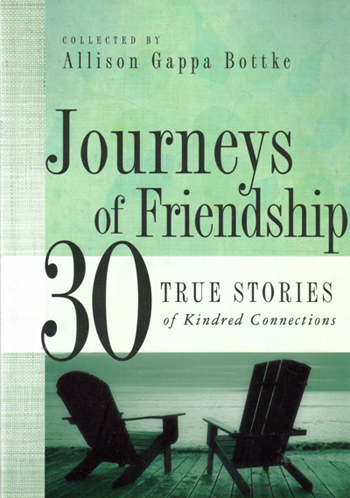 Julie Saffrin is a contributing writer in an encouraging collection of life stories, compiled by Allison Gappa Bottke, of real women who share the joy of kindred spirits and life-changing connections.
Praying from the Heart:
True Stories of Extraordinary Answers to Prayer