Description
This French Happy Birthday Bon Anniversaire card comes with four choices for sending to your recipient.
The front of each card depicts a young woman on her bike with her camera and suitcase, ready for adventure down the road. She is heading toward the Eiffel Tower for her first adventure. This Bon Anniversaire card is designed anyone who knows a little bit of French (Bon Anniversaire = Happy Birthday), loves France, love adventures and wants to send a whimical unique birthday card to a special recipient. It's a card encouraging the recipient to make beautiful dreams on his or her birthday and for the next year.
Card details:
5 x 7 vertical card.
You purchase includes a card that you will choose from 4 different variations, a white envelope, the card and envelope enclosed in a clear protective sleeve and packaged in a sturdy cardboard envelope.
Card Options:
There are four cards to choose from. Please make your choice.
All the fronts are the same image. The only difference is on one of the cards (Card No. 1) the phrase "fais des beaux rêves" appears ON THE FRONT of the card.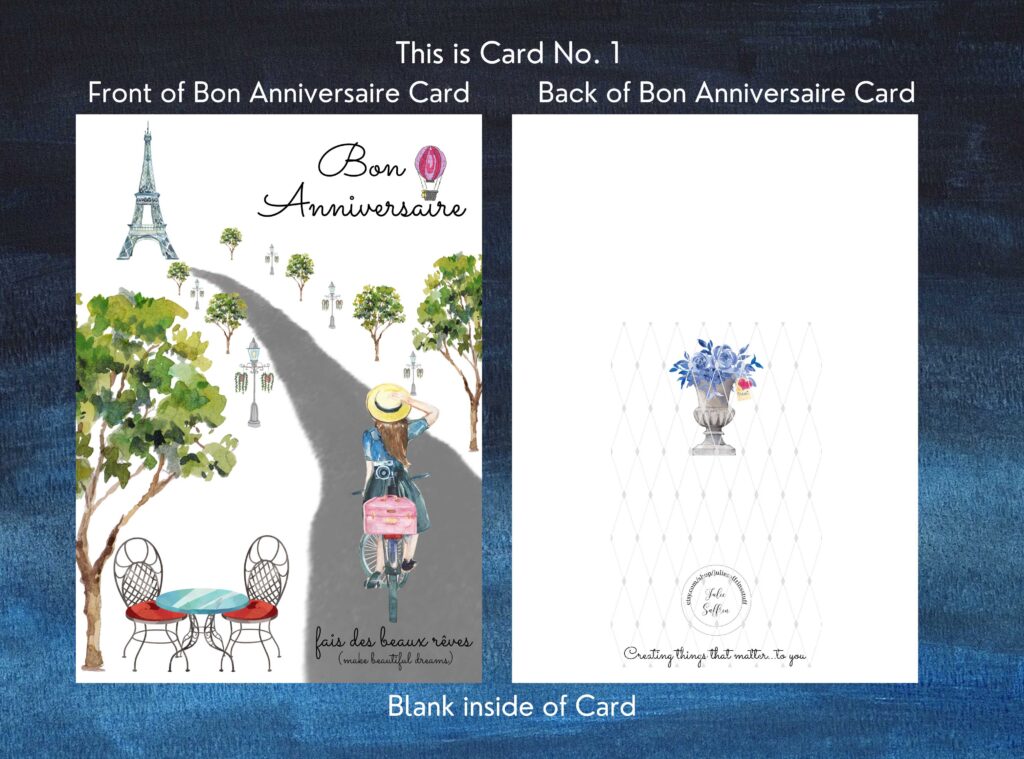 Card No. 1 Words Front: "Bon Anniversaire" and "fais des beau rêves (make beautiful dreams)
Card No. 1 Inside of Card: Left Blank on both left and right sides
Card No. 1 Back: Image of blue flowers in urn and card designer details
Note: Card No. 1 is the ONLY card in the collection that has a blank inside and the ONLY card that has "fais des beaux rêves" on the front of the card.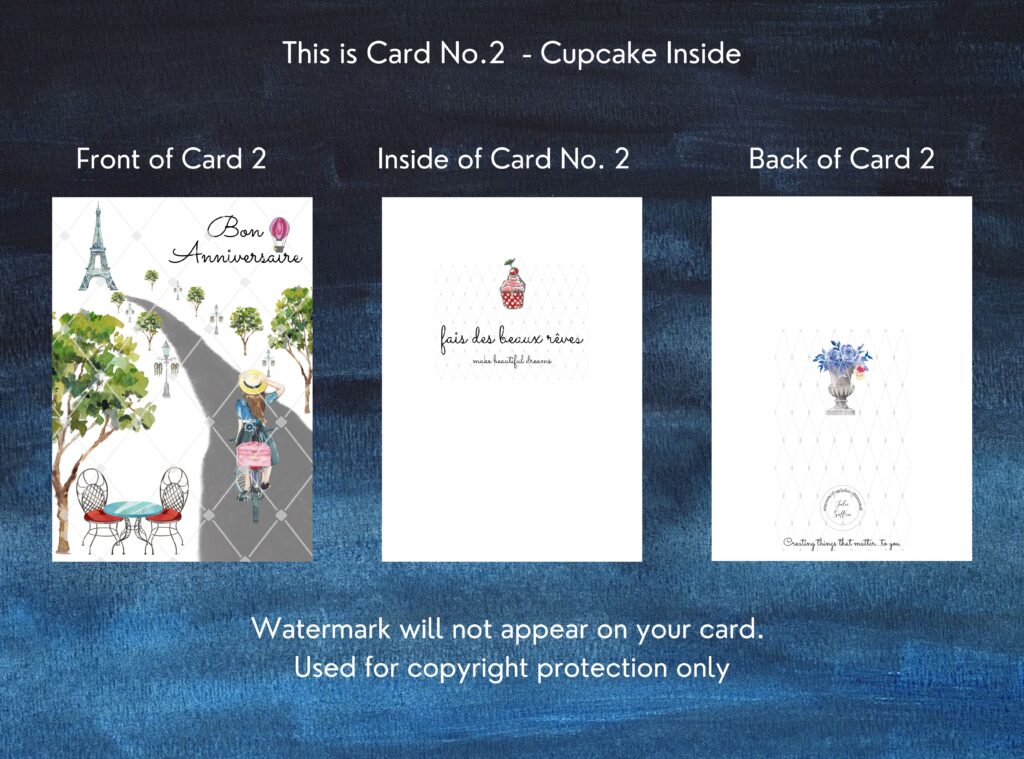 Card No. 2 Words Front: "Bon Anniversaire" only
Card No. 2 Inside of Card: Left side blank. Right side Birthday Cupcake and the phrase "fais des beaux rêves/make beautiful dreams"
Card No. 2 Back side: Image of blue flowers in urn and card designer details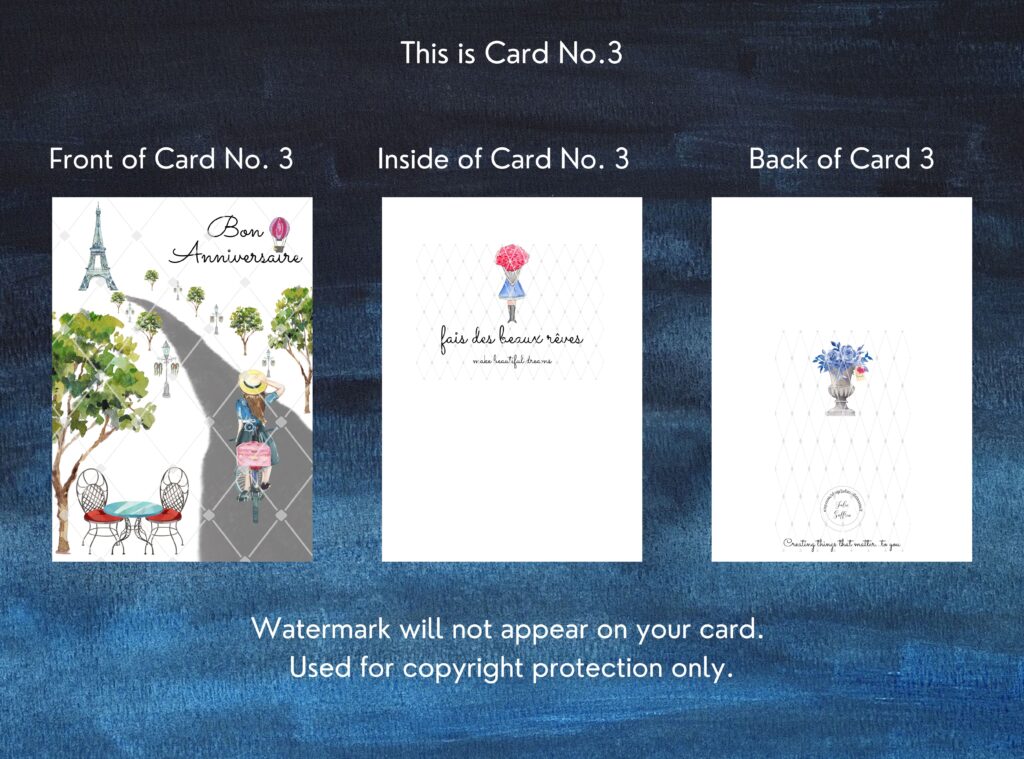 Card No. 3 Words Front: "Bon Anniversaire" only
Card No. 3 Inside of Card: Left side blank. Right side Woman holding bouquet of flowers and the phrase "fais des beaux rêves/make beautiful dreams"
Card No. 3 Back: Image of blue flowers in urn and card designer details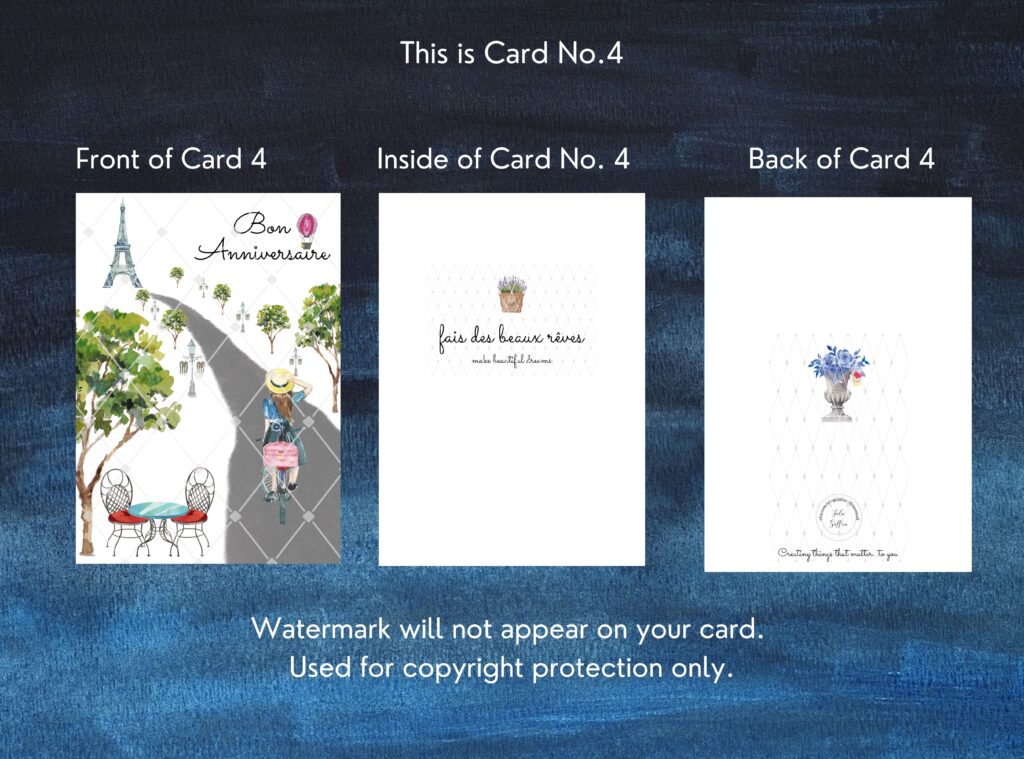 Card No. 4 Words Front: "Bon Anniversaire" only
Card No. 4 Inside of Card: Left side blank. Right side Lavender urn and the phrase "fais des beaux rêves/make beautiful dreams"
Card No. 4 Back: Image of blue flowers in urn and card designer details