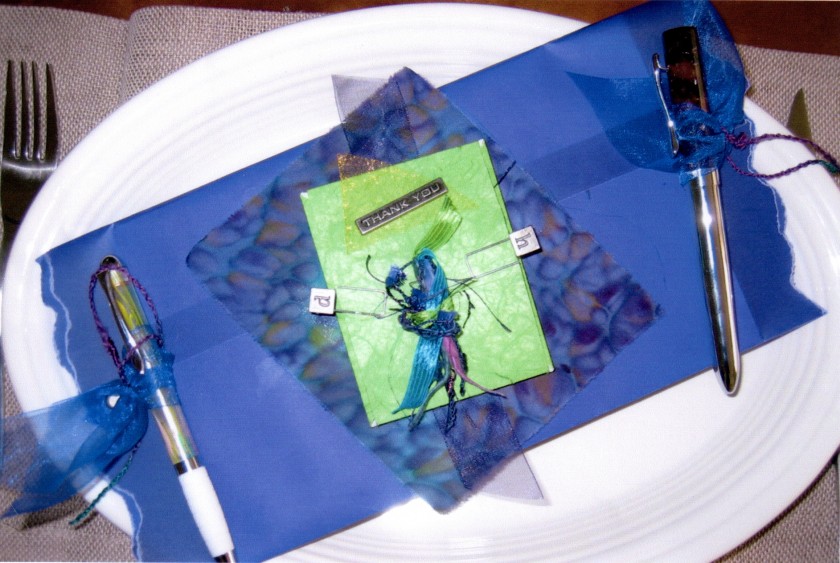 Gratitude can turn a meal into a feast, a house into a home, a stranger into a friend.
― Melody Beattie
BlessBack Dinner, part 2: Hosting a Gratitude Meal
On April 10, I shared ideas for you to thank your life influencers by taking them out to dinner.
For this post, let's talk about ways to host a BlessBack dinner in your home.
Hosting a BlessBack dinner might sound fun and it is. I know some of you will want to unleash your creativity as you plan. For those of you on Pinterest, I have created a board, Spring Fling, which has myriad ideas for creating a beautiful table.
Others of you want to invite your life influencer to your home for dinner, but time and budget require you to make your BlessBack dinner simple. Please, have a sane estimate of yourselves. The point of a BlessBack dinner is to thank those whom I call "points-of-light" people, and to let them know how they helped you become the person you are today. It is not about you, only about your thankfulness.
Keep Roger Miller in mind as you plan: "You can't rollerskate in a buffalo herd; but you can be happy if you've a mind to." You will make yourself happy ― and your guest(s) of honor ― if you embrace the real you as you prepare and host your gratitude dinner. Leave the over-the-top fetes to Oprah Winfrey.
Perhaps my sharing how De Brandt gave a BlessBack dinner can help you. De Brandt held a BlessBack dinner in 2005 after years of wanting to thank her ninth grade art teacher, Mr. Houts.‡ Her teacher had given her a sense of stability, kindness and encouragement during a difficult time when she was a teenager. Now, in her forties, the time have come for De to thank him. She invited Mr. Houts, his wife and several other life influencers, to dinner in her home.
De is a foodie. She's an artist as well and felt comfortable using both aspects of her talent as she planned her dinner. As she prepped for that evening's BlessBack meal, she thought and prayed for the honorees coming. Prized heart-shaped rocks formed a line down the table's center. For each guest, she wrote a letter of thanks and provided them with her handmade stationery as well as a pen so that they could pass along their own BlessBacks. To keep the meal simple, every food item De served she prepared on her grill — down to the chocolate-drizzled bananas for dessert.
As candles burned into the night, the eight people around the table laughed and told old stories. De read aloud her BlessBack letters to each of her recipients. Here's what she wrote to Mr. Houts:
July, 2005
Dear Mr. Houts,
I want to thank you for the influence you've been on my life.
You probably didn't know that during my high school years, my parents had just divorced and my mother, whom my two younger siblings and I were living with, was going through a nervous breakdown. There was no stability in my family, no structure, no rules. Also no recognition or encouragement.
After having received a D+ in Introduction to Art class in ninth grade, I was apprehensive as to my career choice in graphic design.
I had many classes ahead of me, mostly taught by you. But for three years, my favorite place to be was your art class. Your encouraging words and the attention you paid to me and my progress were filling my much greater need for recognition. Without knowing it, you were the only source of positive influence to me during these crucial years.
It was especially meaningful when you would grab your keys and jingle your way over to the special locked cabinets with the "extreme art supplies" in it. What a treat! You'd come back to me with some special art gizmo in your hand that would further my skills or desire in the graphic design field.
Every student in that class felt special as you patiently spent time with them.
Thank you for that "Blessing"!
De Ortiz Brandt
Class of '76
That night, De walked Mr. Houts around her home and showed him the various mediums she had mastered, thanks to his encouragement.
If you would like to host a BlessBack dinner, here are some helpful tips:
1. Call your honorees and explain that you would like to say thanks in a meaningful way by having them to dinner.
2. Ask about food allergies they may have.
3. As you plan, be courteous of your recipients' ages and physical health as well as the time of year and time of the dinner.
4. Prethink the itinerary. You can read your BlessBack letter at any time during the meal. However, if you haven't seen your life influencers in a long time, reading your letters at the beginning of the meal may help generate table conversation.
5. Prethink your menu. Here's one of my favorite meals:
Fruit: Strawberries, raspberries and blueberries.
Meat – Flank Steak Fajitas. Slice the meat across the grain, marinate in lime juice, then grill. To serve, slice against the grain, thinly.
Salad – Greens, cukes, kalamata olives, grape tomatoes, gorgonzola crumbled cheese and Manzetti's Balsalmic Viniagrette dressing (found in the refrigerated section)
Dessert – Key Lime Pie . This is my favorite Key Lime Pie recipe. The only restaurant I've found that serves just as delicious of a pie as this recipe makes is in the Keys at the Zane Grey Longkey Lounge in Islamorada, Florida. I think they replaced the almonds with macademia nuts.
5. If you have memorabilia from your past that relates to your honorees, make sure to gather the items in advance of the dinner.
6. Remember, keep the meal simple. If you do, you're more likely to repeat another BlessBack dinner and you'll pave the way for your recipients to do their own.
7. Either verbally or in written form, express your thanks as to why your honorees are or were of significance to you.
8. ENJOY. Be in the moment.
9. Take pictures of the night.
10. Pay it backward and forward. While the dinner is about you paying your thanks backward to your points-of-light people, provide a BlessBack forward, by providing a takeaway for your honorees so they can tell their thanks to someone of significance to them.
11. Share your story on BlessBack's Facebook Fan Page.
12. Send your influencer a picture of the night.
Until next time,
Julie
© 2012 All rights reserved.
‡De Brandt's story is excerpted from BlessBack®: Thank Those Who Shaped Your Life. Excerpted with permission from the publisher.
BLESSBACK® is a trademark registered with the United States Patent and Trademark office by Julie Saffrin. Any use of this trademark without expressed permission from the owner is strictly prohibited.
Julie Saffrin is the author of numerous published articles and essays. Her latest book, BlessBack: Thank Those Who Shaped Your Life, explores the power of gratitude and offers 120 creative ways to journey toward positive, lasting change.