Today was a surreal day. I went to Harry Driste's funeral in Paynesville, Minn. at Paynesville Lutheran Church. I went to honor and pay my respects to Harry, 101, a favorite janitor from my elementary years at River Ridge elementary in Bloomington who later became connected to our family.
Just before the funeral service began, I met many wonderful people who loved Harry, including his wife, Viola. They married when Harry was 85. "Harry asked the Lord to give us five good years. He gave us 16." His previous first wife to whom he was married for 56 years, Mabel, preceded him in death, as did seven of his siblings.
I also met Harry's older sister, Ellein Flanders, who just celebrated her 105th birthday. She said, "Now that I'm 105, I think I'll start kindergarten again." Here is a picture of them in their teens:
The service was going along beautifully. Pastor Dan Dornfeld officiated. Lovely tributes were given from a nephew, Rev. Bill Taylor of Portland Oregon and a letter from Ray Lindeman, M.D.
Pastor Dan started his sermon by asking, "How do you measure a man's life?" He talked about Harry being alive when the Titanic went down in 1912, having lived through so many wars, that Harry gashed his head while riding in the rumble seat and his parents made him get out of the seat and stand on the sideboard all the way home because he was bleeding profusely (later his head required 17 stitches).
He talked about Harry having survived going through the ice in his car, barely able to free himself before the car sank, his having survived double broken legs when he was 97, his building two homes, his love of fishing and ginger snap cookies.
Pastor Dan then shifted to telling us what we all knew. Harry had a big heart and cared for people. And then, the pastor held up my book, BlessBack. "I hear Julie Saffrin the author is here. Where are you?"
Ah, what? He was talking about BlessBack in a sermon? I was in the back of the church. I put up an index finger.
"I was very moved by this story and think it fits beautifully as to the type of person Harry was," Pastor Dan said. "In it the author tells of growing up in Bloomington …"
I gulped back tears. If you've read my book, you know that BlessBacks have bounced all over the place when it comes to Harry. You can read the story and the circle of BlessBacks between us in my previous post here. I felt a flood of emotions – mortified at being called out in the middle of a funeral, humbled that someone would be moved by a story, so grateful to God and the many people who encouraged me to take this book from an idea to being in print, honored that I had the privilege to know Harry.
As Dan read I could only ask myself, "Am I really hearing correctly? Is he really reading my story about Eraser Man?" And then, I stifled a laugh, smiled and looked up. Harry, you rascal. You just had to have the last BlessBack, didn't you?"
I took back roads on my drive back home. My oldest son, Sam, sent me an image inside a text message. "Wow, Mom. Front page today. Awesome." This was the media image attached: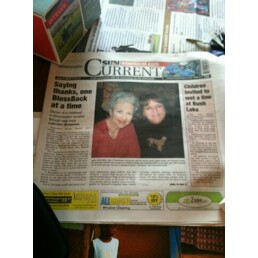 Pat Fatchett and I were on the front page of the print edition of the Bloomington Sun-Current. Blue-ribbon days like this come along only once in a lifetime. This is my day of infamy, one I will treasure for the rest of my life. Two of the finest people I know, Harry Driste and Pat Fatchett, my seventh-grade English teacher, are given tribute for the many Bloomington lives they changed. And Pat … you've written 500 BlessBack letters? You truly are amazing.
I am up at my cabin and haven't held the hard copy of this newspaper yet, but I happen to know Harry's picture is on the inside of the Bloomington Sun-Current, thanks to the paper's editor, Mike Hanks. One more BlessBack for you, Harry. May you rest in peace.
BlessBacks. They really do have the power to change your life. Write to someone – an illuminator – who has made a difference in your life. Tell your illuminator why he or she made an impression on you and changed your life. Most of all, have some fun – you'll be amazed at the positive feelings unleashed when you do. Let the altruistic afterglow empower you to a better life, a joy-filled life of appreciation.
My sincere and heartfelt thanks to Lynn Rhinevault for making the call to Mike Hanks. And to editor Mike Hanks, thanks for writing a great story and seeing the power of gratitude as it impacted Bloomington's people. Thank you to Pat Fatchett and Harry Driste for the wonderful memories. Lastly, thanks to the other many wonderful men and women whose stories are in the book from Bloomington including Inta Hays, Jo Ellen Coleman, Greg Harms, D.D.S., the 88th Street Pussycats, Ted and Barb Koscienski, Bernard and Peggy Bissonette, Kellie Pickler's mother-in-law (and my friend) Sheri Jacobs, Bruce Peterson, Kris Mestad, and Florence Smallfield. I am a better person for having encountered your beautiful BlessBack stories.
Julie
To buy BlessBack: Thank Those Who Shaped Your Life, click here.
To like or to follow BlessBack's Facebook Fan Page, click here.
To follow BlessBack on Twitter, click here.
To send a comment to Mike Hanks for publishing this story in the Bloomington Sun-Current, click here.
Julie Saffrin is the author of numerous published articles and essays. Her latest book, BlessBack: Thank Those Who Shaped Your Life, explores the power of gratitude and offers 120 creative ways to journey toward positive, lasting change.