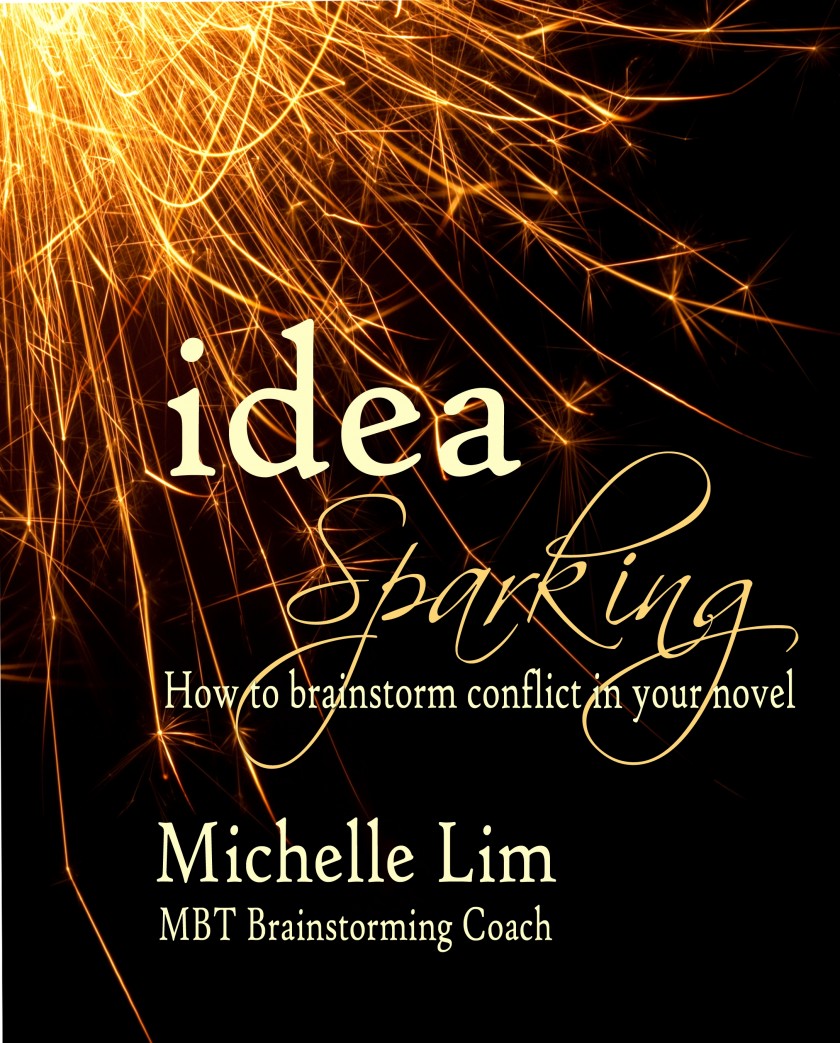 Today Michelle Lim, author of the new non-fiction book, Idea Sparking: How to Brainstorm Conflict in Your Novel, is guest-posting on the BlessBack blog. She is also a romantic suspense author whose manuscripts have earned recognition in The Rattler Contest 2012, the Genesis Contest 2011, and the Frasier Contest in 2010. Michelle is the Brainstorm/Huddle Coach at My Book Therapy, an online book-coaching business.
I reconnected with Michelle in July 2012 at a writing conference in Duluth where she facilitated our time together. I found her twists and schemes inspiring. Her depth of knowledge of how the brain works makes me think she's studied many an FBI file . . . Yes, she's a clever girl. She's a perfect fit in her role as Vice President of the MN N.I.C.E., the Minnesota chapter of American Christian Fiction Writers. Be sure to visit her blog as she's having an incredible giveaway of a Kindle Paperwhite! Her ideas always get my creative wheels turning. Welcome, Michelle.
Brainstorming Ways to BlessBack Those Who Have Inspired Us
Julie, thank you so much for inviting me to visit your blog. I've enjoyed getting to know you through our local ACFW Chapter, Minnesota N.I.C.E. and our last year's retreat.
For those of you who haven't heard, during my Idea Sparking: How to Brainstorm Conflict in Your Novel Tour I'm having a drawing for a Free Kindle Paperwhite. For each different blog I visit that you comment on during my tour, you get one entry. Each day I will post any new tour locations on my blog.
Brainstorming is a fantastic tool for all of us. From thinking up new ideas for Christmas gifts and helping your children with homework, to brainstorming ideas for your new novel.
As so many of you, I have been blessed by Julie's book BlessBack. Brainstorming is my specialty, so in the theme of Julie's book we are going to brainstorm ways to bless back those who have inspired us.
Think back to the times you have been most blessed by someone else. Usually, the individual showed understanding of you as a person. They took the time to get to know a bit about what you might like and added that personal touch to their thoughtfulness.
In completing my book Idea Sparking: How to Brainstorm Conflict in Your Novel I was blessed by many who helped me along the way. One of the more recent blessings came from Colleen Coble as she encouraged me in my brainstorming skills.
I am so thankful for Colleen's big heart for newer authors. As a BlessBack, I would like to recommend her newest book Tidewater Inn. By Page 2 I was hooked with the suspense and I love the romance thread. A great read by a New York Times best-selling author!
So, who would you like to bless black? Here are a few brainstorming questions to get you started on ways you can do that:
What are their favorite hobbies?
In what way did they bless you? Is there something that would signify that blessing?
What encourages them most?
What is their favorite snack?
Is there something they hate to do?
What is something you could offer them that would help them to manage their schedule more efficiently?
Do they have young children?
What is the most creative or endearing bless back someone has given you?
Here is what authors are saying about Idea Sparking:
"I think it's a great resource! I love the way you give examples, offer opportunities for writers to craft out their own ideas."  Lisa Jordan Author of Lakeside Reunion and Lakeside Family
"Michelle recently helped me brainstorm Silent Night, my new Rock Harbor digital novella coming at the end of next month. Her brainstorming prowess amazed me! I loved her new book, especially the chapter on secrets."   Colleen Coble, award-winning author
"Michelle encapsulated some workable, practical, yet energizing techniques to help spark that all-important conflict and tension in our stories. I especially appreciated the buffet of ideas that showed how a combination of tips could bring about a tailor-made solution to a lack-luster character, scene, or plot."   Cynthia Ruchti, multi-published author, speaker, and writing instructor.
Julie Saffrin is the author of numerous published articles and essays. Her latest book, BlessBack: Thank Those Who Shaped Your Life, explores the power of gratitude and offers 120 creative ways to journey toward positive, lasting change.