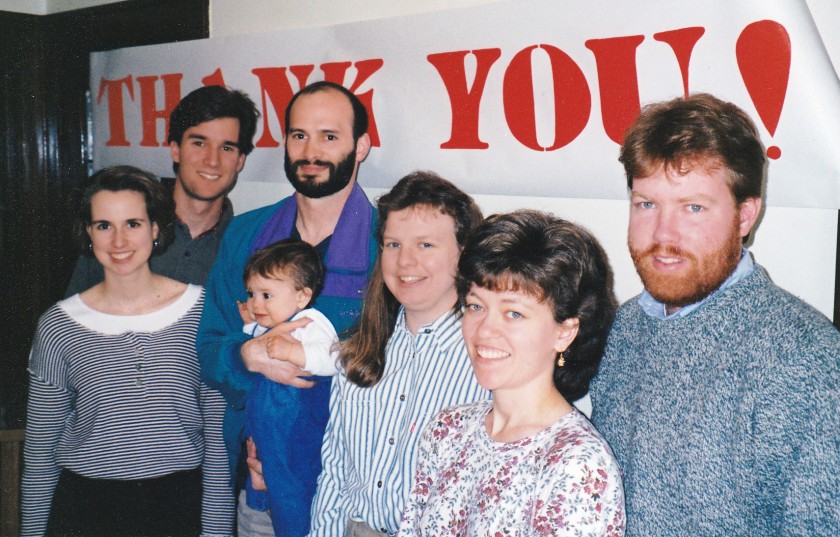 Gretchen Havlicek (pictured above in the striped shirt) works at Faith Point Lutheran in New Prague, Minnesota. She contacted me late in October 2012 to tell me about an out-of-the-blue BlessBack she received. She's agreed to share it on the BlessBack blog. I hope you enjoy reading her story as much as I did.
Julie
A BlessBack From the Past
by Gretchen Havlicek
I noticed that I had a voice message left for me on my phone at the church where I am employed.  The timer said it had come in at 10:30 pm on Friday night.  "How odd for someone to call me at the church at such a late hour," I thought as I hit the play button.  The voice was faint as it began.  I turned up the volume and heard a man with an accent.
Hi Gretchen, this is Nasir.   Hmmm….I'm crying down here…so, basically it's like when you used to work with the World Relief in Richfield, Minnesota…you were assigned coordinator to resettle me and well, it was so beautiful.  I know 20 years, (it's been) 20 years now. I'm just calling to say thank you very much, because of the way that you welcomed me and my beautiful wife.  So thank you. I appreciate you.
The call caused me to sift through memories of my first job 20 years ago.  Who was Nasir?  I couldn't recall.  Was he Kurdish? Somali?  Eritrean?  How I wished I had made a list of all the families I had worked with back 20 years ago.   I'm sure at the time I couldn't imagine that there would ever be a time when I wouldn't remember them.
I was hired as a case manager at World Relief's office in Minnesota after graduating from Bethel College (now Bethel University) with a degree in International Relations.  Two years later, I became the Refugee Resettlement and Placement Director and continued in that position until I resigned in May of 1995.   I was involved with the resettlement of over 300 people a year for each of those five years.
Even as the director, I was involved with nearly every case as our staff was very small; typically just three or four people.  Primarily, we used a network of volunteers and churches to resettle the families.  Volunteer interpreters, English tutors, and job coaches would come alongside new arrivals.  Some gracious volunteers would open their homes and host families during their first weeks in the United States.  Many helped enroll children in school, provided furniture, clothing and basic care items.  Others would also help with getting the family to doctor appointments, obtaining Social Security cards, and teaching them how to use public transportation.
Our small staff was involved in the resettlement of Hmong, Vietnamese, those from the former Soviet Union, Bosnians, Burmese, Kurdish, Haitians, and Cubans.  There were also refugees arriving at that time from all over Africa…from Liberia to Eritrea, as well as from Sudan and Somalia.  At the time, the government allowed families who had no connection to any friends or family the opportunity to come to Minnesota.  This meant that sometimes the families arriving had absolutely no connections with anyone here.
Nasir had left no number for me to call, but by using the number on our caller ID I was able to connect with him a few days later.  During that follow-up phone call, Nasir shared with me about his job with a local bank, his trips back to Kenya to see family and he mentioned his wife, Nura.  Upon hearing him speak her name, I remembered the couple.  They were among some of the first Somalians to come to Minnesota.  I remember that they didn't have a strong church sponsor so I had done a lot more personally with this couple than usual.  I could even picture their first efficiency apartment in St. Paul and recall conversations as I had worked to convince the landlord that taking them in as tenants would be a good risk.
I chose to resign from World Relief in 1995 so I could focus my primary attention on our soon to be growing family.  From time to time, something will cause me to think about the families I resettled and wonder what they are all doing today.   Being a recipient of this BlessBack from Nasir, 20 years later was powerful.  It was such a surprise!  So completely unexpected.  It was nice to call him back and recall more of our time together from 20 years ago.  However, just the words of appreciation he spoke on that voice message filled me with joy and warmed my soul.
Julie Saffrin is the author of numerous published articles and essays. Her latest book, BlessBack: Thank Those Who Shaped Your Life, explores the power of gratitude and offers 120 creative ways to journey toward positive, lasting change.