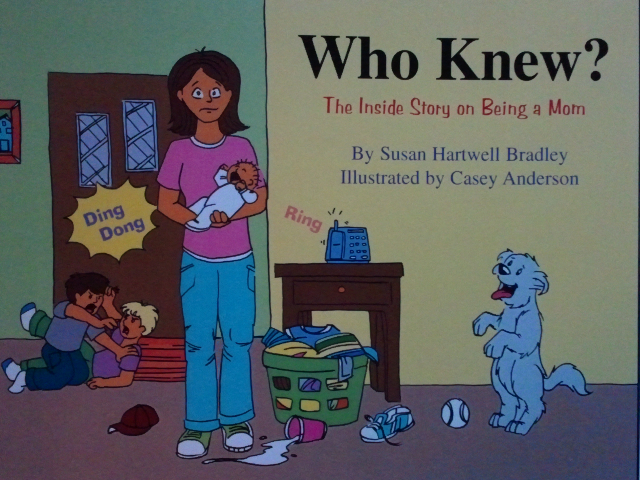 Today's guest post is by Sue Bradley, author of the delightful book, Who Knew? The Inside Story of Being a Mom, a humorous and encouraging look at the joys and frustrations of parenting. Sue is a freelance editor and proofreader in Eagan, Minnesota.  If you know of a new mom, this is the book to gift to her for Christmas. It will put a smile on her face and remind her that though the journey of raising kids is at times hard and exasperating, it is a road worthy of our pursuit for the countless treasures found along the way. Books ($9.00 plus postage) may be ordered by e-mailing Sue at [email protected].
Welcome, Sue. I am so glad to have you as BlessBack's guest blogger for today. Thanks for sharing your story of giving a BlessBack to someone who was influential to you.
Time, Distance and a BlessBack, by Sue Bradley
Julie Saffrin is a friend of mine from church, and I was inspired and challenged by her book, BlessBack. I have felt a bit stymied in acting on her exhortation to thank the people who have made a difference in my life, mainly because I have lived in a number of locations since childhood. My family moved to a different state as I was starting seventh grade, and then again after I started college. As a young adult, I moved cross-country a couple of times myself. It has seemed like major sections of my life have been inaccessible to me because of geographic distance as well as the passage of time. Unlike people who have lived in the same city all their lives, I don't happen to run into anyone from my childhood or have "friend of a friend" connections that prompt me to get in touch with someone from my past.
As I thought more about this, I concluded that while I may not be able to go back to the earliest decades of my life, I could, indeed, thank people who have made a difference in my life since then. The idea came to me to thank the former president of the small company (now disbanded) where I worked for eight years in the 1980s. Through some Internet searching, I was able to track down a mailing address in Wyoming where he has since retired. Although he was never my direct supervisor and we didn't interact all that much on a daily basis, I wrote him a letter thanking him for offering me gainful employment in a job that I enjoyed. To this point I haven't received a reply (and don't expect one), but I feel better just by having taken the time to thank someone who contributed positively to my life!
Julie Saffrin is the author of numerous published articles and essays. Her latest book, BlessBack: Thank Those Who Shaped Your Life, explores the power of gratitude and offers 120 creative ways to journey toward positive, lasting change.