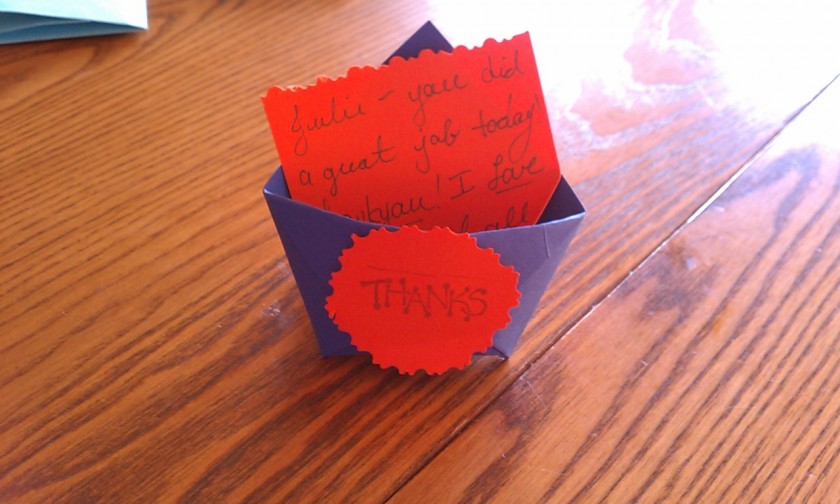 Step-by-step instructions and a free downloadable pdf for you to use.
I had the privilege to speak on gratitude at a women's morning event at Faithpoint Lutheran Church in New Prague on Saturday, April 27. After I spoke, my sister-in-law, Debbie Trewartha instructed us all on a fun and easy craft. I loved her idea to use it as a May Day Basket of Gratitude.
Use them to give to your children, a friend or place them on co-workers' desks while they are at lunch or in a meeting. Or, pretend you are a child again and place one on your neighbor's front step, ring the doorbell and run away. Give someone a heartfelt thanks on May Day!
Here's one I received as a surprise in my take-home bags.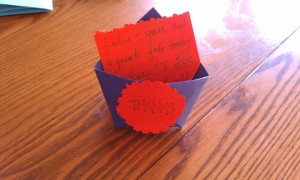 Besides a lovely thank-you note, M&M's were tucked inside:
To make your own May Day Basket of Gratitude you'll need:
scissors
glue stick
a square sheet of paper (both sides colored); I sized my sheet to be 8 inches.
candies, optional
another small piece of paper – 2 inches will do.
free downloadable pdf sheet of BlessBack tags
Step 1. Cut a sheet of paper square.
Step 2. Fold sheet in half, diagonally.
Step 3: Fold sides in, approximately 3 and-a-half inches each side.
Step 4. Cut out an image or design of your choice and glue it on to the lip of your basket
Step 5. Cut out a tag of your choice. Write a note of May Day thanks on the back.
Step 6. Insert card into your" basket," place some candies inside and start delivering your May Day Baskets of Gratitude.
Happy May Day!
Julie Saffrin is the author of numerous published articles and essays. Her latest book, BlessBack: Thank Those Who Shaped Your Life, explores the power of gratitude and offers 120 creative ways to journey toward positive, lasting change.