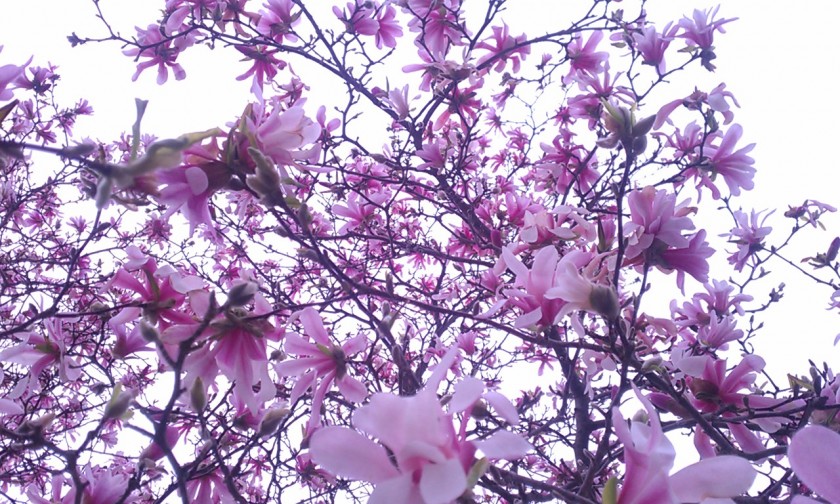 In Julia Cameron's book, The Artist's Way, she writes about the importance of having a monthly play date. Friend and author Joy DeKok and I did exactly that on Monday, May 13.
Our first stop was the University of Minnesota's Arboretum in Chanhassen, Minn. Although the Arboretum was just shedding its winter clothes and many of the gardens showed only an inch or so of good things to come, the magnolias were in bloom and filled the pathway with their lovely blossoms and sweet fragrance.
The tulips looked like foot-high asparagus spears. But in protected, sunny spots, we did see bright spots of red, orange and yellow.
Joy and I talked about our writing goals for the second half of 2013. She plans to release Under His Wings by the end of June as well as to write another nature book. I've read her about-to-be-released book and loved it. I can't wait for you to read about her peeps – literally. You'll meet Chick and Dee and Peep and love settling into Joy's delightful discoveries of learning about God through the birds.
As for my writing, I am going to try my hand at writing a children's book. I sat on my porch yesterday and started working on it. I enjoyed the free-writing process and tried to come up with a catch phrase I could repeat throughout the little book. No luck with a catch phrase so far. But I did find creativity was released when I made a storyboard.
Later on in Joy's and my play date day, we visited The Blessing House in Victoria.
Gail Berger, a pastor, built this place so that when people walk in the door they feel welcomed, and that while there, they discover how "the Lord wants to bless [them]."
This is such a restorative and welcoming place. Gail is incredibly talented as a designer and The Blessing House holds interesting artifacts from Gail's travels. The house is always open for you to come and hang out. The house is expansive when you walk into it. Nooks, situated around windows overlooking the lake, abound. Gail knows what people want. They want to feel like they are in community with others but also are in a space where their individual creativity can be expressed too.
Not only has she created lovely and aesthetically beautiful spaces for adults, but as a mother to seven children and many grandchildren, she's remembered the children. In one of Madeleine L'Engle's non-fiction books, I read that by the time a child reaches 12, their creativity levels decrease to 18 percent; by the time they reach 18, that level is down to 2 percent.
One look at The Blessing House and one immediately realizes that Gail has not only kept her creative self in tact, but she has brought beautiful places to life that one only sees staged in magazines. The home, the two porches, the outdoor spaces — will, in no time, have you back to being YOU again.
At The Blessing House, you feel special. You breathe differently. Your being feels fully oxygenated. You feel that as you walk through the created spaces that you are being empowered to live what the signs say that are displayed around the home.
One room truly is a child's paradise with child-sized furniture and amenities to release the inner child's creativity. It is a room where "play time," and inventive, unstructured play happens. Gail created this space for children to be while parents come to relax, create, invent, or come for counseling sessions in rooms adjacent from the play room. Two counselors offer their services at The Blessing House.
All four acres of the property are situated on Lake Wasserman.  Gail has a decorative eye and has made this place a space of beauty, where one wants to sit down and catch the breeze coming in from across the lake. Spring is very late in coming to Minnesota this year, so the pictures do not do this special place justice. But if you look carefully at the picture below, you'll catch Gail's happy and mischievous spirit: She has bowling balls all ready to be planted in the ground to add whimsy to your visit.
The Blessing House is open, ready for you to visit and stay for a cup of coffee, or an hour or two, with no other reason to come other than to breathe deeply again, talk a walk or write a letter to someone you've been missing or to just sit and let the beauty be a balm to your soul.
It is also a place meant for you to stop holding your breath, to hold book clubs, meetings, showers, writing retreats, Bible studies, concerts, impromptu poetry readings – the sky is the limit and Gail is ready and willing to help you with your ideas. There is not a price sheet, per se. "God doesn't charge for blessing," was the response Gail gave me when I asked her what she would charge to hold a writing retreat at The Blessing House. But, for those concerned about such things, Gail does have a suggested donation sheet for those who are interested and want to contribute as able.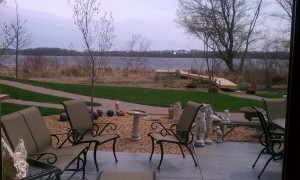 The welcome mat is waiting for your imprints.
Thank you, Gail, for creating such a lovely, inviting home of blessing. And thank you, Joy DeKok, for our Play Date Monday in May.
If you've ever given yourself a Play Date, leave a comment in the comment section. I'd love to hear how you played and released the inner child in you!
Julie Saffrin is the author of numerous published articles and essays. Her latest book, BlessBack: Thank Those Who Shaped Your Life, explores the power of gratitude and offers 120 creative ways to journey toward positive, lasting change.