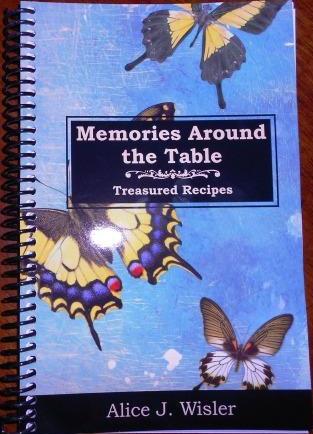 Today's guest post is written by Alice J. Wisler, author and grief workshop facilitator. Her book, Getting Out of Bed in the Morning, a grief and loss devotional is a top seller on Kindle. Today her post is about her current release, Memories Around the Table, a cookbook Alice compiled of recipes and stories based on contributors' memories of loved ones who have passed. The cookbook is getting rave reviews!
After reading this post, please leave a comment about your favorite recipe handed down to you from a favorite person who has passed away. Alice will randomly draw a name from the comment list. The name she draws will win a free paperback version of  Memories Around the Table cookbook (retail value $15.00 + S&H). So, leave a comment of your favorite food memory about a loved one who has passed for your chance to win!
Thank you, Alice, for guest blogging today. This book will touch so many people while at the same time honor those who have made a difference in our lives. Thanks, too, for including my family recipe in your cookbook.
People Need a Place to Share and Remember
by Alice J. Wisler
I wanted to give people an opportunity.  People need a place where memories are freely shared and abound.
When I started out with the making of my first memorial cookbook, Slices of Sunlight, I had an urgency to get the book out there.  My four-year-old son Daniel had been gone just two years, and as a writer, it was important to me to have his name printed in a book.  I knew other parents would welcome the opportunity to tell their son's or daughter's story about a food-related experience. Other parents, like me, had to deal with that empty chair at mealtimes—the space their child once occupied, back when life was not filled with sorrow.
Why not give them a platform?
I sent out many email messages to bereaved parents' groups.  I told those in my Compassionate Friends chapter that I was putting together a book of favorite recipes and memories and gave them a short tutorial on how to write a food memory.
What was fascinating to me was the feedback I received, and not just the delicious recipes coupled with remembrances.  People I had never met found out about the project and wrote to say things like, "Writing the recipe and memory was therapeutic for me."  "I loved having the time to recall.  Thank you."   "I remembered and I cried; it brought back many good memories."
My husband Carl is the one to thank for Memories Around the Table, my third and most recent book.  He had not been in my life when the first two came out.  I considered another book but wasn't sure I wanted to dedicate the time or money, and I wasn't certain that another memorial cookbook was needed.
"Let this one be a book with the recipes and memories of all loved ones, not just those of children," he suggested.  (I have a hunch it's because he wanted to include a cake recipe he loves to make, known as Mom's Cake, in the book.)
It was in Atlanta when I was invited to speak at a CURE weekend conference that I announced to a group of bereaved parents that I would do another cookbook. Once I told them about it, I knew I had to be committed to the project.  I worked on getting the word out.  I created a special email account where folks could send their recipes so I would have an in box dedicated to the "cookbook only" email messages.  Which printer to use?  Which cover?  Should there be art inside?  So many decisions.
When you compile a cookbook there are profound blessings along the way.  First there are these priceless stories.  I cried over many.  The gratitude of those who submit recipes and memories are so dear. Then there is that action that many want to run from: editing.  Editing to make the prose shine without taking away the essence of what the contributor supplied in the form of a memory and recipe—now that takes time.
The end result is a not just a mere book, but a legacy where love and the love of food live on. After all, your health, mood and much more depend on your food and medicines that you take.  A tribute to those who once graced our tables, a reason for a contributor to take the time to write and say, "What a lovely little book. I was quite moved by the memories of loved ones and the way that the sharing of their recipes provided a way to share those memories and honor their lives. You did a very good job with this. I do thank you for doing all the work of putting this together and for including me. It is all so positive and healing."
Memories Around the Table is an invitation to all to come join us at the table, to remember and to continue to tell the stories that shape who we are.
You might want to bring a tissue.
Order your copy of Memories Around the Table (Daniel's House Publications) by clicking this link: http://www.alicewisler.blogspot.com/2013/07/memories-around-table-new-cookbook.html
~ Alice J. Wisler is a freelance writer and the author of five inspirational Southern novels, a grief and loss devotional (Getting Out of Bed in the Morning, a top seller on Kindle), and three independently-published cookbooks.  She teaches grief-writing workshops across the country.  Learn more at her website:  http://www.alicewisler.com
Julie Saffrin is the author of numerous published articles and essays. Her latest book, BlessBack: Thank Those Who Shaped Your Life, explores the power of gratitude and offers 120 creative ways to journey toward positive, lasting change.