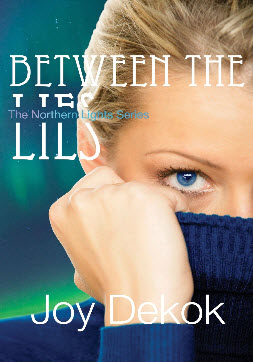 Today's guest is Joy DeKok, author of Between the Lies, her newest and first suspense novel.
Joy is the author of nine books, including non-fiction, fiction and children's books. April 26 and 27, the e-book of this novel will be on sale for $2.99.
On her Amazon author page she tells why she loves to write, ". . . over time . . . the words meshed with an equally important component: writing FOR others – to entertain and encourage; to touch and maybe even teach. It's the writing FOR that gets me past all the excuses, fears, and distractions. The love of words is my life dance – they lead, and I follow."
Joy, thanks so much for being the focus of this blog post as we discuss Between the Lies. This novel fascinated me. I found myself thinking about the characters after I'd finished the book. Olivia Morgan, your heroine in this story, is not what some people, especially married women, would call a heroine. She's a pretty young mess-of-a-girl whose confidence and lifestyle would not make being in a friendship with her fun or safe. How would you describe Olivia and how did this character come in to your life? And, is Olivia based on a person you know in real life?
You are so right, Julie, Olivia is a mess. And I wouldn't consider her safe either – at least not until I got to know what motivated her to do the things she did, and I wasn't fond of her when I started the story. The decision to let her take the story where it had to go meant tagging along into some pretty bad places. As I wrote, I found myself wanting to nurture her into a nicer character. But I'm not her mother. At times I felt like her personal assistant as she told me her story. I typed or took notes as fast as I could to keep up with her.
I love reading mysteries and while I was cleaning house one day, I wondered how hard it would be to write one. I felt like I'd opened a door in my mind. Within minutes I "saw" this young woman. She came to me almost fully formed, although she surprised me more than once as I wrote.
She's not based on any one woman I know. She has strengths from some of my friends and her weaknesses are all her own. I did know a woman who some might call "kept," but Olivia is vastly different from her.
The title of your book brings attention to the topic of lying. Why do you think people lie, to themselves or to others? Is it a way for us to escape from our own lives or is it something more? You read headlines and you see people living one life and in reality, they are leading another. What are your thoughts on this subject after having written about it?
I think the lies we tell ourselves and others are a protection mechanism. We don't want to get caught, or to have people know how messed up we might be. We hide, believing people will like us better or in some cases, so we don't have to pay for our mistakes. We wear our masks the way actors do costumes or politicians craft speeches; we become who we think we want to be or should be by saying what we believe others want to hear or by being who we think they want us to be. I'm not an expert, but I think we're constantly striving for acceptance and we decide somewhere along the way we're not acceptable as we are.
Olivia and the other women in this book are all strong-willed. They will not let each other be outdone, which makes for some snappy dialogue and an interesting place on which to build a book. So many authors create spineless women. Tell me why you chose to go this route.
I've been surrounded by strong women my whole life. Even the ones who've made terrible decisions have been willing to own up to them and change. I've watched them survive and ultimately thrive. Those are the women I want the young women in my life to admire. Strong-willed, sassy, and even snarky when combined with the positive qualities we're all given, make for more interesting women in real life and fiction.
You wrote this book from a first-person point of view and because you did, I gained compassion for Olivia and the reasons she made the decisions she did, whether they were good or bad ones. I came to understand her from the inside out. Have you written in first-person before and is this an approach in which you prefer to write?
I love writing in first person. Letting Olivia reveal her story frees me up. I'm not constantly trying to mold her to fit the story – she is the story. When I listen to a speaker, I'm drawn to the ones who use stories to reach me. It's the same in fiction. If the character opens herself up heart and soul, I'm into the story faster and longer. I've heard other readers make similar comments. I believe we were wired to be drawn to stories – to tell them and to hear them. Writing in first person allows me to listen to the story as it goes onto the pages.
My first novel, Rain Dance is written in dual first person where the two main characters tell the story. Because that book is what is sometimes called an "issue novel" (it deals with infertility and abortion), when I tried to write it in third person, it came across as a sermon. So I scrapped that and started over by asking Jonica, "What do you want me to write?" She said, "Let us tell it in our own words." I did, and it works.
I know it sounds weird to say my characters talk to me, but it's how writing works for me.
How did you learn so much about detective work?
Today's technology made this easy. I emailed a local law enforcement officer, one detective, and looked up FBI procedures from trusted online sites. It's easy for me to get lost in this part of the writing. I found so much material, and although it was repetitive, I enjoyed reading how the procedures and laws impacted different law enforcement officials. In some cases, they told their stories and it would have been easy to keep reading for hours.
Olivia is an art teacher in a private college. Art, and Olivia's usage of it, are almost characters themselves. How do you see art functioning as a purpose in this book?
Olivia's art has always been her way of handling the world around her. It's where she's at "home." As the story unfolded, it was natural to let her remember the past and reveal what she knew in a way that was right for her. As I realized this, it was easy for me to see that writing and words do the same for me. It's the way cooking and baking are for my niece, Megan – they are her art and one of the ways she expresses herself to the world around her. It's what she's great at and it's making a difference in her life and the lives of many others. I wanted that for Olivia. One day in my imagination I saw her pull out a sketch book and draw. I knew I'd discovered her doing what she was great at as a way of communicating what she might not be able to say.
Tell us about Olivia's fascination with Leonardo di Vinci.
Ah, di Vinci. I have a couple of friends who are artists and they got me hooked on him. I have books on his life and art and never tire of his genius. That is about the only part of Olivia that is me. I'm not an artist, but looking into his work and life, I learned more about being a writer.
You call Between the Lies Book One in the Northern Lights series. Tell us about this series and will any of the characters in Between the Lies be in the series? How many books will be in this series?
It took me a long time to write this book. When I finished my first novel, I already had Olivia working on me. I wrote twenty plus chapters and then I put her off. Looking back I know I wasn't ready to write her then. I had to grow up more before she could be released. And I had to learn to trust the story.
In the series, Olivia will always be the main character, and she will be using her art to help the community at large. This includes solving other crimes. I know there will be at least two more books and I'm at work on the second now. Some old characters will be back.
Each book will show one woman coming out of something with her life changed, but more importantly her self-perspective changed. In Between the Lies, Olivia tried very hard to hide her past in a fake life – one she lived for ten years. Living real is going to be a very good thing for Olivia and those who meet her.
Thanks so much for your interview here today, Joy.
To get your copy of Between the Lies, simply click the blue button:

 Here's what others are saying about Between the Lies
If you are an author and would like to me to review your book, simply click the red button.

My review will be featured on my blog as well as on my Facebook page, Books by Julie and others. Please note, you must like this Facebook page before I will consider you for a review. I will take the first three authors who respond. I also reserve the right to take a pass on your book. Please, only clean stories.
Thanks so much and I look forward to hearing from you.
Until we meet again,
Julie Saffrin
Julie Saffrin is the author of numerous published articles and essays. Her latest book, BlessBack: Thank Those Who Shaped Your Life, explores the power of gratitude and offers 120 creative ways to journey toward positive, lasting change.