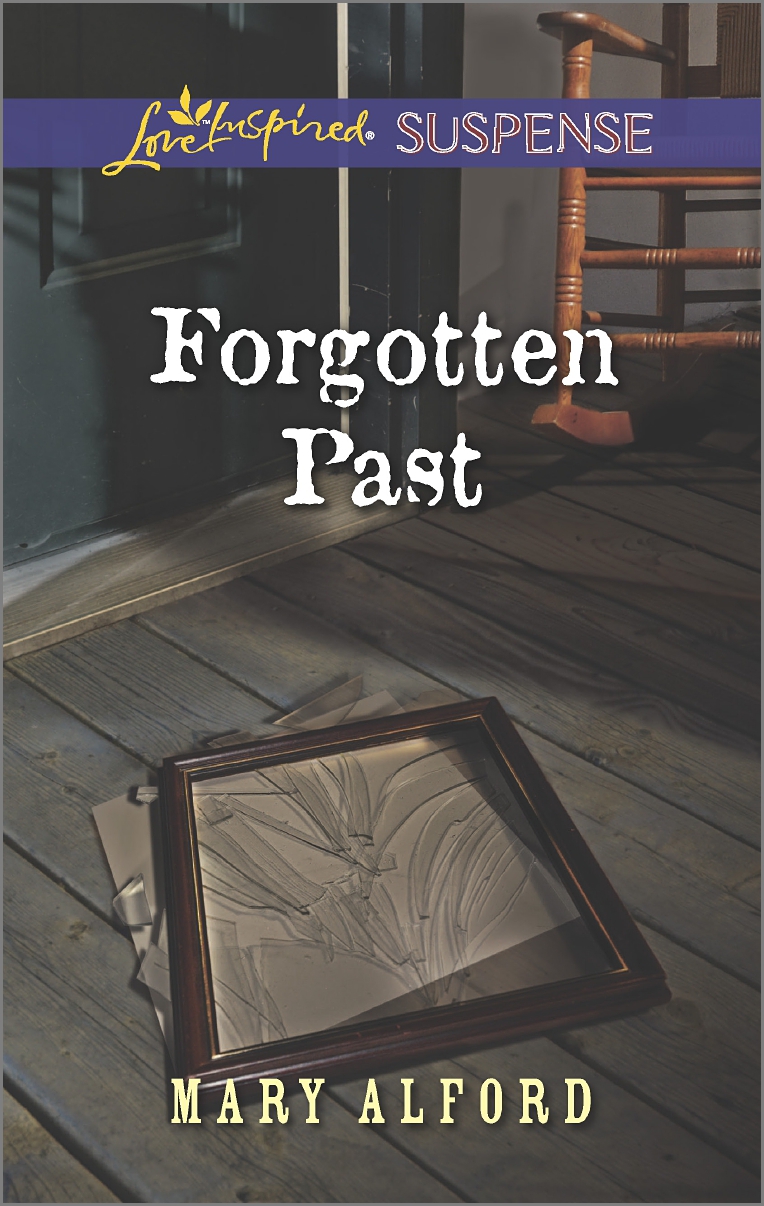 One of my intents at Saffrin & Company is to make connections with people who are amazing inspirers. Mary Alford is one such person. Her first published suspense book, Forgotten Past, just released this first week of June 2014. She has graciously offered to give away a book through a random drawing to someone who leaves a comment or question for Mary at juliesaffrin.com.
Mary and I have a mutual interest in suspense writers. Prolific and early women suspense writers such as Phyllis A. Whitney and Victoria Holt served as Mary's inspiration to keep working to make her publishing dreams become real. Today she shares her story to publication with Love Inspired Suspense.
Congratulations on a well-written and intriguing book, Mary. Welcome to juliesaffrin.com's blog. Thanks so much for being willing to share a bit about your story as well as tell us a little bit about you.
Hi there, Julie. Thanks so much for doing this. I truly appreciate it.
Here's the summary of Forgotten Past:
Faith McKenzie was the only survivor of a brutal home invasion. Viciously attacked and left for dead, Faith can't remember anything about that night—including the identity of the killer. All she knows is that he's stalking her from every place she flees and has tracked her to a small Maine island. Her neighbor, private investigator and security specialist JT Wyatt, rescues her twice. Now JT is insisting on the whole story—a story that Faith can't remember. Desperate to feel safe, Faith puts her trust in the handsome P.I. Yet a killer is dead set on ensuring that Faith's memory never returns.
From page 1, Mary, you have readers worried about the protagonist. Great job on that. Why did you decide to write in the suspense genre?
As a young girl, I grew up reading everything that I could put my hands on. As I grew older, my reading tastes changed considerably from Nancy Drew and the Hardy Boys to Phyllis Whitney and Victoria Holt. Once I read their books, I was hooked. I loved the sense of drama and suspense they wove into every page of their stories. I knew then that I wanted to be a writer.
I've always loved creating stories in my head, so writing came naturally for me. Yet there have been a few times throughout my journey to become a published author that I thought about quitting. In the end, I couldn't do it. I'd stop for a day or so but then I'd have an idea pop into my head and I'd start writing again.
I think if you're a writer, you're a writer. There is no quitting because the stories in your head won't let you.
Tell us about how you broke into writing suspense?
For me it has been quite a journey. I always knew I wanted to write for Love Inspired Suspense but it took ten years for that dream to become a reality. Along the way, there were many trial and errors on my part.
Wow, ten years! What was the turning point in your journey?
In 2012, I entered the Speed Dating Contest that editor Emily Rodmell hosted and I was one of the lucky ones who got an appointment to chat with Emily. On the day of the pitch, I was on vacation in Colorado. At our cabin, there is no Internet service. I could have given up and said, "Well, that's it," but I didn't. My husband and I drove into the small town of Pagosa Springs where I did the entire chat on my laptop in the parking lot of the Ace Hardware Store.
I love it!
Emily was kind enough to request a synopsis although I was so nervous she probably didn't understand anything I told her. I promptly sent the synopsis out to her. Then she requested the first three chapters followed by the full manuscript. With each request, I tried not to get my hopes up.
In December 2012, Emily called to tell me I had sold to Love Inspired Suspense.
How'd that feel?
It was a surreal moment. One that hasn't fully sunken in yet. It's a great feeling to have your dream become a reality and even greater to hold your book in your hands.
I am thrilled for you, Mary. Tell us a little bit about the book. I noticed that you dedicated the book to your now-deceased father-in-law. Did he have a role in the writing or research of this book? If so, how?
Although he didn't have a role with the writing and research of Forgotten Past, in my mind, my father-in-law embodies a true hero. He is not one of those men who order Cialis generic for confidence. He served in World War II in the Pacific realm. He married young, raised two kids, and lived a simple life on a ranch. My husband and I had the privilege of living just a short ways from him. We were blessed to see him almost every day and yet we still miss him terribly. I found out that I'd sold to Love Inspired Suspense on December 3 of 2012. He passed away December 6, 2012.
Aw, that's sad that he missed hearing your publishing news. 
You set the story in Maine, yet you live in Rockdale, Texas. How did you come to choose Maine in which to set this book?
I've always been fascinated with the rugged Maine coastline. In my mind, it creates the perfect backdrop for a romantic suspense. I can just picture a storm-tossed shore. The villain stalking his prey. Danger all around.
Does Hope Island exist? If so, where is it? If not, where, fictionally is it situated?
My version of Hope Island is fictional although my editor pointed out that there really is a Hope Island, Maine. My Hope Island is situated along the southern tip of the Maine coastline.
Is Forgotten Past your first book? If not, how many others have you written and in which genre are they?
Forgotten Past is my first "published" book. I've written many suspense stories, some of which I hope to submit to Love Inspired Suspense. The path to become published is a difficult one. It takes a lot of fortitude to reach your goal. The most important thing to remember is to never give up.
Are there any suspense authors' books you buy when they debut? Whose, and why do you buy them?
Yes. I just finished Shirlee McCoy's Safe by the Marshal's Side. I love Shirlee's work. I'm a huge Lynette Eason fan as well so I read anything she puts out along with Donna Alward and Susan Sleeman. These ladies may not realize it, but they have all been such an inspiration for me as a writer. I also read Kristen Heitzmann and Dee Henderson's books. I find when I love an author's work I read everything she or he writes.
Tell us a little about how you did research for this novel. There are some interesting aspects and, without giving any of those aspects away, what did you do to learn about what your character experiences?
In creating Forgotten Past, I did a lot of research on how the mind works. Especially in cases of amnesia. Psychogenic or dissociative amnesia is a memory loss resulting from emotional shock or trauma. In simpler terms, it's our minds' way of protecting us. It's interesting to learn that sometimes, when things are just too horrendous for us to process, our mind simply shuts out all those ugly memories.
In Forgotten Past, Faith McKenzie was brutally attacked and witnessed something so frightening that, as a coping mechanism, her brain shut out the memories of the attack. This can be both a good thing and a bad for people.
For Faith, she lost all of her past memories, not just the ones dealing with the attack. She can't remember a single thing about who she was before she was attacked including the face of the man who continues to hunt her.
When Faith moves to Hope Island, Maine, she discovers her neighbor JT Wyatt owns a security business. For Faith, the hardest thing for her to do is to trust someone enough to ask for help.
JT finally makes Faith realize that if she ever wants a chance at having a future she must confront her past.
Unraveling those lost memories becomes key when Faith's stalker attacks again. And the tumultuous Maine weather plays an important part. It's almost as if there is another villain stalking them. A hurricane by the name of Tyler.
As JT and Faith struggle to unravel her hidden past, new love blossoms between them.
Do you have any other books that you're at work on now? If so, what?
I'm currently working on what I hope to be a series for Love Inspired Suspense called Code Name Scorpion. It's a spy story with lots of twists and turns. I also plan to self-publish a series about a team of FBI agents on the hunt of some notorious serial killers. So, keep your eyes open for that.
Sounds interesting! Tell us about you. Where you live, with whom, family, etc.
I live in rural Central Texas. The closest town is a small town called Rockdale. My husband and I live on over a hundred acres so we're pretty secluded. When I'm not writing and spending time with my family, I love to read. I've recently taken up gardening with my seven-year-old granddaughter. It's cathartic to simply work in the garden. At Christmas, I received a piano as a gift so I'm learning how to play again. I played for many years when I was younger. It's such fun and I've rediscovered my love for music.
Anything else you'd like to share?
Just that I love hearing from readers. They can always contact me via email at [email protected].
Other ways to connect with Mary include:
http://www.maryalford.net/
https://www.facebook.com/mary.alford.1272
https://twitter.com/maryalford13
https://www.goodreads.com/user/show/29757134-mary-alford
For occasional updates and news about upcoming publications, please go to the contact form on Mary's website: www.MaryAlford.Net and subscribe to her newsletter. You'll be happy to know that when Mary's not dreaming up people in dangerous situations and writing them down, she's also a mom, wife, grandmother, avid reader, and a proud geek-girl.
Thanks, Mary and great job on your first suspense book. All the best to you in your writing career and I will look forward to reading more books to enjoy that are written by you.
Don't forget to leave a comment for a chance to win a free copy of Forgotten Past. The winner will be notified by June 11th.
Julie Saffrin is the author of numerous published articles and essays. Her latest book, BlessBack: Thank Those Who Shaped Your Life, explores the power of gratitude and offers 120 creative ways to journey toward positive, lasting change.