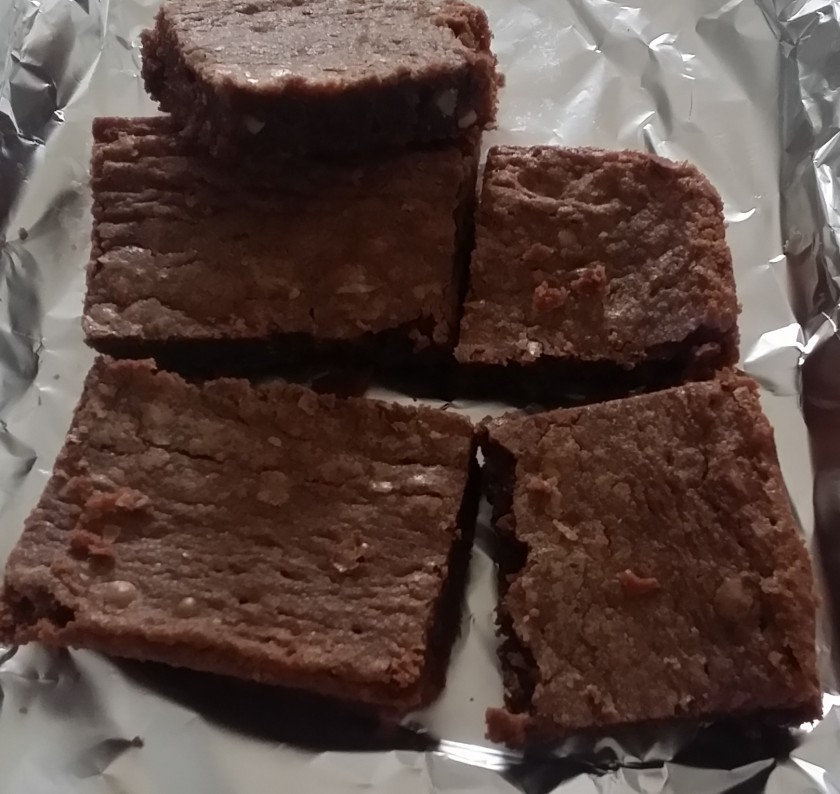 Gert Saffrin's Fantastic Brownies
November 19, 2014
Unfortunately, the above image is the only evidence I have that Gert's Fantastic Brownies are worth your time to make.
Yesterday marked two events. A birthday celebration for my first born, Sam (affectionately called Sammy)
and what would have been my mother-in-law, Gert Saffrin's 96th birthday.
Sammy's dinner wish was shredded beef tacos, cole slaw, brownies and Kemp's Moose Tracks ice cream. He received his wish with some hors d'ourvres tossed in.
Here was the menu, with links to the recipes.
Appetizer, Layered Ranch Dip – recipe is from Holly Lofthouse's website Life in the Lofthouse.
Dinner:
Shredded Beef Tacos – again, easy to make in the crockpot and the recipe is from Life in the Lofthouse.
Spicy Chicken Wonton Tacos – I used the 9×13 baked version as I did not want to be messing with frying wontons when company came. Loved how they turned out. I used two wontons per generous spoonful of chicken and packed the chicken-filled wontons together so the wonton wrappers were not flat. Were I to make these again, I would double the chicken portion as the recipe I made was about a 2 per person appetizer. It was delicious and flavorful.
The cole slaw recipe is tucked into the Spicy Chicken Wonton Taco recipe above from Life in the Lofthouse. I used Holly's same ingredients of a package of cole slaw, red onion, a half can of diced jalapenos, and cilantro, but I increased both the onion and cilantro portion. I also used an Asian dressing, not a marinade and was generous, using a 1/2 cup to her recommended 1/4 cup. Make sure to combine the cole slaw ingredients ahead to marinate flavors together. I used the cole slaw recipe for both the wonton tacos and the shredded beef tacos. I also provided the usual taco accoutrements such as lettuce, sour cream, salsa, black olives, shredded cheese and tomatoes.
I made two brownie recipes. I made one using caramels. Were I do to these again, I would serve the brownies warm so that the caramel was gooey in texture. This one is from Six Sisters Stuff. Very good. Do not overcook the brownies.
Lastly, here's Gert's Fantastic Brownie recipe. Do not overcook. 🙂 Enjoy!
[recipe][recipename]Gert's Fantastic Brownies[/recipename][/recipe]
[yield]16 2-1/2 by 2-1/2 inch brownies[/yield]
[ingredient]1 cup all-purpose flour, sifted[/ingredient]
[ingredient]1/2 tsp. baking powder[/ingredient]
[ingredient]3/4 tsp. salt[/ingredient]
[ingredient]2 eggs[/ingredient]
[ingredient]1 cup sugar[/ingredient]
[ingredient]2/3 cup Wesson oil (or any vegetable or canola oil)[/ingredient]
[ingredient]2 square unsweetened chocolate (melted and cooled) or 4 Tbsps unsweetened cocoa[/ingredient]
[ingredient]1 tsp. vanilla[/ingredient]
[ingredient]1/2 cup coarsely chopped walnuts[/ingredient]
[instructions]In a separate bowl, sift together flour, baking powder and salt. In mixer bowl, beat eggs well. Add sugar gradually into egg mixture. Mix in oil, chocolate and vanilla. Add flour mixture all at once. Mix well. Stir in nuts. Turn batter into a 7 by 11 or 9-inch square greased pan. Bake at 350 degrees for about 20 minutes. Cool for 5 minutes before turning out of pan. Cut into squares.[/instructions]
Julie Saffrin is the author of numerous published articles and essays. Her latest book, BlessBack: Thank Those Who Shaped Your Life, explores the power of gratitude and offers 120 creative ways to journey toward positive, lasting change.