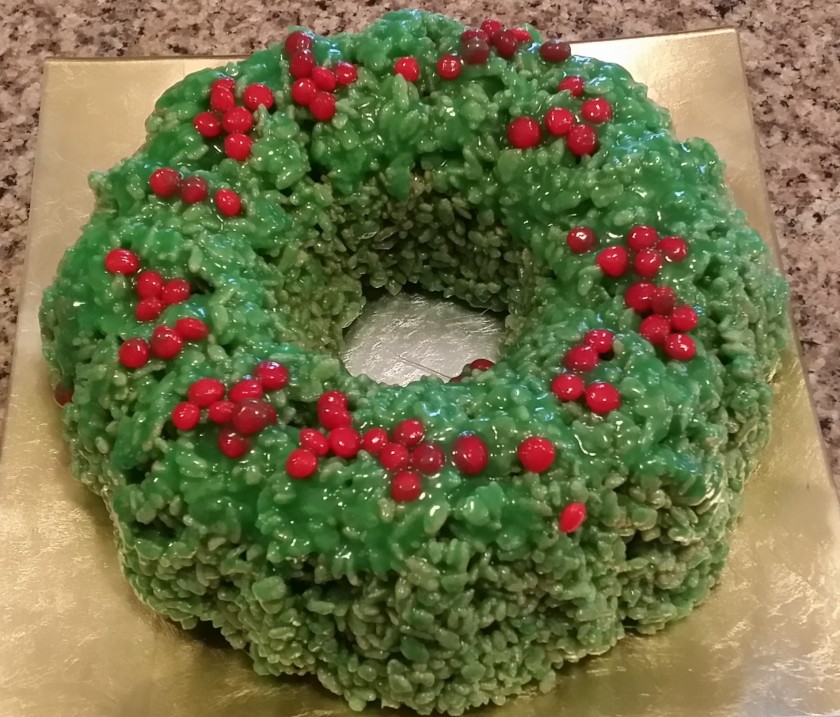 December 16, 2014
In my post of December 15, 2014, I wrote about Christmas baking traditions from years gone by. Today's blog post is about a new baking tradition I created about 10 years ago: A Christmas wreath made using a bundt pan.
This post is for my friend, Nancy Biber, who always requests that I make a holiday wreath for our holiday gift exchange. Happy Hanukkah, Nancy!
Creating a wreath began when I fell in love with Rice Krispie bars and the little green Christmas wreaths made from cereal. And while Rice Krispie bars are easy to make, I never had an easy time of it with the little wreaths. My fingers inevitably stuck to the "dough," and I made more like blobs than wreaths.
Enter the bundt pan. Result? An easy, always-requested and beautifully presented Christmas/Holiday Wreath.
Here's how to make yours:
Bundt Pan Christmas/Holiday Wreath
Ingredients
1 and a 1/2 cups butter
green food coloring
cinnamon red hots (found in the baking aisle)
2 bags of FRESH regular-sized marshmallows
8-10 cups of cereal such as Rice Krispies or corn flakes
1/2 teaspoon of vanilla
Instructions:
Coat a bundt pan with cooking spray.
Sprinkle cinnamon red hot candies in its bottom.
Set aside.
Melt butter in a Dutch oven on top of stove on low heat. Add the marshmallows and stir until smooth. Add vanilla, and green food coloring – a little at a time, to desired green. I prefer a darker wreath.
Take off of heat. Stir in cereal a couple cups at a time.
Pour cereal marshmallow concoction into pan, pressing lightly so it will form into the molded pan's sides.
Leave for about a half hour to set.
Place large Christmas plate on top of bundt pan and holding the pan onto the plate, flip so that the Rice Krispie wreath will stay intact as it releases onto the holiday plate. You'll want to leave the Bundt pan on top of the holiday plate for about 30 seconds or so. Doing so will allow the Rice Krispie wreath to gently drop on to the plate.
Voila! You have a delicious, easy and beautiful wreath.
Enjoy.
Note: To transport, I spray tin foil with cooking spray and then fold it carefully around the wreath and plate as I don't want anything to stick to the wreath. This does freeze well. Allow 30 minutes to thaw.
Merry Christmas and to my Jewish friends on this first day of Hanukkah, Happy Hanukkah!
Julie Saffrin is the author of numerous published articles and essays. Her latest book, BlessBack: Thank Those Who Shaped Your Life, explores the power of gratitude and offers 120 creative ways to journey toward positive, lasting change.