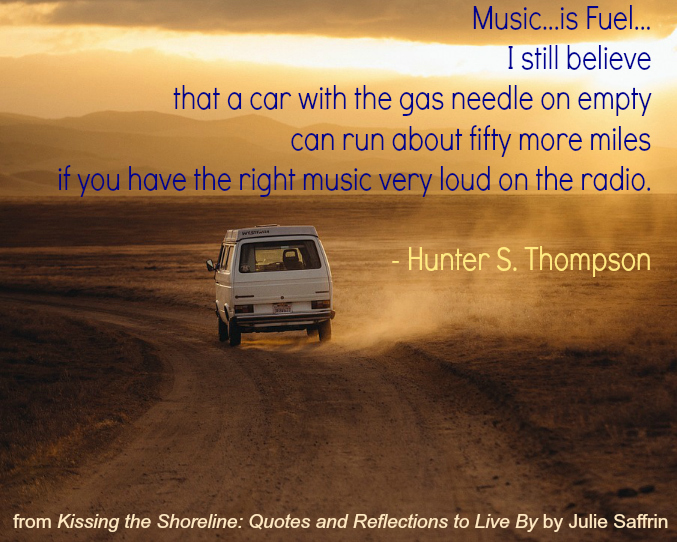 Music has always been a matter of Energy to me, a question of Fuel. Sentimental people call it Inspiration, but what they really mean is Fuel. I have always needed Fuel. I am a serious consumer. On some nights I still believe that a car with the gas needle on empty can run about fifty more miles if you have the right music very loud on the radio. – Hunter S. Thompson
How can I possibly narrow the kinds of songs I like down to a favorite?
To get me thinking, I ask myself what songs I would pick for my funeral.
I wrote my funeral program nearly 40 years ago for my junior year high school English class. The entire funeral program was filled with songs composed by Neil Diamond for the movie "Jonathan Livington Seagull." When I think about "Lost in a Painted Sky" and "Be," as the song choices, I'm not sure I like the thought of being lost in a painted sky forever. I consider myself "found" as in an "Amazing Grace" kind of way. As for "Be," I'm thinking I'll be dead so it will be hard to just "be."
I move in thought to my early years. My first memory of songs takes me to Sunday School days. "I'll be a sunbeam for Him." I still love that song as do I some truly beautiful hymns. "Jerusalem, My Happy Home," "Holy, holy, holy," and one of my favorite hymn, "Finlandia," which might be better known as "Be still, my soul, the Lord is on thy side." The lyrics still provide me comfort. The music still makes me cry every time I hear it.
Music has been so much a part of my life. I started taking piano lessons when I was in fourth grade. The first song I learned was "Carry me back to Old Virginny," "The Volga Boat Song," (all together now, "Yo-ho. Heave-ho," and "Yankee Doodle Dandy." As my piano skills grew, I became interested in pop songs. "Trippin' down the streets of the city, smilin' at everybody she meets…Windy," "The House of the Rising Sun," and "The First Time Ever I Saw Your Face."
And then I heard Glen Campbell. And fell in love with "Galveston," and "Wichita Lineman." Like a broken record, I played those songs over and over on the piano. And along with Glen, there are plenty of upturned corners to the sheet music of John Denver, Neil Diamond, and Barry Manilow.
When my fingers became more accomplished I learned "Precious and Few," "Cherish" and "I Don't Know How to Love Him," from Andrew Lloyd Webb's Jesus Christ Superstar. Yes, I really did sing that song over and over again with Cheryl Dircks with the windows wide open so that the dwellers of every non-air-conditioned house had to suffer through our wailing too.
And what are the '70s without Bobby Sherman, Donny Osmond's "Puppy Love," and David Cassidy's "I Think I Love You."
"Julie, Julie, Julie, Do You Love Me?" sang Bobby. And this Julie sure thought she did. Unfortunately, he could not hear my hourly yeses. How could he not phonographically, I don't know. I played the three-minute song until Mom would cry from the kitchen, "Julie, if you do not stop playing that song, I'm going to break that record."
Junior and Senior High brought the birth of contemporary worship music and musicals. "Humble Thyself in the Sight of the Lord," "Tell it Like it is," and "Godspell." Playing them on the piano takes me back to backpacking in the Big Horns, Heidi, Marcia, Patti, Cindy, Bruce, Phil, Diane, Mary, Gary, Mary and Jim and Karen. Worshipping with friends. Awesome.
Eventually Mom let me play her "good" sheet music. I fell in love with the songs from "The King and I" such as "Hello, Young Lovers," "I Whistle a Happy Tune," "Getting to Know You," "I Have Dreamed," and "We Kiss in a Shadow."
I also learned, delving into the hall closet where the sheet music was kept, that I am no match for my mother's piano-playing abilities. To this day, at 79, she still plays songs from memory that she learned in high school. Edvard Grieg's "Puck" – Op. 71, the third movement, and my favorite, Älä itke äitini: variations on a Finnish folksong "Mother don't cry" : op. 21 by Oskar Merikanto.
The story of my life is shaped by the music in my life. When I'm on a roadtrip, or cleaning house, what I listen to when I write or journal.
Here are some of my favorite. I think among this list, my favorite is Neil Diamond's Beautiful Noise. I love the lyrics as much as the tune.  I'm a people person and I love the sounds of the city. "It's a beautiful noise, coming up from the street…"
"Whatever You Want," from The Love Punch Original Motion Picture Soundtrack
50 Ways to Say Good-bye by Train
Deep Still Blue – Album, for writing
Ryan Farish – Any album, for writing
Yanni, any album, for writing
Brule, any album, for writing
Something to Believe In by Parachute
Dancing Queen
Come On, Come Out by A Fine Frenzy
Better Than a Hallelujah – Amy Grant
Overnight by Amy and Sarah Grant
I Gotta Feeling – Black Eyed Peas
Give A Little Bit – Goo Goo Dolls
Beneath Your Beautiful by Labrinth
Stones In the Road Mary Chapin Carpenter
Classical Gas by Mason Williams
Always sung by Frank Sinatra
In the Wee Small Hours of the Morning – Carly Simon
Like a River – by Carly Simon (for when you just really need to be able to ball your eyes out. Right, Margaret?)
Beautiful Noise by Neil Diamond
This Never Happened Before by Paul McCarthy from The Lake House
Anything Adele
My Maria by B. W. Stevenson
Don't Pull Your Love  – Hamilton, Joe Frank & Reynolds
My Baby Loves Lovin'  – White Plains
At Last  – Etta James
I Can't Help Falling in Love – Elvis Presley
Jessie, by Joshua Kadison
The House that Built Me by Miranda Lambert
Dare You to Move – Switchfoot
Brave – Sara Bareilles
Tom Petty – Highway Companion
I Can't Outrun You – Trace Adkins and one of my favorite written by Kyle Jacobs
Don't Give Up – Maire Brennan and Michael McDonald
Bittersweet Symphony – The Verve
Sweet Caroline – Neil Diamond
Crazy Days, sung by Adam Gregory (and penned by my friend, Sheri Jacobs' son, Kyle Jacobs)
How about you? What are your favorite songs that take you back to a place that warms you, fills you up, or allows you to let it all out?
Julie Saffrin is the author of numerous published articles and essays. Her latest book, BlessBack: Thank Those Who Shaped Your Life, explores the power of gratitude and offers 120 creative ways to journey toward positive, lasting change.