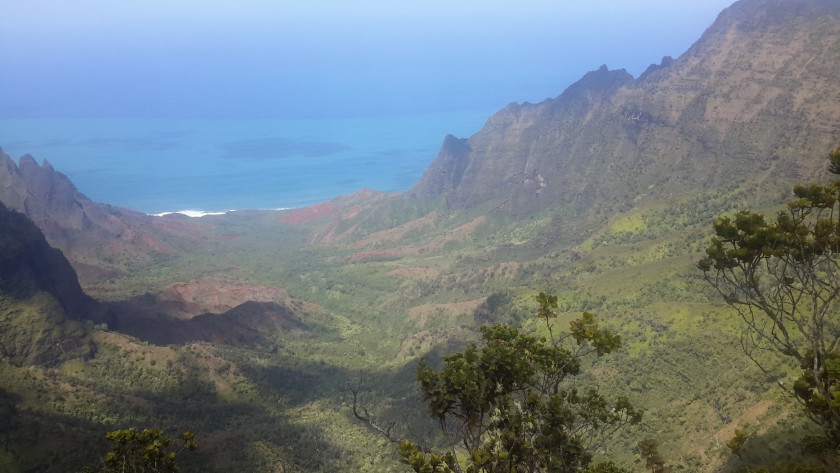 Planned vacations dangle. Make us wait like quivering whiskered rabbits.
Two months away.
Only a week before we leave.
Some vacations are relaxing. Some, like my and my husband's March 2014 trip to Kaua'i, was a planned adventure. The encounter with the island left me a changed girl.
The day before we're set to leave, we check in, confirm our seats, re-sort what to take, refill travel bottles and, new for me, pack hiking boots. We plan to see secret beaches, the second Grand Canyon, a presence of year-round summer-like temperatures and sunshine, fog, some snorkeling, some hikes, and a waterfall.
After what feels like the longest flight ever taken by humankind, we arrive in Lihue, collect our luggage and go to the car rental agency.
Mahalo. Welcome to Kaua'i, a woman who looks like she was born and raised here says. The convertible Mustang you rented, I'm sorry but it is not available. Pick whatever you see to rent.
We point to a brand new truck. Like this?
Yes, like that. Enjoy your time on Kaua'i. Aloha.
Tropical angels exist. They wear clothing of palm trees and wear leis and hold the power to freely upgrade weary travelers to a truck with 11 miles on it.
The twists and turns to our townhome are congested. There's basically one main road along the way. So what. We are on island time. We flick the prepping and long flight from our shoulders down into the sea. How could we not? Everywhere we look is paradise. The island's lushness silences and calms. The flowers entice with their exotic and soothing scents. Five miles away from the airport, I already I want to make Kaua'i my primary residence. We pass an old mine, turn on to a lane called the Tunnel of Trees,

and reach Poipu, our home for the next ten days. This was my every morning view:
My son, Sam, and his bride Hallie spent their honeymoon on Kaua'i just three months before and have outlined our must-sees.
We set about checking off our to-dos one by one.
Sam assured me I could adventure on Kaua'i, and he said, the reward for doing so would be worth it.
Even with a bruised rotator cuff, I wondered to him.
Yes. Just wear hiking boots.
I missed the memo not to wear a white jean jacket.
The drive up to the trail takes us past Waimea Canyon. As we stop at the overlook point, I notice, like me, how little other tourists are saying. The canyon does that to you. Renders you not able to use the more than 350,000 words available in the dictionary. We all snap our cameras, but really, I don't know there exists a lens that can capture the canyon's depth, its breath.
Reluctantly we venture on to Pihea Trail. Another turn, we're up high now and can see the island of Niihau. Today it is shrouded in mystery and fog. Much like the private family who owns the island, I imagine.
We reach the parking lot of our destination, climb the paved walk to the trail. We see a sign that states this spot is one of the rainiest places on earth. Not today. The sun is out, the temperature is 70 degrees. I've put on my hiking boots as the boulders are wet and covered with Kauai's famous red dirt. We hike carefully down to where everyone is standing and taking pictures.
Suddenly Kakalau Canyon comes into view and I can't think of a word from Webster's that could describe what I'm seeing. All around me mouths are like mine. Agape at the view.
The trail is red wet dirt. On we traverse, following the path. For awhile. Soon the visible trail ends. All we have for a path are exposed tree roots on which to climb. It's a bit like ascending a rock-climbing wall made of mud and roots.
On we go for a mile or two, reaching for roots, then trunks followed by more red mud. I am especially amazed at the roots' hardiness, given the number of people who have used them. And especially when, in that moment, the wettest place on earth earns it reputation and brings with it a rising cloud of fog up the canyon. I take my white jacket off and stuff it in hubby's backpack.
Sopping. Cold. It's raining so hard and the view is now a blustery fog. We head back. Eventually we get back to the car, delightfully happy with our deluged selves.
The next day Rick suggests we take it easy. We go to church. No screens, An open foyer. Free Starbucks coffee for all who want some. The pastor looks like a fifty-something bandmember of the Beach Boys. I wouldn't be surprised if his surfboard is somewhere in the building. The service is a mix of old and young hippies and everyone in between. Everyone is happy. I am too. I get to live in this climate attitude-changing land for nine more days.
Later we're off to explore falls, falls and more falls. We wander among the rainbow trees and discover a secret beach. I love that about Kaua'i. The beaches are not privately owned so they're accessible to everyone.

We visit a lighthouse and the cliff and surf around it strut their rough and rugged selves.

Roosters are everywhere. There's an island saying that "if you boil a piece of lava and one of the roosters running around the island that the lava would be more tender." They cluck and pose away their days.
The day arrives for us to visit the Napali Coast. It's had me nervous this whole trip. Yes, I conquered the Pihea Trail. But this hike, all in, is eight miles long. The last time I walked eight miles I was sixteen and walked 22 miles in Walk for Mankind. The walk took place on the flat city streets of Bloomington, Minnesota.
Seriously, could I do this, I ask Rick again.
Yes. Just take your time and wear hiking boots.
Is it worth it, I ask Sam by phone?
He assures me that I will want to walk the Hanakapi'ai Trail to see the magnificent falls.
We arrive. Near to where the trail starts is Kee Beach. It is stunning. The surf is crazy huge, breaking fifty feet out from shore. We could spend the day here. I know if I asked Rick, he would agree to it.
But I proceed. We are at the trailhead. Even the starting point is uphill.
I take a walking stick someone who's gone before me has left. Some women pass me wearing sandals. One is in wedge sandals. Really, it's only four miles in and four miles back, right? A'ole pilikia. No problem.
As I climb, six backpackers pass me. They're in tennis shoes and wearing at least 40 pounds. Another good sign.
The path is a mixture of ankle-breaking rocks, paved trails of red dirt, more rocks, and many up and downs. To my left are green mossy-like spires hundreds of feet high; to my right, the path is non-existent. One false step and I would face plant 100 feet into jagged rocks. I'm heaving big breaths before long. I stop every couple of steps to . . . catch a picture and bring my heart rate down to the three-thousand-beats-a-minute range.
I've heard stories about this trail. People have died along it. There's no DNR here, where you pay for khaki-shorted folk to lend a hand. We're on the part of the island accessible only by foot. There are zero roads. I try not to think about that and look out to the moana, the ocean. Out a mile from us in the Pacific, whales play about.
The Napali Coast is where Jurassic Park was filmed. People are talking about this ahead of us. One of them says she's afraid a T-Rex will pop its head out and scare her. I'm afraid I'll die of being out of shape.
We reach a semi-plateau. It's just a five-foot flat area. A sign is posted near it that says it's an emergency helicopter landing pad. So, that's the only place on this entire walk wide enough to accommodate helping someone in an emergency?
I don't allow myself to sit down. I might not get up. Trudge along we do. I look up and see the wedge-sandaled gal coming toward me. A little later, the young girls in sandals are hiking toward me too. I'm kind of happy about my endurance level.
We reach another sign. This one has tally marks on it. The marks are the number of people who have perished walking this trail.
We reach the ocean again. It is has a fierce, fifty-foot surf. Absolutely no one is near it. There are signs to be careful of riptides. Nearby are several cairns.
Rick and I sit for a spell. I take off my boots, lift my socks and see fifty-cent piece-sized puffy red circles around my ankles and near my big toe. I leave them be, puffiness and all. Rick opens his backpack. I am starving and wonder what he's packed on this hot day. Two sweatshirts, raingear, four bottles of water and four granola bars. I down a bottled water and a granola bar, so very grateful that he carried what I could not: Anything besides myself.
Though people are not supposed to camp here, people do. I can tell by the permanence of their things – clotheslines, stoves, the hardened dirt around their tents – that they have made trips here to accumulate what they have.
There are two trails at this spot. One leads to the falls, the other to really, another world. Those with backpacks will soldier on along a more dangerous inches-wide trail to the seaside level of Kakalau Canyon, the view we saw before us on the Pihea Trail. Long ago, the locals lived off the land there. Now they are gone, replaced with daily visitors. There are stories on blogs I've read, that farther down the trail, another four miles around the coast – that people, known by the locals as squatters, live there – some clothed, some not. They do so until someone in authority, who comes by boat, when the waves are not crazy like they are in March, makes them leave.
We take the trail to the falls.
I think we must be halfway there by now. There's a disgustingly gross outhouse, and darn-tootin' I use it before we head on.
The trail seems to have ended here, at least any kind of a walkable hardened path of red dirt. We've moved on to authentic Hikervilleland. We've got jungle, muddy roots, random boot prints on wet rocks, and if we pay attention, pink ribbons tied on saplings every thirty feet or so to guide us. Lucky for us there are hikers ahead. As there are many who pass us by in their fight to the falls.
What seems like hours later, the hike is still up and down. The waterfall better be descending from Heaven. I have no idea how I'm going to make it to the falls, or back to the trailhead. I know there is only one way in and out of here.
Another one hundred feet and I hear a thunderous pounding. It grows louder. I inhale, rejuvenated.
People are hiking the path toward us, wet and happy.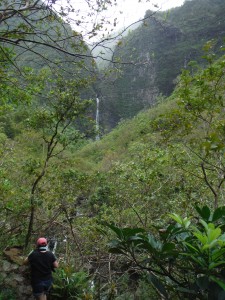 And there the falls are. I see people swimming beneath the cascading water.
I look up. In the bright sunlight, the descending water is so high I can barely make out where it starts. Crazy beautiful. We sit for a bit and marvel at what we've hiked long and hard to see. The waterfall is surrounded on every side by lava spires covered in mossy green. I am gobsmacked by beauty.
A gray-haired woman, lithe and fit, parks her backpack by me. She looks like the woman, Jane-something, who used to work with gorillas. She pulls out her swimsuit, hikes up twenty feet behind a rock, and emerges in her suit. She sets her clothes by her backpack. "I've not come this far not to go in the water," she says. "I'm in my seventies. At my age, this might be the only time I get here. I've got to take the chance and dive." Off she goes, joining the others in the chilly pool and under the waterfall, surrounded in its prancing drops. She makes me wish I had brought my suit and I am envious of her spirit.
By now, it is early afternoon. I know we have a four-mile hike back. Rick hands me a bottle of water and granola bar. I down half of the liquid and all of the snack bar.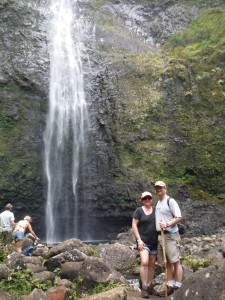 People take out their cameras, jump from flat boulder to flat boulder to capture the falls. I take pictures of the falls. I must take three separate panorama shots, to do so. I also take pictures of the people around me. There's a memory, all of us here – strangers to one another, have made. We've joined ourselves in the common goal to see these magnificent falls. They deserve to be seen in my photographic daytale.
The boots go back on. Yes, we must return home. The first three miles the going is uphill. I must stop, continually. The last of the water is long gone. But there is a point where I realize stopping won't get me home.
Coming toward me are smiling young people in their twenties with backpacks. I smile back. I use the momentum of knowing what they have ahead of them and what I have behind me to keep me going.
Hours pass again. Finally I see Kee Beach. Somehow I manage to walk to a faucet near the restroom. I take my boots and socks off and let the cold water take down my swelling feet and ankles. Rick and I walk to the beach, watch a sleeping monk seal who looks as spent as I feel. He is oblivious to us.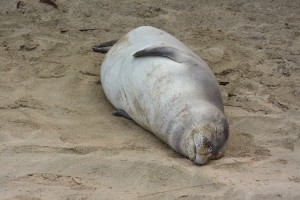 Out in front of us, a dad and son play an easygoing game of soccer. At the shoreline, a local casts his fishing net into the ocean. Each time he flings his net, he catches a fish or two. He stuffs them in the sling net that lays crossbody against him. People are packing their beach chairs and water toys. The sun has shifted and it is mostly shady now.
Day is done. I've a different daytale than those who are on the beach. Mine was an inner contest to do that which is hard. To quote Albert Camus. "I have learned I have within me an invincible summer."
There are many other beautiful places we see on this idyllic paradise. But none are as difficult to do after walking the Napali Coast and seeing the falls.
This hike has forced me, with its every up and down and twist and turn, to step into uncomfortableness and come away from it grateful for the privilege.
Along the Hanakapi'ai Trail, I learned the lesson of do-ability. Yes, I might take a little longer than the rest of the world, but, eventually, I can and will do the hard.
Lessons learned about hard are like that in life too. Whether it's a trail, a scary talk I have to give, or just walking out life, if I look out ahead, if I look back every once in a while to see where I've been, I can do the hard. Like the woman at the falls said. Take a chance and dive in.
And, when I answer yes to the dare hard makes, in the process, I'll gain some blisters, but I'll manage to see Heaven on earth, too.
Aloha.
Julie Saffrin is the author of numerous published articles and essays. Her latest book, BlessBack: Thank Those Who Shaped Your Life, explores the power of gratitude and offers 120 creative ways to journey toward positive, lasting change.