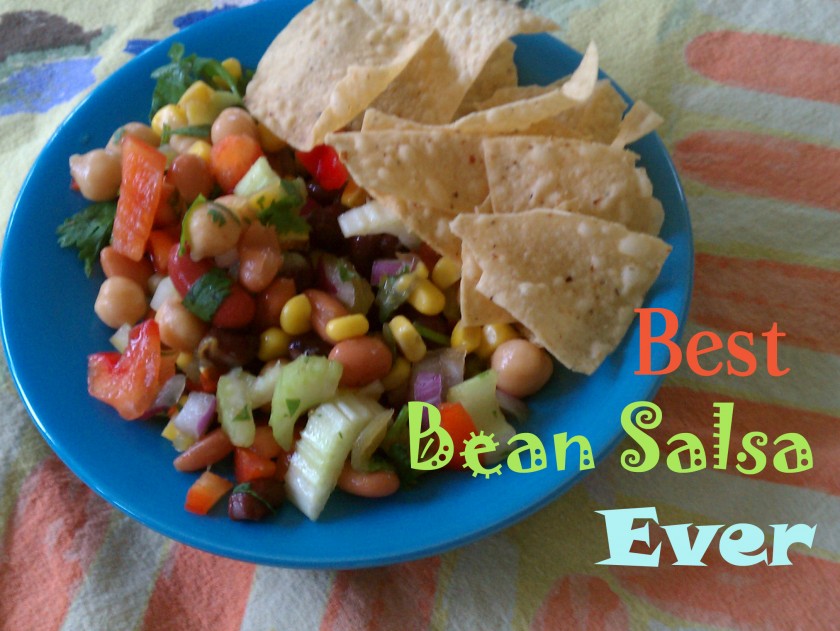 No matter the season, you will love the vibrant, al fresco feel to this Bean Salsa Recipe. My family eats it with tortilla chips as well as a meal in itself.
Enjoy!
Bean Salsa recipe by Jessy Olsen
Makes: a lot
Ingredients
Veggies, Herbs and Beans and Sweet Corn
1 can 15 oz black beans, drained
1 can 15 oz pinto beans, drained
1 can 15 oz kidney beans, drained
1 can 15 oz garbanzo beans, drained
4 stalks celery, chopped
1 bag fresh sweet corn, thawed (or not, if you're not going to serve it immediately)
1 sweet onion, chopped ( I used Bermuda)
1 red pepper, seeded and chopped
1 cup chopped cilantro, washed and patted dry
1 small can of green chilies, drained
Sauce
¾ cup apple cider vinegar
1/3 cup sugar
1 ½ t. cumin
Directions:
If you have a huge colander set it in your sink and open up the cans of beans and green chilies, and let them drain. Add the remaining veggies, herbs, and corn. Place in a huge bowl and combine.
For the sauce, combine the sauce ingredients and place in a dressing shaker and shake or in a bowl and whisk. Pour the sauce over the bean concoction and stir.
Tastes great right away, but the flavors really meld together nicely if you give it a little time to do so, say at least a half-hour. My family usually cannot wait that long. 🙂
##
This post is Day 11 of my Moments in May 2015 Challenge. If you'd like to participate, simply write a blog post or snap a picture to coincide with the day of the month, hashtag it and place it on your Instragram with #momentsinmay or #momentsinmay2015challenge and copy me in at @juliesaffrin on Instagram or @gadhill on Twitter so I'll get to see what you share.
Here's the challenge:
Julie Saffrin is the author of numerous published articles and essays. Her latest book, BlessBack: Thank Those Who Shaped Your Life, explores the power of gratitude and offers 120 creative ways to journey toward positive, lasting change.