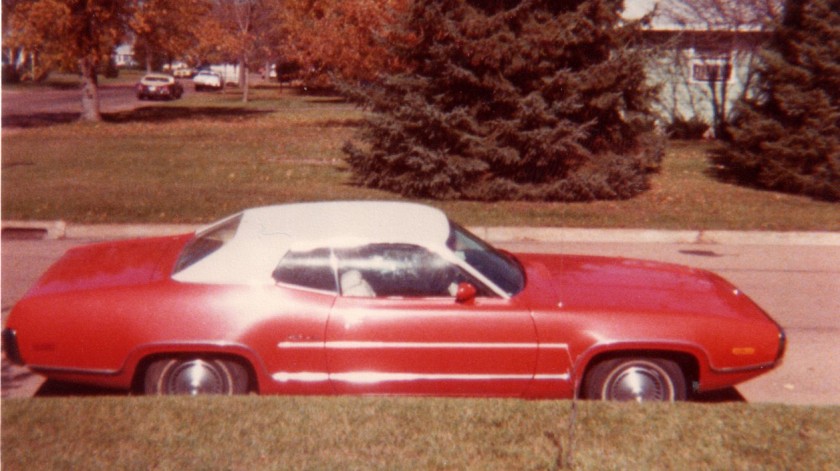 Bring up the subject of one's first car and you'll be taken for a ride. In my case, down Memory Lane.
I don't think Dad had a clue what he faced taking his only and firstborn daughter car-shopping in 1978 to "Larry Reid's Chrysler Plymouth and Dodge" ( hear their jingle here) in Bloomington, Minnesota on Penn Avenue, except to say that I remember him saying he "liked the Dodge Brothers."
Turns out I did too when, in the used car lot, I laid eyes on an orange car with a white roof. Before Dad could say, "I think we should check out a couple of other places before we buy this one," I had written a check for my down payment of $300.00, ready to be poor from monthly payments for the remaining $1,500 plus interest.
My Satellite Sebring had a 318 horsepower engine and loved to blow a quarter-tank of gas to strut her stuff, whether I was flooring it across the old Cedar Ave. bridges or purring into the parking lot of Southtown Mann Theatres to see "The Way We Were."
It was a two-door with white leather interior. The front seat had two "bucket-like" shaped seats. It also had a dandy middle area with a seat belt so should I wish a boyfriend to drive, I could slide over and have his arm around me in no time.
One cooled the car by manually turning the window handle to get fresh air. And should you start with only the driver's window down, you had to wait for a red light or stop sign to roll the passenger's side down.
I remember a dinnertime conversation at my childhood home in Bloomington with my parents and two brothers, Mark and Steve. It revolved around whether it was more fuel-efficient to drive with the windows down or up. Dad referred to a Popular Science magazine article that debated the issue. Steve, a magnet for energy talk and the persuader, even at 15, argued I would obtain the best gas mileage by driving with the windows up. Mark, the diplomat in the family, just tried to keep peace around the supper table.
Well, I was a modern girl who loved to drive with the windows down. I cruised around town with my newly purchased Super Tuner FM/Cassette Player by Pioneer, listening to either KS95, KDWB 63, or a cassette tape of ABBA's "Take A Chance on Me."  Need help, Starsky & Hutch? "That's all I ask of you, honey…"
Cruise, I did. Steppenwolf blared "Head out on the Highway" in the front and back speakers, as I looked for adventure and good times. Unfortunately, I was a working girl at Employers Insurance of Wausau in Edina, and highway driving meant 7:20 a.m. gridlock on Interstate 494. The good thing was I always ran late so the speedometer was pushed 6 or 7 miles an hour passed the speed limit.
Not sure what on earth possessed me to dress like this for a Halloween party. I think listening to all that ABBA music might have influenced me because the year was too early for the "Pretty Woman" era to have had any effect.
I was 19, working and still living at my parents' house when I bought the car. Maybe that's why owning the Sebring felt like Independence day had come, because you know, the world awaited my discovery of it. All I needed to do was wrap my hands around the Sebring's leather steering wheel and I was ready to explore the land of Paul Bunyan and Babe, the Blue Ox.
I think owning your first car is a rite of passage to becoming an adult. It's right up there with living on one's own or owning a first home. It's putting one's stamp on the world. It's expressing one's viewpoint – in my case, in a rather hard-on-the-eyes orange Popsicle color.
And about those Dodge Brothers. Turns out Dad had a reason for liking the boys. In their Dodge Brothers Machine Shop in Detroit, Michigan, they garnered the attention of Ransom Olds who gave them a contract to build transmissions. Wasn't too long before a man named Henry Ford came a-callin'. The Dodge brothers, in 1903, built what became the prototype for the Model A. You can read more about the Dodge boys here.
Six years ago, my husband and I went to visit my cousin Connie and her husband George. They have a boat on Lake Erie. Connie and I went driving in Toledo, Ohio. We drove past the recently closed Chrysler plant. Picture ten football fields of poured concrete, all empty of employee cars. Couldn't help but think the Dodge boys' hearts would sink. Sure made me sad.
These days, I don't drive a car that bears the bros' names. I do, however, echo the behavior of my youth. Some form of listening is always on, whether it's Paula Hawkins' audio book "The Girl on the Train," Adam Gregory's "Crazy Days," or Tom Petty's "Runnin' Down a Dream." The moon roof is open, the windows are down, the AC is on.
I brought this to Steve's attention the other day, asked him what he thought about fuel efficiency by my driving in this way. His mouth went slack-jawed, his head bobbled back and forth, so perplexed was he by his goofy sister missing the logical gene.
I never did get his answer.
##
In case you're wondering, today's post is Day 14 on my Moments in May 2015 Challenge.
I would love for you, as well, to participate. Simply post a blog or take a picture and post it on Instagram or your favorite social media. If you click the image you will be directed to my Instagram page as well.
Julie Saffrin is the author of numerous published articles and essays. Her latest book, BlessBack: Thank Those Who Shaped Your Life, explores the power of gratitude and offers 120 creative ways to journey toward positive, lasting change.