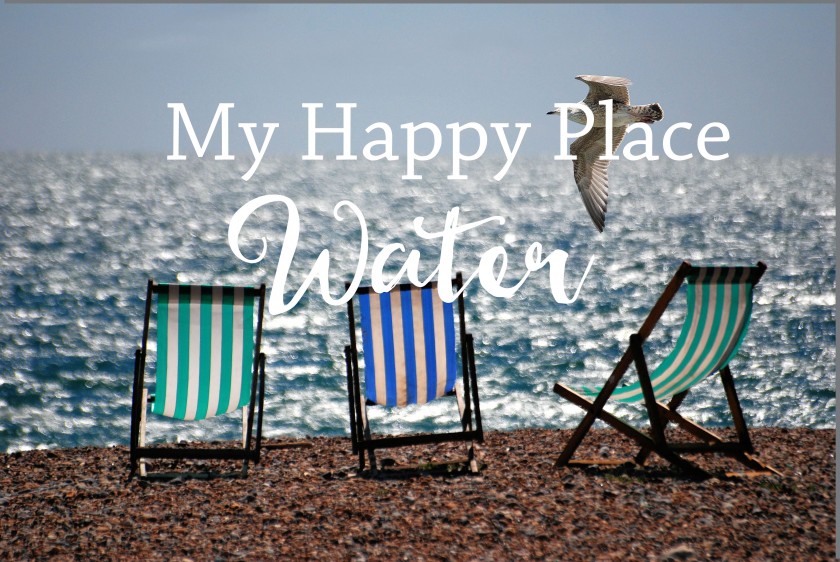 "…he leadeth me beside still waters. He restoreth my soul…" Psalm 23:2-3
My happy place is by the sea. The whys are stated below.
1. Sea music.
You don't need to bring your own music to the beach. The sea has its own sound system.
It plays a lullaby and allows you to rest and think.
Other days, it's a constant repertoire of crashing cymbals and thunderous drumrolls. The waves unchink the stress right out of you. Your thoughts are silenced by the concert of the sea. Your soul is hushed by its never repeated notes.
2. Water People.
On South Beach in Miami, you bring your beach towels, chairs, umbrella, and a good book – a book you will never read because you'll find yourself people-watching. You'll see photo shoots of models.
You'll wave bon voyage to the Disney cruise ship while it horns tuba-toot the first seven notes to "When You Wish Upon A Star as it leaves harbor.
3. Varied shorelines.
Like an innocent child, Sanibel is open and creative.
While Bald Head's cliff in Maine lets its personality be known.
4. Evokes the five senses.
Hear.
Read above.
See.
As far as your eyes will allow you to.
Taste.
Something of which every surfer has sampled.
Touch.
Allow yourself to be enveloped by it. (Jump in, float or surf upon, and discover what lies underneath its surface.)
Smell.
You really can inhale the salty, humid air.
5. Knows how to communicate.
Yes, the sea is a moody thing. The sea knows how to express itself. If the sea is in turmoil, you know it. If it is bugged by the wind, you know it. If its mood is somber, it shows you. If it wants you to enjoy a shore lunch nearby, it will allow you to. It has a relationship with the moon and allows itself to be affected by it.
6. Has boundaries, and by succumbing to them, is obedient to its Maker.
One of my favorite Scripture verses is found in Job 38:11. "Here is where your proud waves halt." If we all did what we just felt like doing, imagine what this world would look like. That self-discipline is exercised is a good thing.
What is your happy place and why?
To join the Moments in May 2015 Challenge, simply post a photograph or blog post and hashtag it #momentsinmay2015challenge on Instagram or other social media.
Here's the schedule:
Julie Saffrin is the author of numerous published articles and essays. Her latest book, BlessBack: Thank Those Who Shaped Your Life, explores the power of gratitude and offers 120 creative ways to journey toward positive, lasting change.