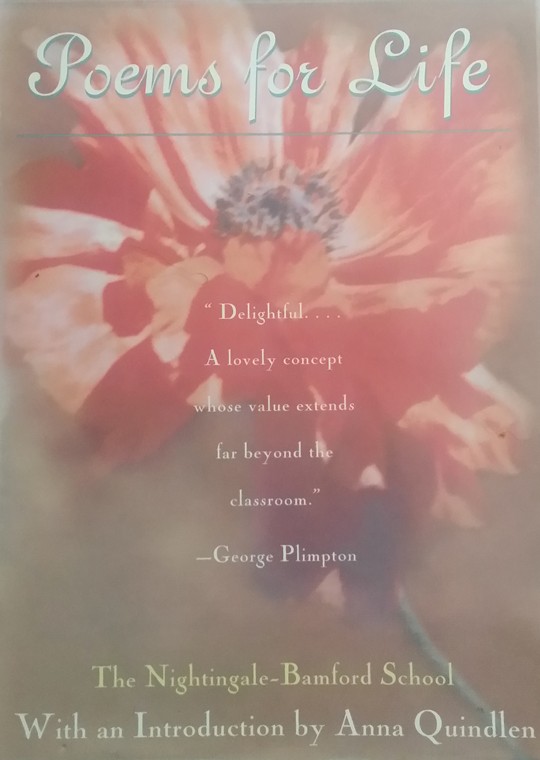 Today is Day 2 in the June 2015 Challenge in Pictures or Words.
Not sure how I stumbled upon my favorite book of poems, Poems for Life, but I love the concept of its compilation. When I bought the book, The Nightingale-Bamford School was not on my radar.
A quick look online and I learned it's an all-girls prep school in Manhattan.
According to the Teacher's Note in the book, the origination of the idea behind this collection of poems came from a 1992 Irish anthology of poems entitled Lifelines. Lifelines had its beginnings in 1985 with Dublin students at Wesley College writing famous people and asking them for a favorite poem and why it was loved. Any royalties from the book were given to organizations equipped to help children in developing countries.
Two Nightingale-Bamford teachers, Faith O'Grady and Mary Allen, brought the idea across the pond to their fifth-grade students. Poems for Life: Famous People Select Their Favorite Poem and Say Why It Inspires Them is the result of the project. A brief glance at the book's table of contents reveals a veritable who's who of the mid-1990s: Rudy Giuliani, Brooke Astor, Mario Cuomo, Geraldine Ferraro, Peter Jennings, Edward Koch, Angela Lansbury, Yo-Yo Ma, Susan Minot, Joyce Carol Oakes, Stephen Sondheim, Kurt Vonnegut, Elie Wiesel and Tom Wolfe among them.
In this supposed era of "tyranny of desires," I love that famous people took the time to read a letter from a fifth-grade girl and then wrote her and about told why the poem was their favorite. Many of the entries include not only a poem but letters from the responders. Here is Rudy Giuliani's letter and poem choice.
Interestingly, Giuliani chose an Emily Dickinson poem centered around altruistic actions. Others-focused.
The letters in this poem book are just as insightful as the beautiful poems chosen. I love Sheldon Harnick's reasoning as to why he chose Walt Whitman's "When I Heard the Learn'd Astronomer." He writes, "I think the reason this book affects me is it does has to do with a deep need on my part to preserve a sense of the mystery, the divinity (if you will) of life." Don't we all.
Anna Quindlen shared William Butler Yeats' He Wishes for the Cloths of Heaven. I agree with her advice. She suggests one read it aloud.
Had I the heavens' embroidered cloths,

Enwrought with golden and silver light,

The blue and the dim and the dark cloths

Of night and light and the half-light,

I would spread the cloths under your feet;

But I, being poor, have only my dreams,

I have spread my dreams under your feet

Tread softly because you tread on my dreams.
What if each of us thought of people's sharing of their stories, their writing, their ideas, their Excel spreadsheets, their teaching lessons, their art, their political leanings, their tending of children, their customer service, their delivery of packages, their listening, their taking time to share a meal or visit, as dreams spread about our feet? Would it make us tread more softly? Be more respectful, appreciative, and here's a big word – considerate?
This is a delightful book. It's an every-day reading book that contains some of the world's best-loved poets such as William Wordsworth, Percy Bysshe Shelley, Robert Frost, Matthew Arnold, Rudyard Kipling, Emily Dickinson, Alice Walker – even Theodore Roosevelt. It's worth your checking it out online or from your library.
Write in the comments section what your favorite poem is and why. If yours is one of at least five comments left, you could win a Kindle version of this book.
Today is Day 2 of the June 2015 Challenge in Pictures or Words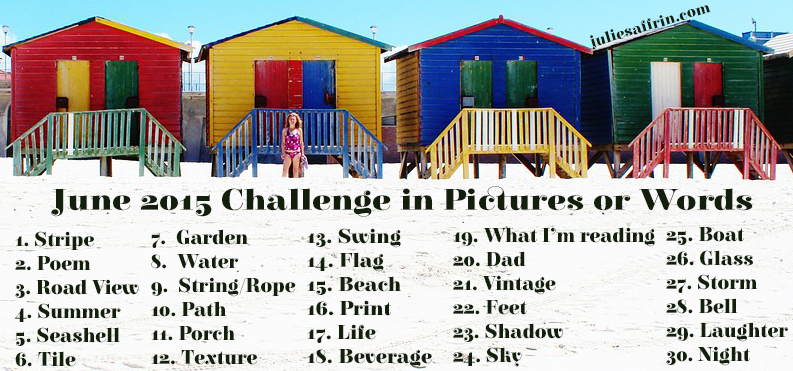 Here's the June 2015 Challenge for those who wish to participate in it.
For those who are new to this idea. Simple snap a picture or write a blog post about the #day. Then, post it on your favorite social media such as Instagram, Twitter, Facebook, or VSCO.co and put a link to me. Here's where to connect me:
Instagram
Facebook
Twitter
VSCO.co
Blessings on your day,
Julie
Julie Saffrin is the author of numerous published articles and essays. Her latest book, BlessBack: Thank Those Who Shaped Your Life, explores the power of gratitude and offers 120 creative ways to journey toward positive, lasting change.