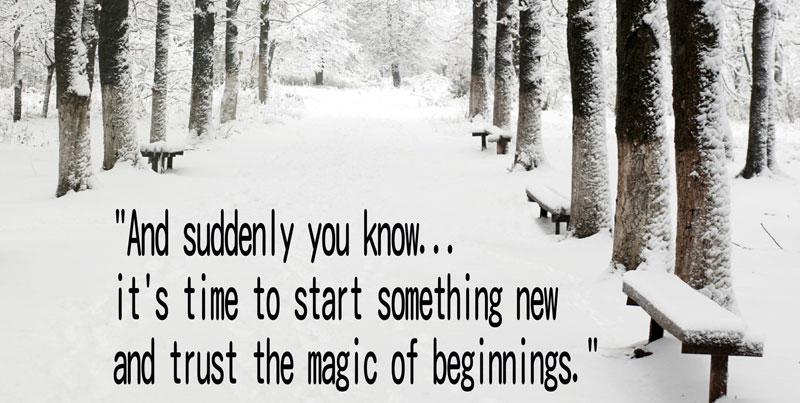 "Time is not even, neutral, uniform, independent of man and culture. Time is not regular ticktock time. It varies, comes loaded, heavy or light or tragic or shaking with one or other passion, be that pain or pleasure—each reflecting very human affairs. Beginnings and ends, births and deaths, critical moments of liminality. Big ends, little ends. The shock of the new, the trauma of the old. Some times come unexpected, when we are not looking, and they stun us, perhaps for ever after.  Time is not calendar or the clock, it is the almanac."1
2015, for some, was a year of intentions and delights. Yearned-for moments, cherished upon arrival.
2015, for others, it was a year of inconceivables and losses. Sudden, unwanted, searing and painful, for which no salve exists.
2015, for all, is now a sealed time capsule of 365 days.
I've lived long enough to know just as sure as "I exist, therefore I am," that 2016 will bring its share of Austen's "half-hopes and half-agonies."
But as I slip over the fence into the new year's playground, I've brought along life's essentials: People for whom I am grateful. The ones who have brought into the world my first grandchild, Olivia Anne, and let me watch as she nestles, squawks and squeaks. Others, who satisfy and bestow their blessings of time, words, and humor. Concrete investors in soul support, in it for the home stretch, who quell when the jarrings hit. Slung over my shoulder I have also brought a red-and-black-checkered backpack, filled with paper and a fountain pen, for those times when I want or must write down my thoughts and imaginings before they slip through the hour glass.
Best wishes to you and yours in 2016. Happy NEW Year. Make it worthwhile.
Julie
1 From Donald F. Miller's essay "Quality Time" in the compilation Time: Perspectives at the Millennium (The Study of Time X), edited by Marlene P. Soulsby and J. T. Fraser
Julie Saffrin is the author of numerous published articles and essays. Her latest book, BlessBack: Thank Those Who Shaped Your Life, explores the power of gratitude and offers 120 creative ways to journey toward positive, lasting change.