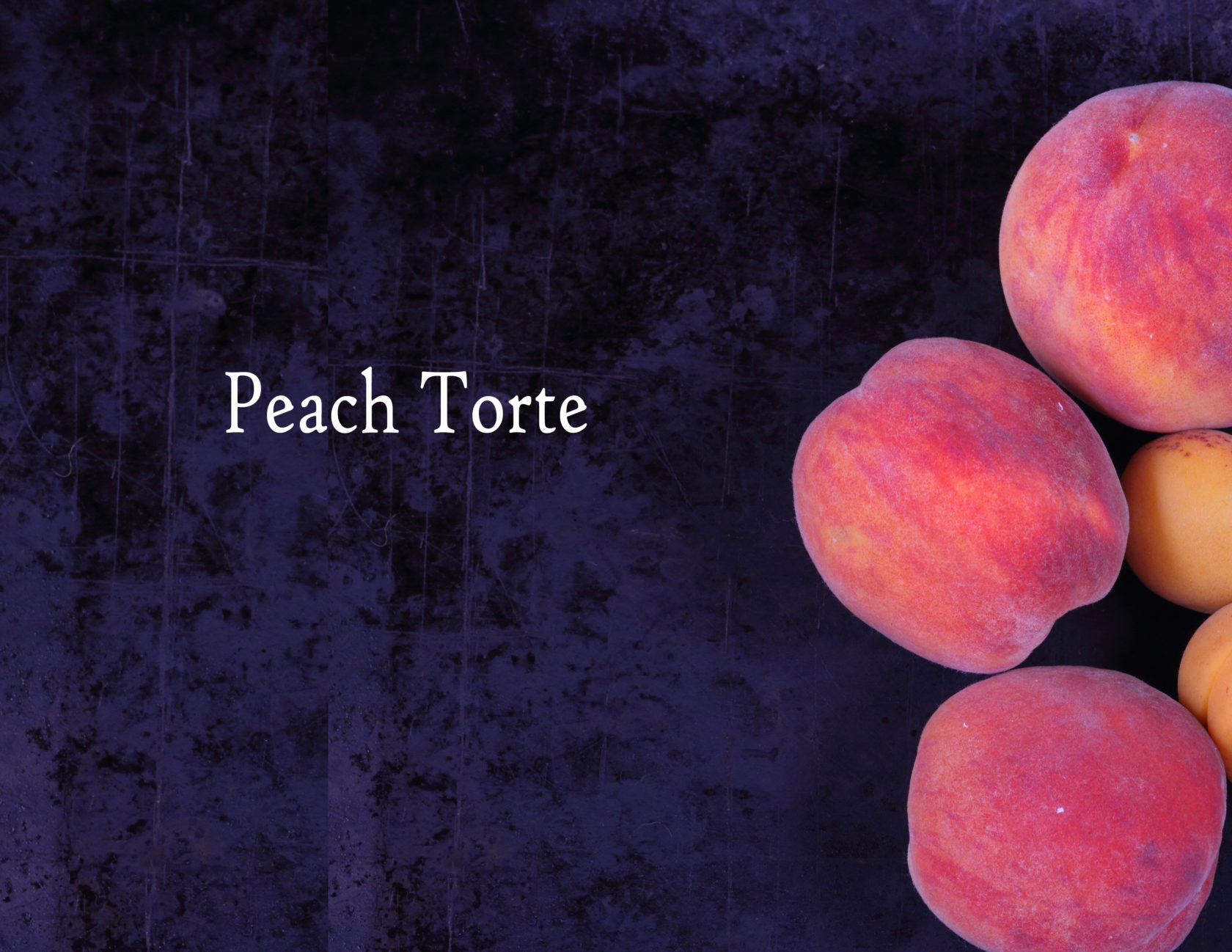 Lately, I've been into making fruit desserts. Not sure why. I think because I love peaches. And I love this Peach Torte with vanilla bean ice cream.
I received this Peach Torte recipe from my sweet friend, Ann Seymour. Prepared and baked correctly the Peach Torte is the most fabulous-tasting and easy recipe I make. You'll be slurping up every last syrupy spoonful of deliciousness.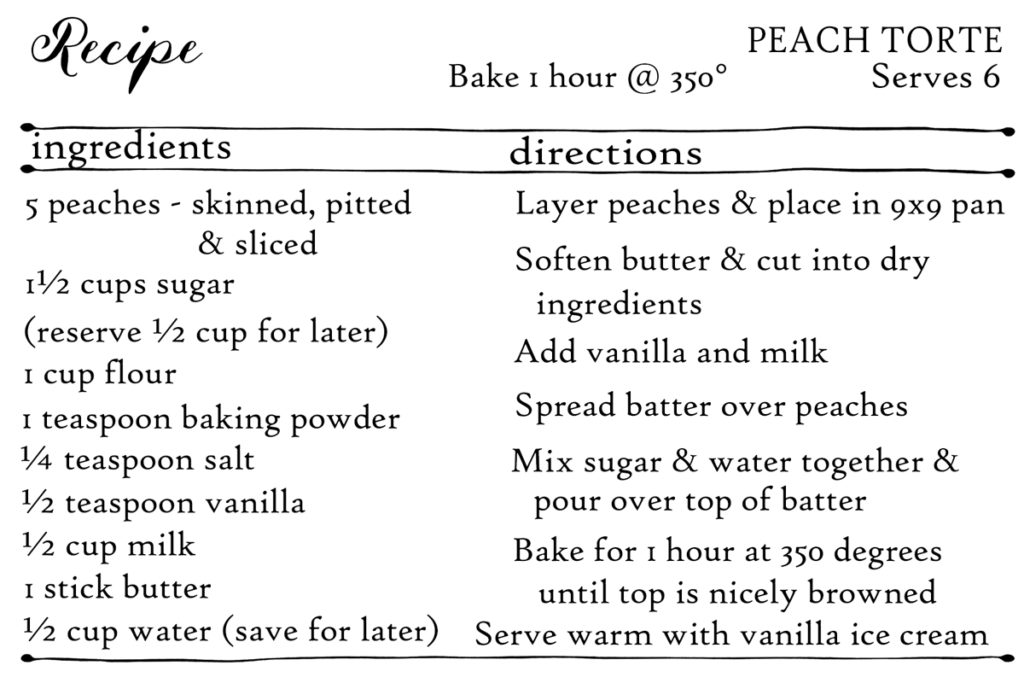 I do use a torte pan – it's actually a Pampered Chef edged baking stone approximately 11 inches in diameter. But a 9×9 cake pan will work great too. I tried to double this recipe for a 9×13 pan and WAS NOT impressed. The topping just did not set up right. If you need more dessert, make it in two separate torte or 9×9 pans. (No need to coat the pans.)
Here's the thing about this recipe that you need to pay attention to:
You'll want to reserve a 1/2 cup of sugar and all of the water to use later.
I say this at the start of this recipe as I have flubbed a time or two. And the torte just doesn't taste the same and I've found that it turns into a goopy mess.
And yes, use real butter. Use ripe peaches. Make sure to take the skin off of them too. I generally wait to prepare the peaches until I have combined the wet ingredients into the dry ingredients.
Okay, here's the recipe. My mouth is watering just typing it out. 🙂
Ingredients:
5 peaches, skinned, pitted & sliced
1 1/2 cups sugar (reserve 1/2 cup for later)
1 cup flour
1 teaspoon baking powder
1/4 teaspoon salt
1/2 teaspoon vanilla
1/2 cup milk (I use skim milk and it works just fine)
1 stick butter
1/2 cup water (save for later)
Directions:
Soften butter and cut into dry ingredients (I use my Kitchen-Aid mixer)
Add vanilla and milk
De-skin peaches and remove their pits. Slice peaches (1/8 to 1/4 inch thick) and layer them in a torte pan or a 9X9 pan.
Spread batter over peaches. Don't worry if you do not have enough batter to spread all over the peaches.
Mix reserved 1/2 cup of sugar and all of the water (1/2 cup) together. Pour the sugar-water all over the batter.
Bake for 1 hour at 350 degrees.
Serve warm with vanilla ice cream.
To copy Maui of Moana. You're welcome.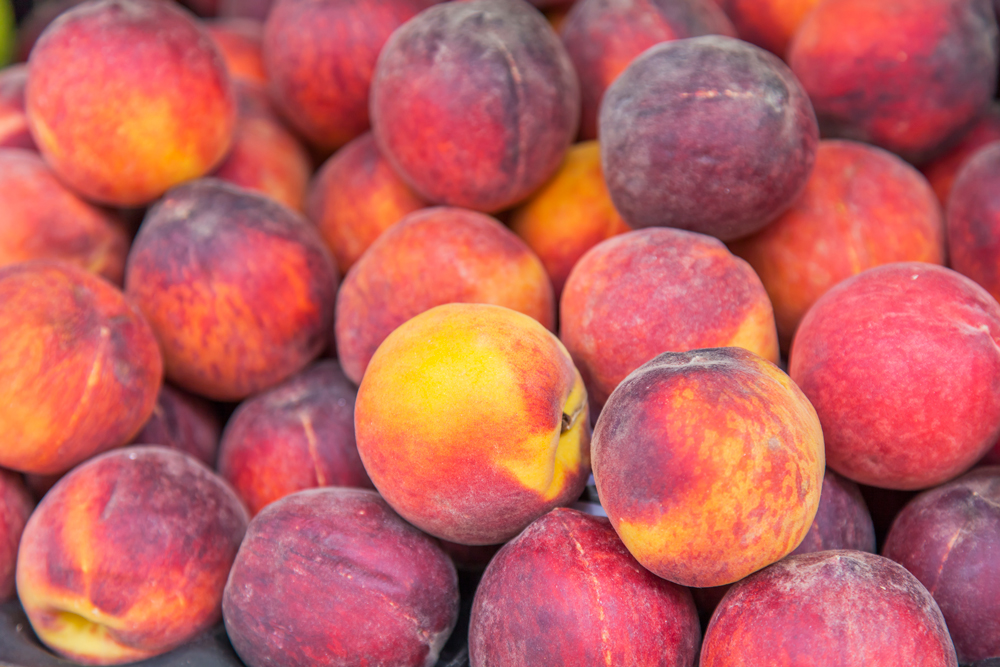 Julie Saffrin is the author of numerous published articles and essays. Her latest book, BlessBack: Thank Those Who Shaped Your Life, explores the power of gratitude and offers 120 creative ways to journey toward positive, lasting change.