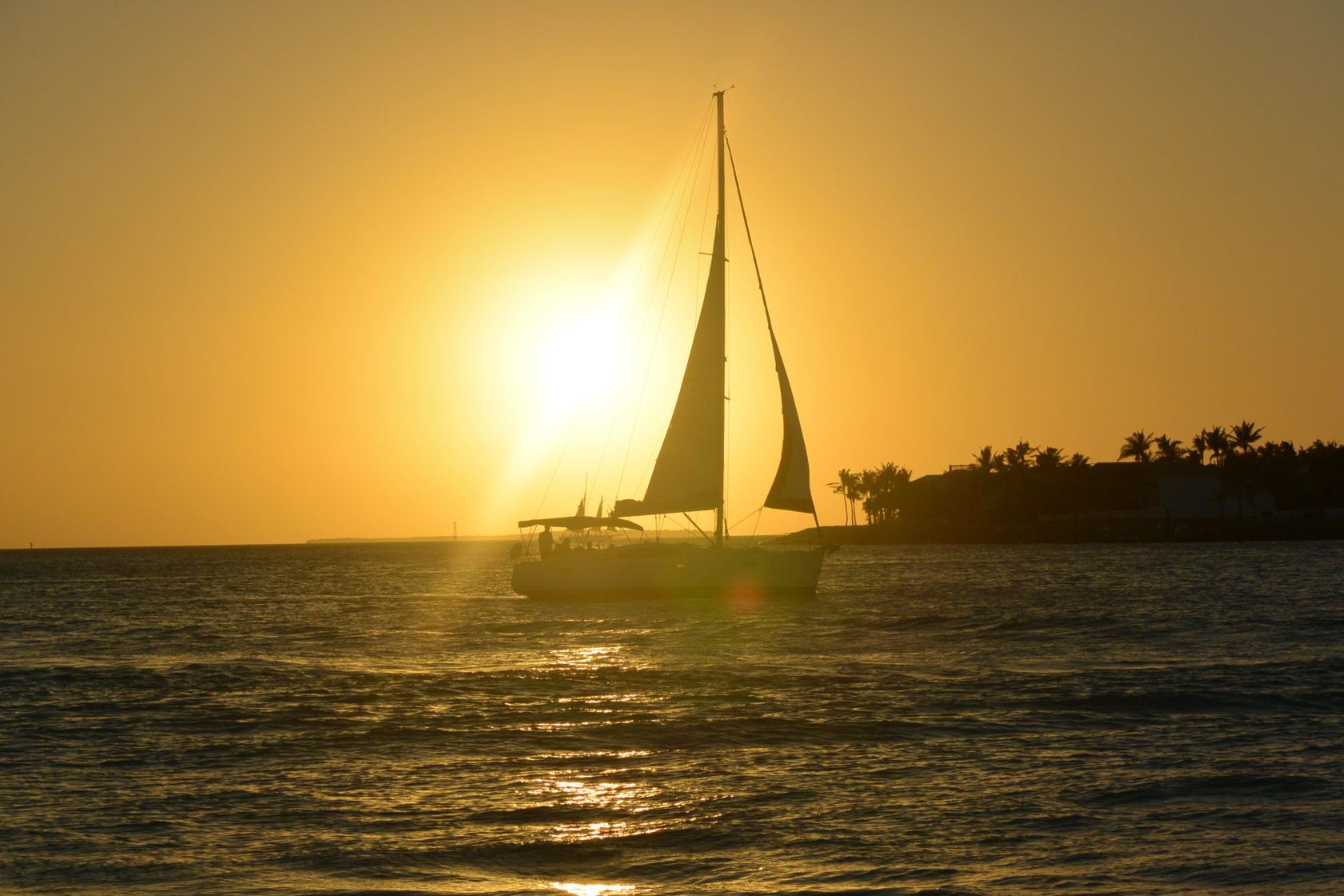 As we snow birds seem to say quite a bit in the early months of the year and now mid-survival of the April blizzard 2018, "Why do we live in Minnesota?"
Family. My English, Norwegian and German ancestors, yes, decided that this part of the United States was a place to set down new roots. I've wondered, er grumbled, many a time, what was so enticing about this area? No sea, no mountains – of significance, just two seasons: Mosquito and Freezing Snow.
Why, why, why? Especially when the Florida Keys exist?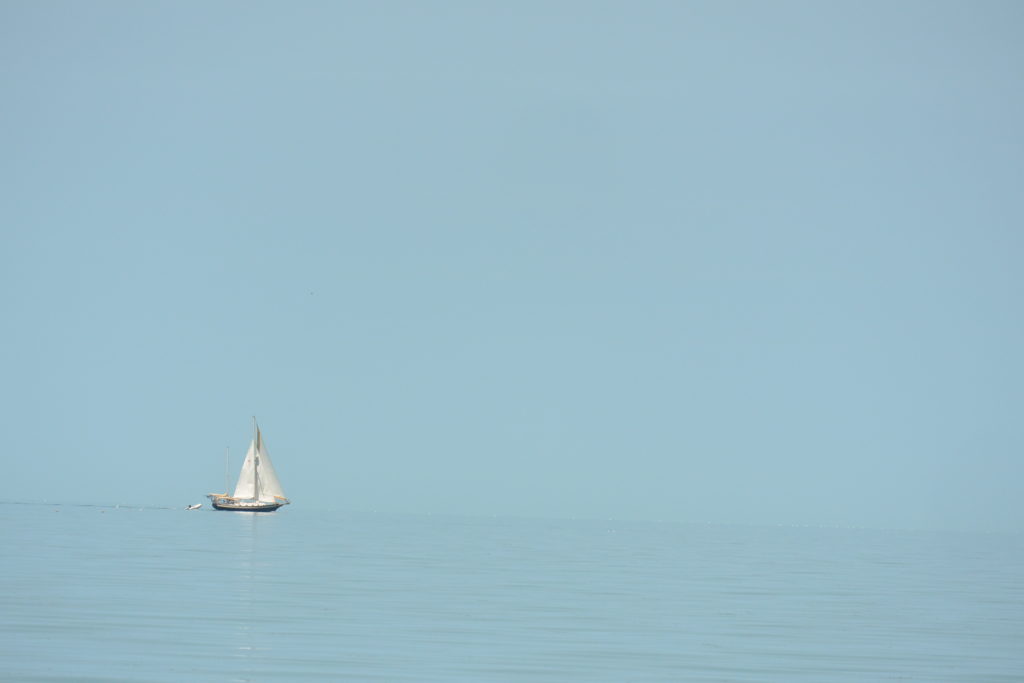 My husband, Rick, and I have visited the Keys several times, both with family and with friends.
This year, we went with friends we've known for a long time. The Mestads and the Hamanns. Sue Mestad and I go back to when I was four years old and had just moved from Menomonie, Wisc. into the East Bloomington, Minn. neighborhood, known back then as the boon docks. I was four. Sue was three. The others, Sue's husband, Kris, and Randy and Peggy, (Randy was best man at our wedding) I've gotten to know through Sue (Kris) and Rick, (Randy and Peggy).
Every summer we head to our cabin and goof around. We dance on the pontoon, horse around in deer stands on our land in Ottertail County.
Play Telestrations. One year, the men repurposed their cigar cases for us ladies.  S-weeet points.

We've done so for seven years and pretty much laugh our heads off and cause our bellies to ache from laughter days after our time together.
In the past, we've told the gang about our trips to the Keys and in the summer of 2017, Sue and Kris arrived at our cabin, and Sue said, "Kris and I have talked about it and we'd be game to do a couples' Keys vacation with you guys."
After I recovered from a brain faint of shock, I was on my phone, checking for places to stay before any beverages had been served.
Randy and Peggy were game too, and we started looking for available places to stay that fit, time-wise, into Peggy's Spring Break (as she has a one-week spring vacation in the school district where she works).
We found a too-good-to-be-real place in Marathon, which is about Mile Marker 50, and booked it. It had a dock so we could rent a boat. It is located at a perfect place, where the Gulf and the Atlantic meet: Vacay Cut. Vacay Cut is an ideal area to stay, especially if you're a fisherperson, as, depending on which body of water is calmer, the passageway makes for easier access to get to either place.
A friend of mine's husband, Dave, is in insurance claims and spent several weeks in Miami and Key Largo, and Islamorada. He was kind enough to drive to our vacation rental to tell us the place we had rented was in great shape and was not hit by the hurricane. He did report, however, that Marathon took a beating. My cousin, Connie, and her husband, George, spent the winter down there. She also drove by our house we were renting and said it was beautiful. We were so thankful that our vacation was ON! Note: While Marathon did get hit, we found most places doing well. The Burger King and Pizza Hut were severely hit and the Winn-Dixie grocery store is not open. However, we shopped at Publix for groceries and found restaurants open and ready for company. Roads were fine. Sombrero Beach, well, it's still gorgeous, but it's altered. There are seriously, bridges now, to nowhere. But it's still stunning and a great place to hang for the day. There are some sad places, to be sure, missing palm trees, and heading down to Marathon we saw plenty of For Sale signs on properties, but, if you're on the fence about going, all of us would highly recommend going there.
We made plans, found a place to rent a boat, bought our tickets and met at Minneapolis-St. Paul International Airport on Saturday, March 24, at 7 a.m.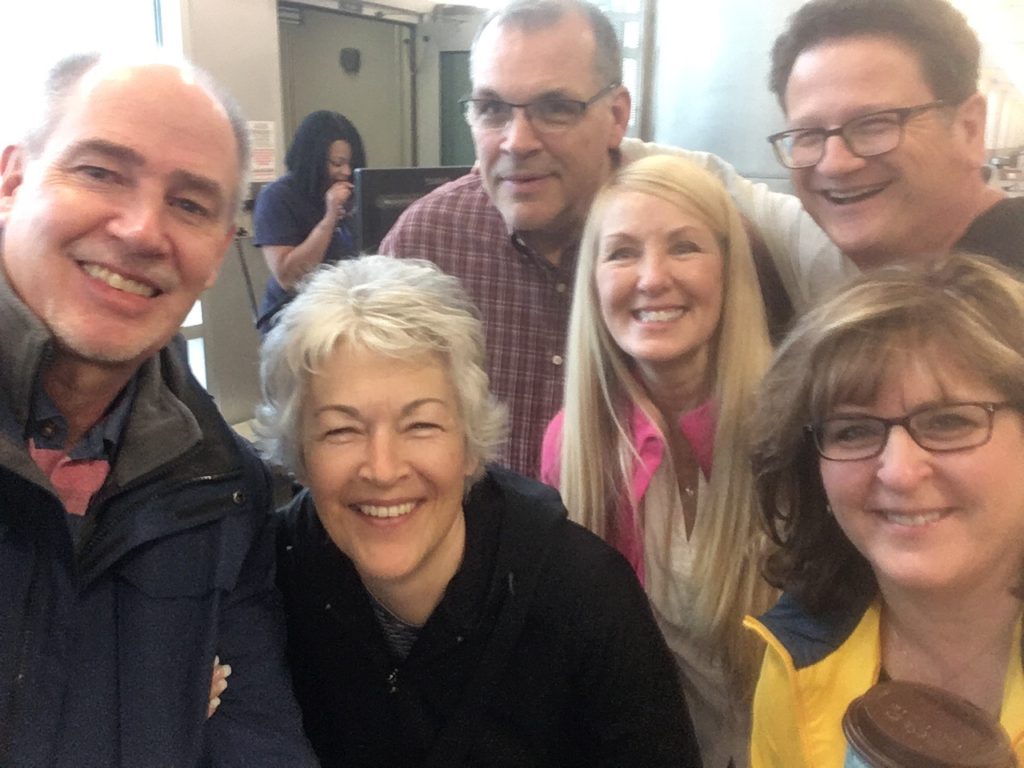 We were tired, but we were so ready to have a great time. With this crew, adventure, is the name of the game.
Kris and Sue gave Rick and Randy Sting-Ray Afternoons by fellow Bloomingtonite, Steve Rushin, which set up many a conversation about the six of us growing up in East Bloomington. We covered teachers, fellow students and great memories.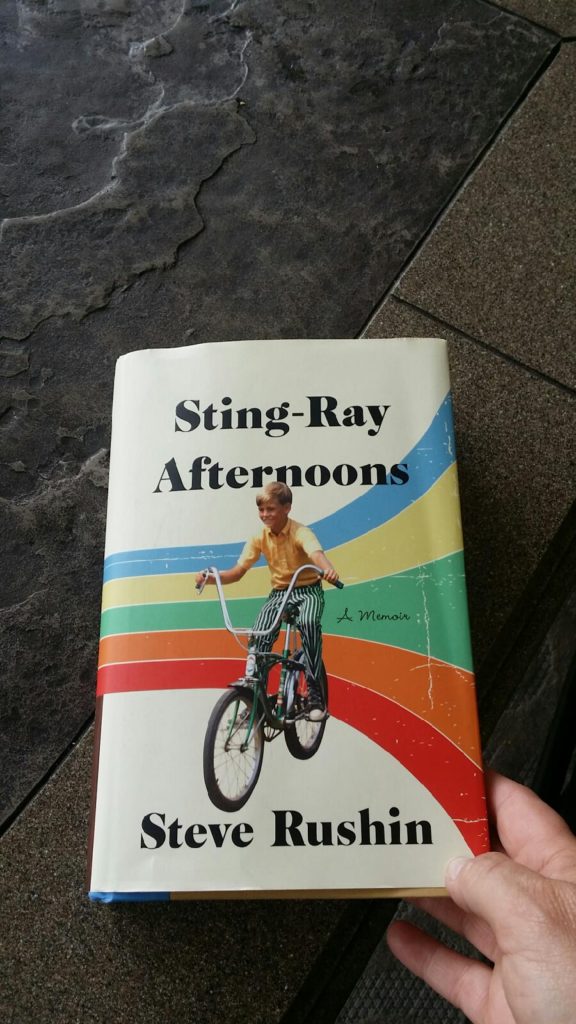 After the guys got in one vehicle and the girls, the other, we navigated ourselves out of Miami. First stop was to grab lunch.
We chose Jimmy Johnson's Big Chill at Fishermen's Cove in Key Largo and immediately upon entering the Keys our breath was taken away upon seeing the turquoise water.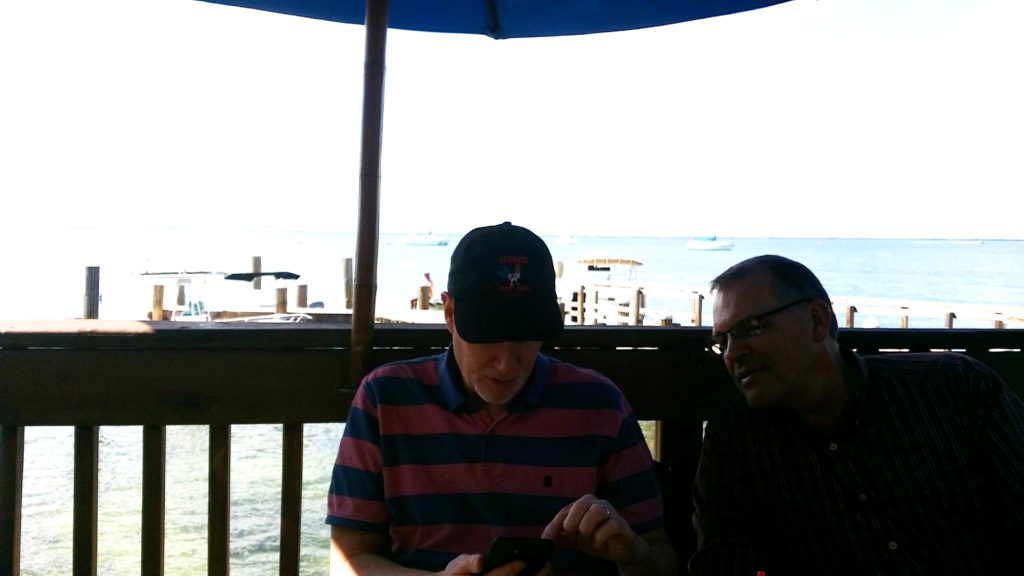 And we went into, as the sauces-and-napkin-holder says, into "An island state of mind." Food and Yuengling beers were ordered.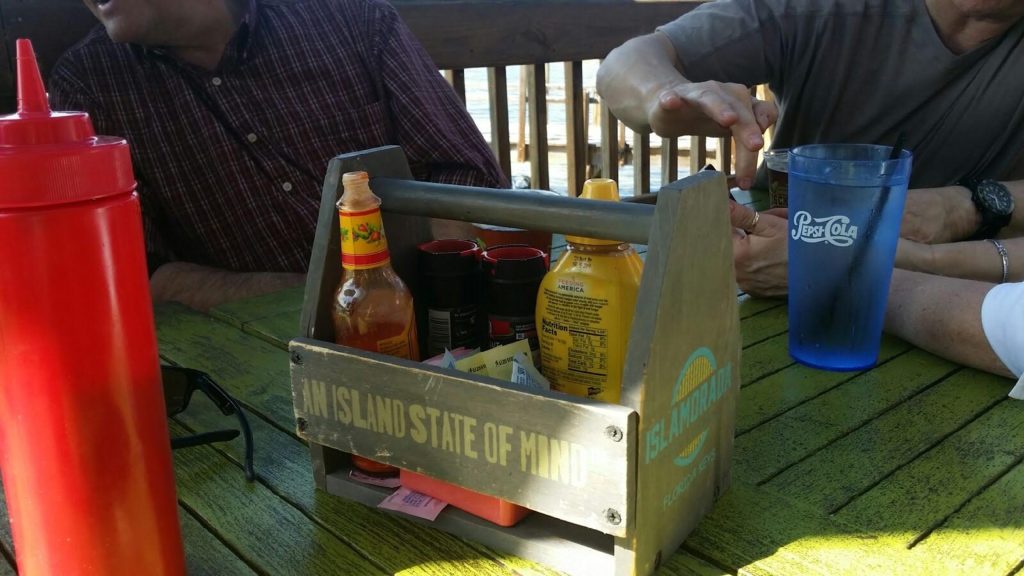 I think we must have said ten times how wonderful the sun felt as we leaned skyward, starved from Vitamin D.
We finished lunch and headed to a pretty fabulous place. Bass Pro Shops otherwise known as World Wide Sportsman in Islamorada. Neither Peggy or Sue had a proper hat to keep the sun from burning their heads, so the three of us had a great time finding just the right hat. Randy found one as well. I think they found perfect ones!

Perhaps the most interesting thing about going to this shop is it has a boat, technically the sister ship to Ernest Hemingway's boat, Pilar.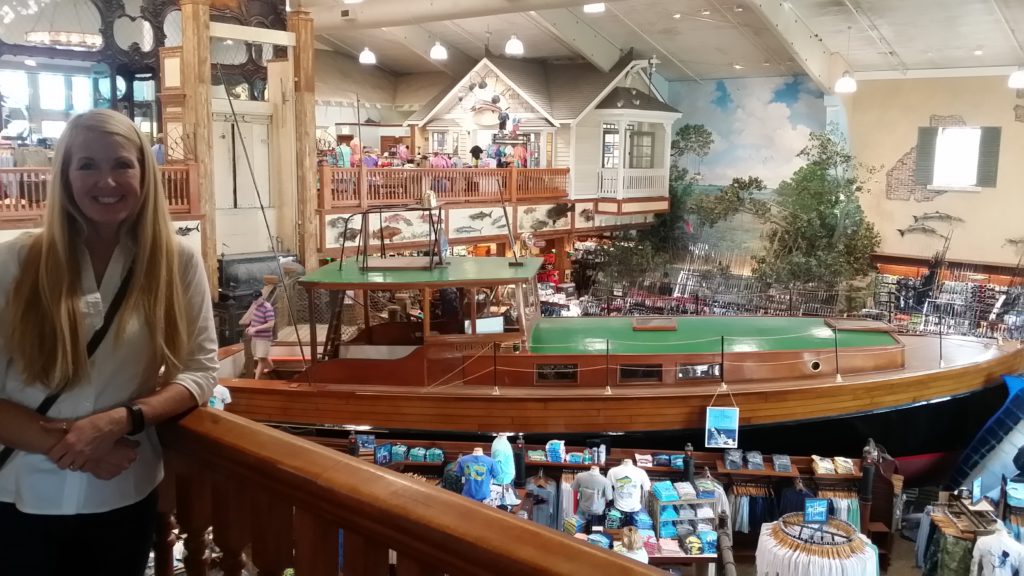 And yes, you can walk around in it, sit in the casting chair, much like Hemingway would have, or sit at his desk and pretend.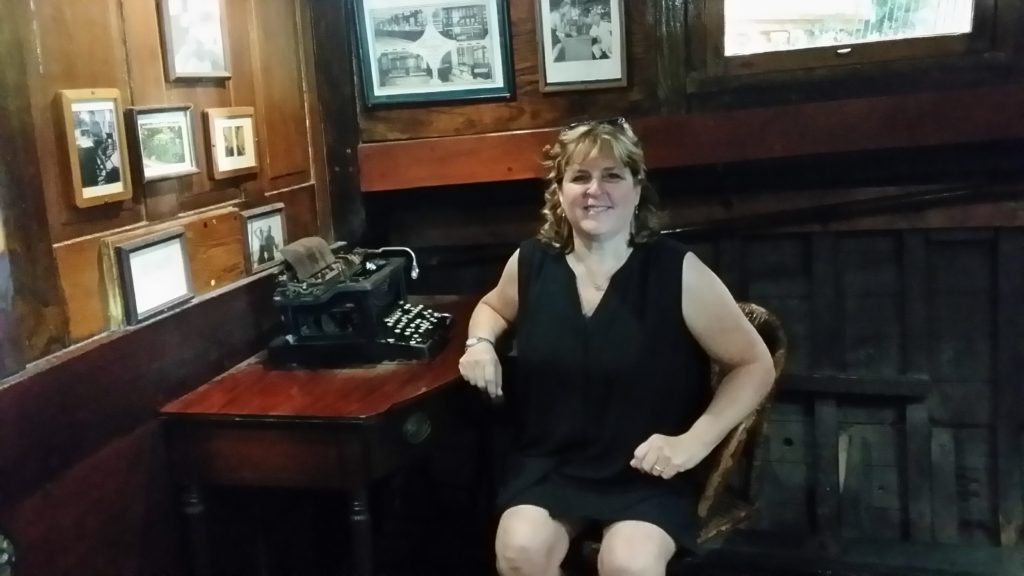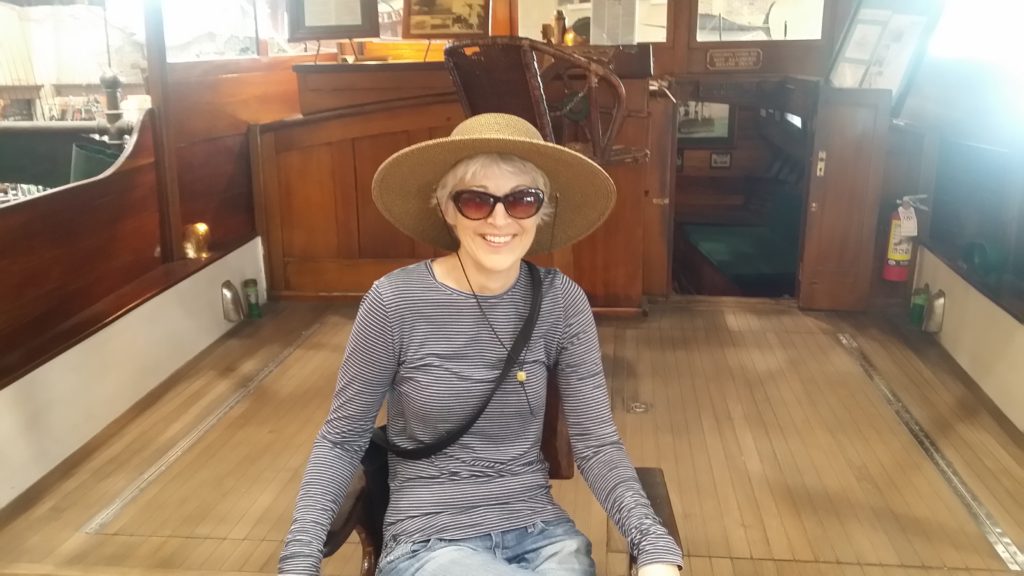 We took pictures of tarpon and silly pictures of ourselves in silhouette, enjoying every moment of the sunshine and sun setting. Though I had seen this place before, I truly loved re-experiencing this place through my friends' eyes.

We had waited six months for this trip to become realized and we took every moment to savor the Keys.
Finally, we reached our destination on Key Colony Beach – a part of Marathon, and we were blown away. Great sleeping accommodations, fabulous kitchen, comfortable living room, awesome bathrooms and a beautiful, perfect outdoor eating area sheltered from the sun just two steps from the pool. Pure bliss.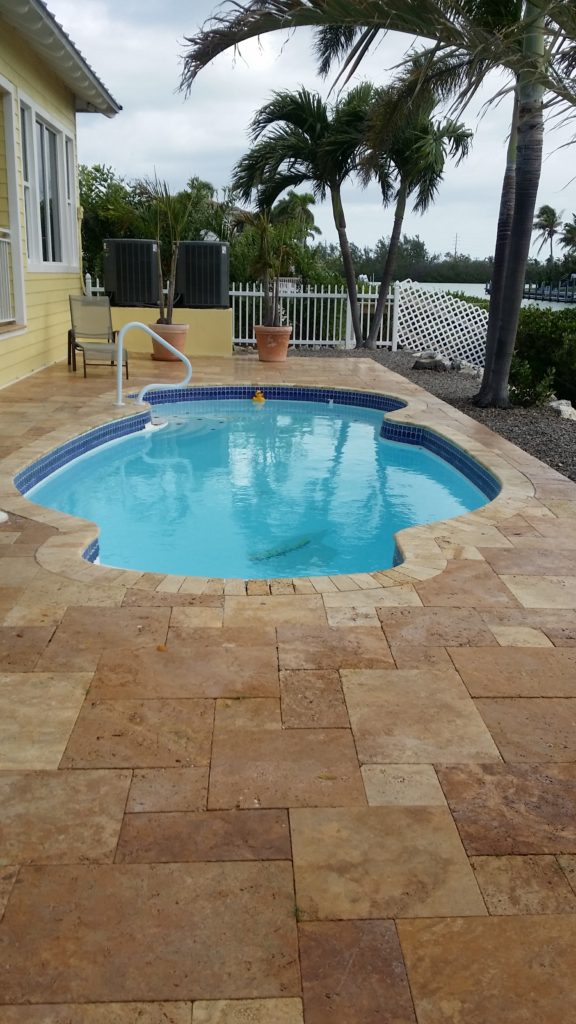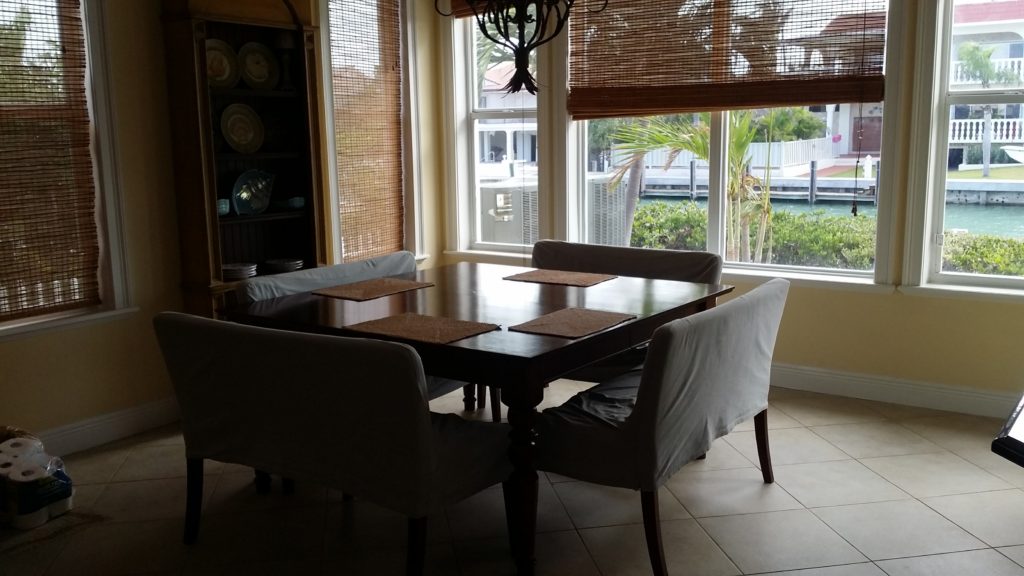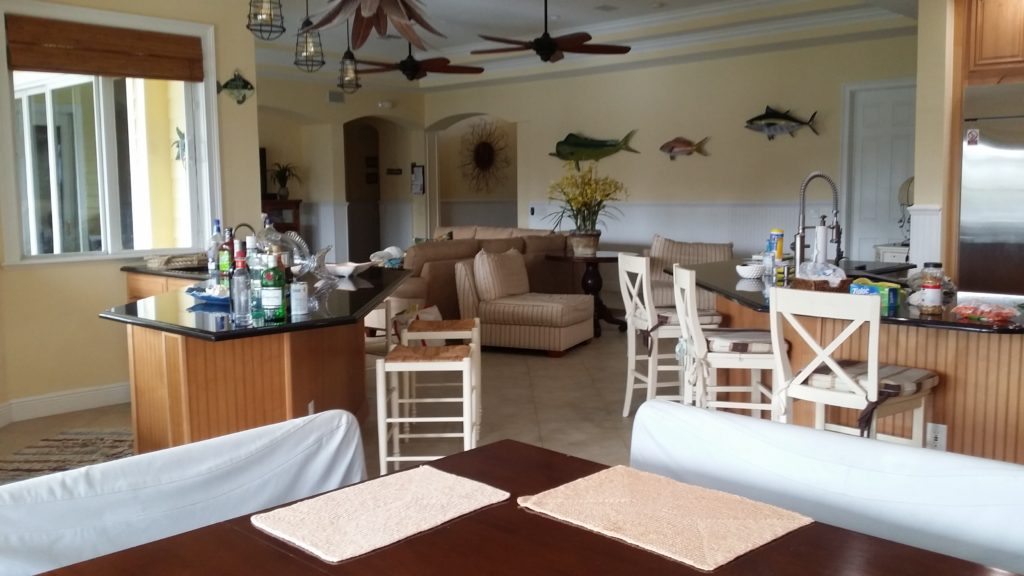 Each couple had privacy, their own bathrooms and plenty of room to have their space. Also, the homes in this area are ah, stunning and provided great fodder for daily conversation on our walks. What lucky humans get to live in these places?
I'll share more in the coming post about places we ate as well as our trip to Key West, which was another adventure as we were on the hunt for jewelry that looked the color of the water in the Keys.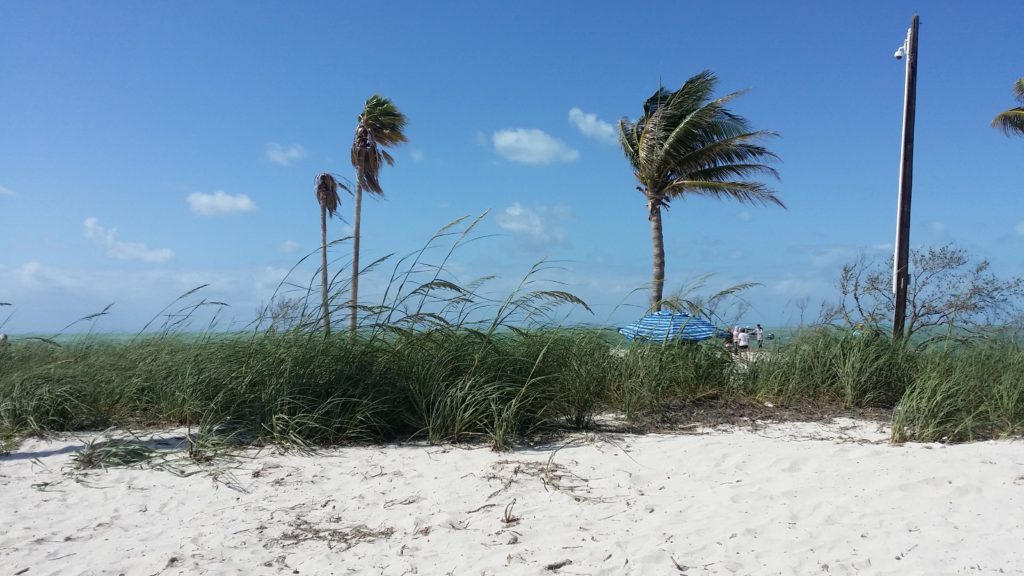 Julie Saffrin is the author of numerous published articles and essays. Her latest book, BlessBack: Thank Those Who Shaped Your Life, explores the power of gratitude and offers 120 creative ways to journey toward positive, lasting change.