What comes to mind when you think of Key West? Before I visited this beautiful place, I knew it was about ninety miles from Cuba and Ernest Hemingway used to live there.
Both are true. But Key West has so much to see and do, it is definitely worth scheduling into your Florida Keys trip if you have a day to spare. That said, a woman came up to me from Miami just after arriving and parking there at 11 a.m. and she, along with her husband and two mid-teen boys, were just getting into their car parked in back of me to head back to Miami. The boys were on Spring Break. "Is there anything else to see in Key West other than the Southernmost Point?" she asked. The boys looked bored, already on their phones. I told her to come back without her kids so she could enjoy the day like we were about to, exploring the city, with impromptu stops in shops and renowned places in Key West. She thanked me and they were on their way.
We were a group of six from Minnesota – husbands and wives who've known each other for nearly 50 years. Sue and Kris Mestad, Peggy and Randy Hamann, and Rick and I.
While we did see parents with kids in strollers, and we saw college students, we didn't see a lot of teens choosing Key West for a Spring Break destination day. We saw middle-aged people, gallavanting and making the town an adventure in spotting gingerbread architecture,
listening for the bells to peal at noon and 5 at St. Paul's cathedral,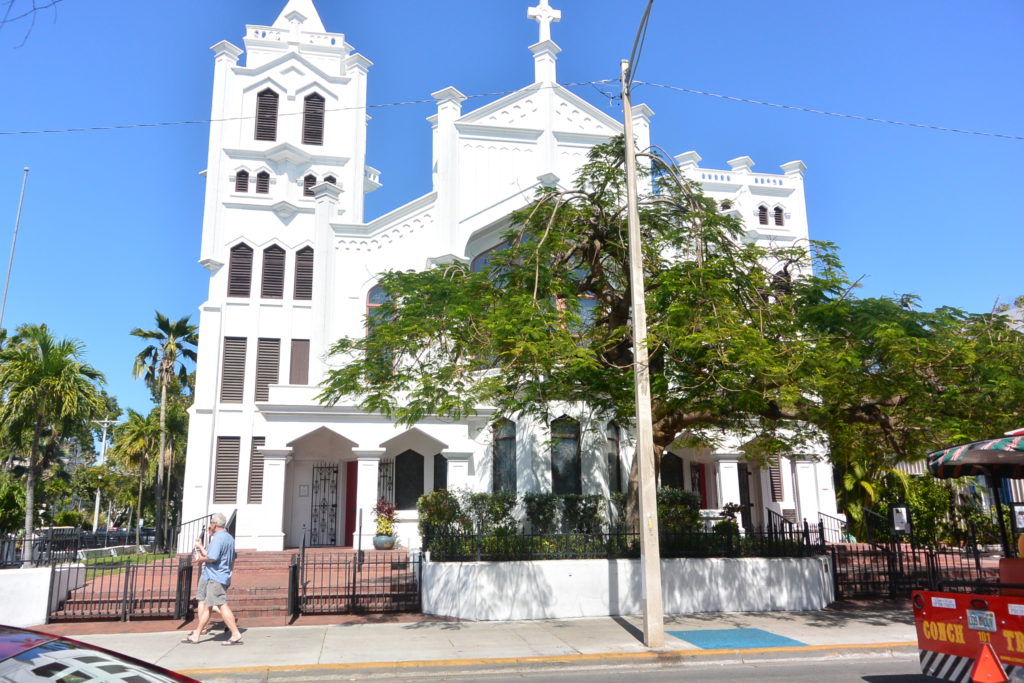 looking up the place from which the Sloppy Joe sandwich gets its name, and yes, looking for Ernest Hemingway's home – all while having to maneuver around sometimes crowded sidewalks. So, if you're not about doing those sorts of things, then plan a short visit to Key West, because if you start your day at 11 a.m. already wanting to leave, you'll never make it to waiting for the sun to set at Mallory Square.
Our group was all about experiencing Key West the end of March 2018, and, speaking for the three women in the group, as much as we could fit into one day.
Options for transportation when you're in Key West: Driving your car around and getting in and out and fighting for limited parking spaces, renting bikes, scooters, hopping on and off a trolley, or hiring a pedi-cab (think large tricycle with a person hired to pedal you around the town at your whim as you fancy). But if you're in the mood for exercise and want to truly experience the convenience of not searching for parking places and want to walk Duval Street, put on a pair of great walking shoes and adventure away.
We opted to walk. Peggy, with her exercise watch, kept track of our miles. All in for steps in our day: 15,500 steps (6.5 miles). But we saw about as much as you can in a day's time: Southernmost House, Southernmost Point Buoy (which took quite a scruffing from Hurricane Irma in Sept. 2017.  Click the link to read about Danny Acosta's repainting of it) and Cable Hut, Kilwin's Ice Cream, Key West Lighthouse, Sloppy Joe's Bar, the Coach store, Papa's Pilar Rum distillery, the Lilly Pulitzer store, Key West History Museum, Alan Maltz' Photography studio (seriously beautiful) Bill Mack's art studio (he's the guy who bought the "Hollywood" sign in L.A. Sue and I fell in love with an artist whose work he carries – Jillian Lee. Turns out she's a Minnesota artist),
Mile Marker 0, the Truman Little White House and a bride and groom about to be married, Hemingway's House (missed the tour), Mallory Square, gingerbread-styled architecture, Pan-Am sign,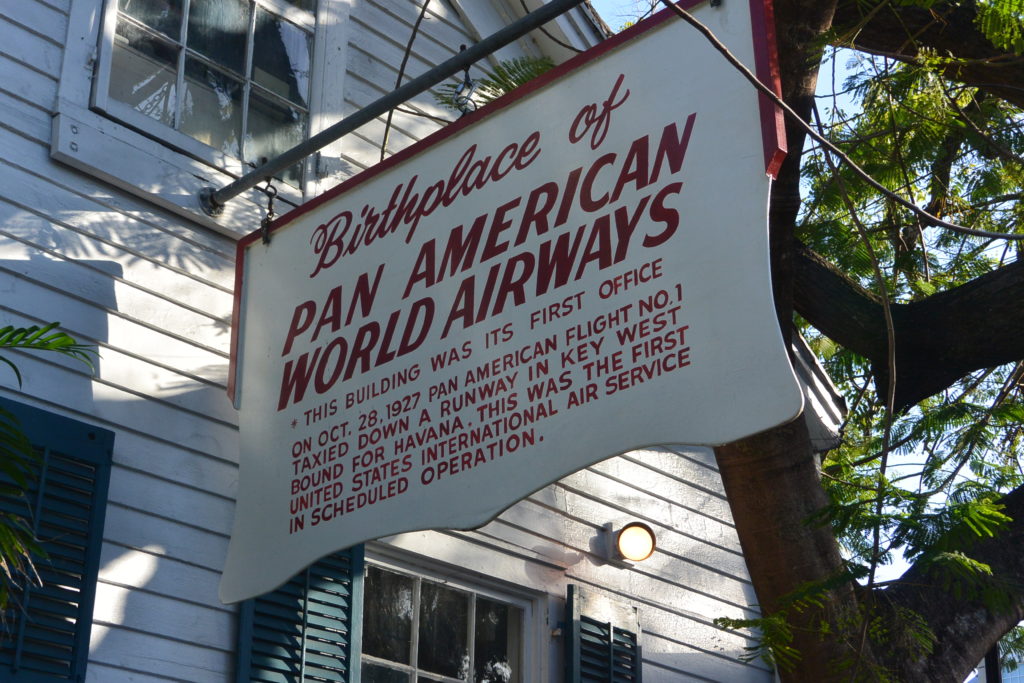 had an early dinner at the always fabulous Old Town Mexican Cafe, and enjoyed the street vendors and spectacular sunset at Mallory Square. And seeing the sun set down the day is beautiful.
What I'd recommend is a good map.  If you don't have a guide book, Google Map is excellent and you can mark all the places along the way that you want to visit.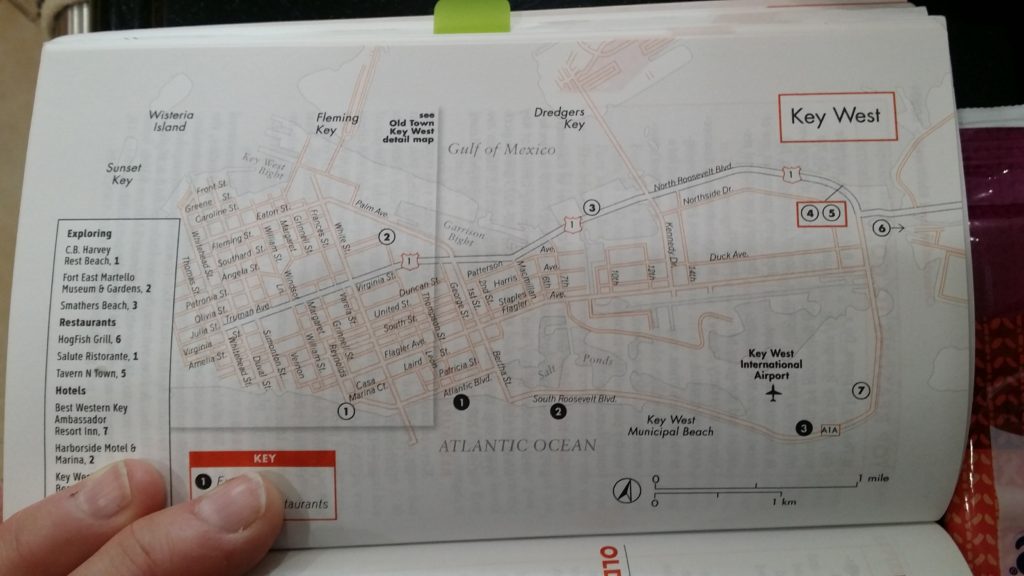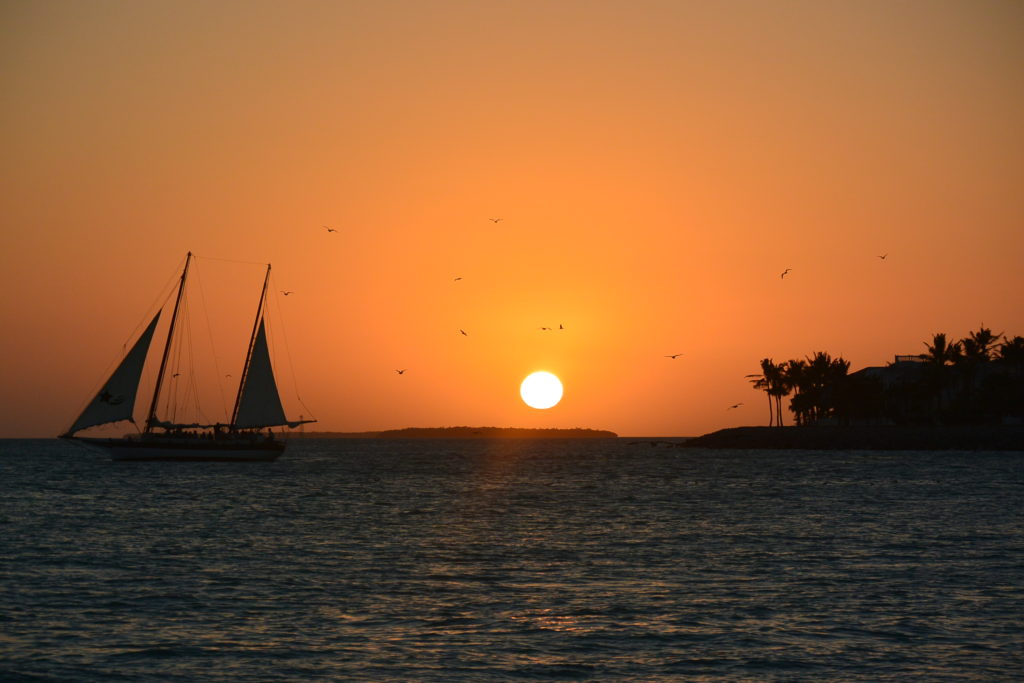 We left Key Colony Beach in Marathon (Mile Marker 53, MM 53), roughly 53 miles from Key West, at 10:30 a.m., eating a packed lunch on our drive down. We were lucky enough to find parking just across the street from the beautiful Queen-Anne-Victorian-styled Southernmost House, on the corners of South and Duval Street and a block from the Giant Southernmost Point Buoy.
Though I've been to Key West (Mile Marker 0) two previous times, I have never stopped at the Southernmost House (MM 8) to look around. We would have missed it this trip too, had someone not needed to use the facilities after the caffeine-fueled drive down.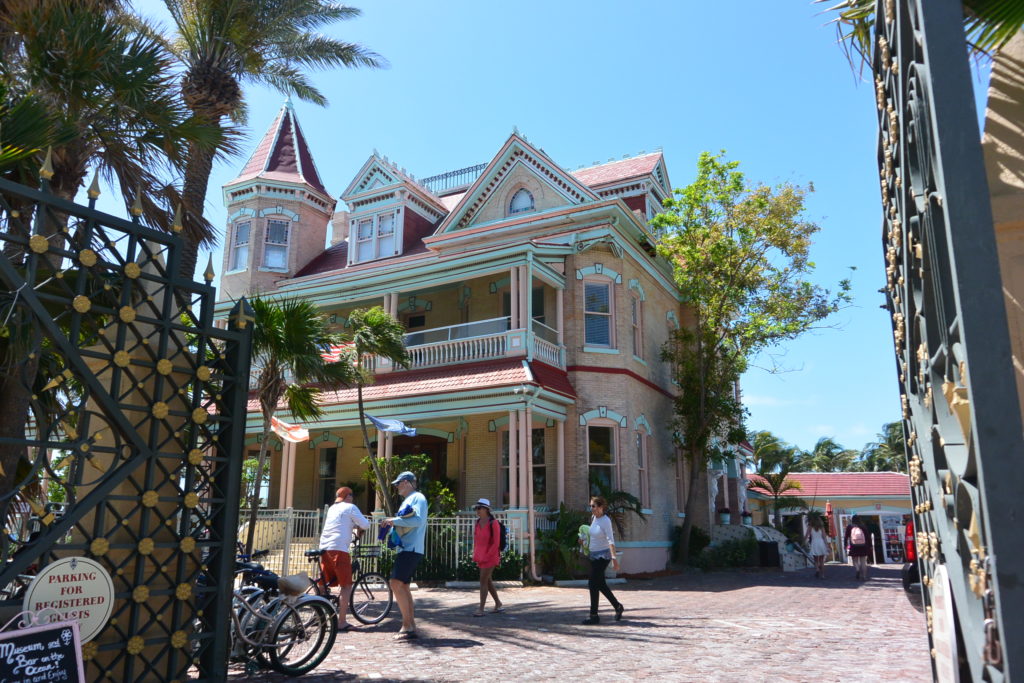 I am so glad we stopped. As we ascended the steps to the lobby, we were greeted with a stunning original Tiffany stained glass dome.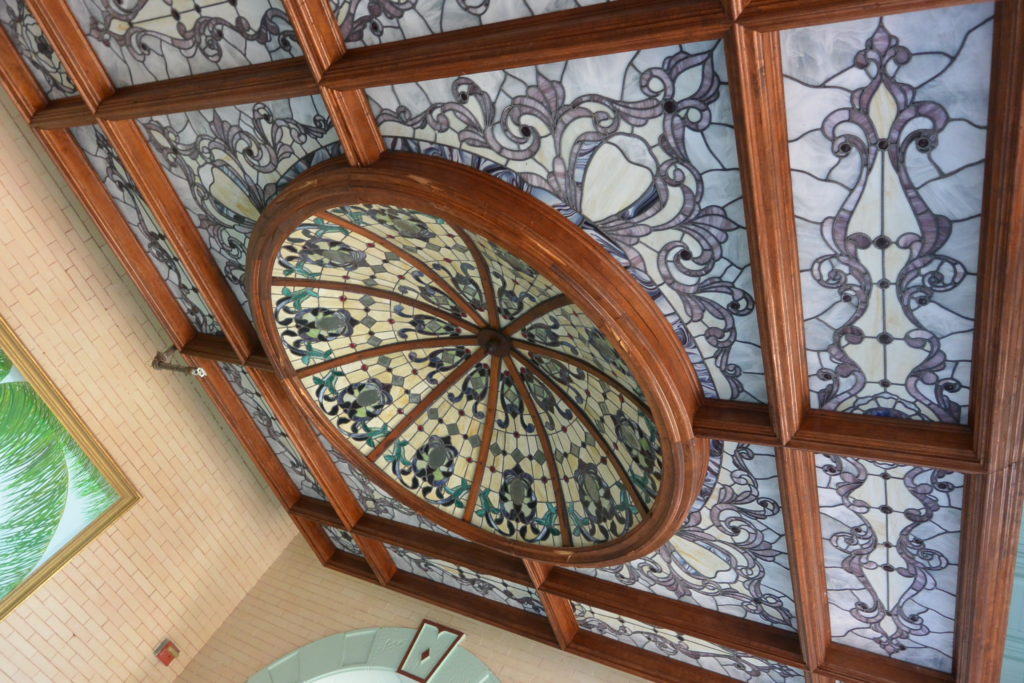 As we turned the corner into the lobby, we were met by this breathtaking view of the ocean.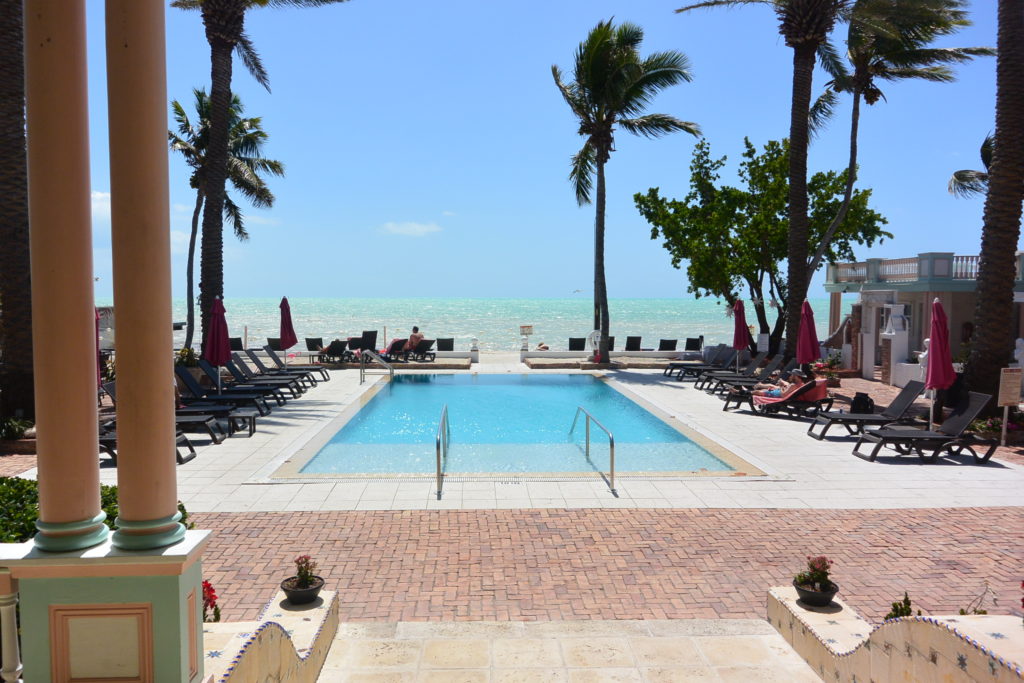 After we recovered from this serene eye-pause, we learned this House has had a lot of famous visitors: Ernest Hemingway, Tennessee Williams Truman Capote, Charles Lindbergh, Al Capone, Louis Armstrong, Gore Vidal, Guglielmo Marconi (to whom we owe thanks for the radio-telegraph system and our phone addictions), as well as a good amount of presidents: Truman, Eisenhower, Kennedy, Nixon and Carter.
It has a signed copy of Kennedy's inaugural address.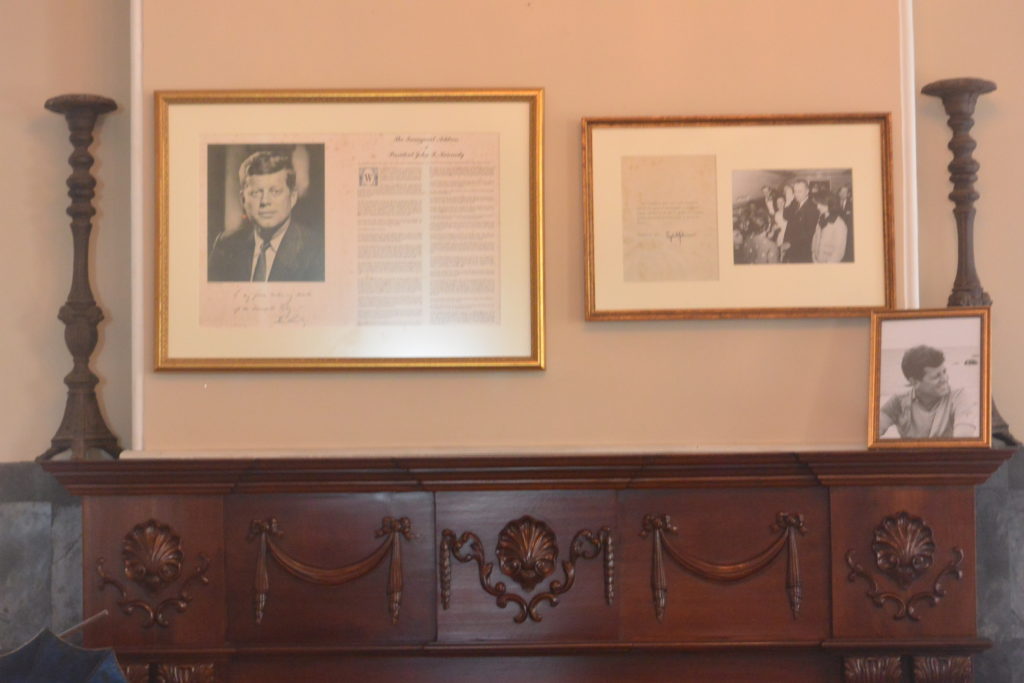 What I didn't know was the Southernmost House (now a hotel) has an incredible amount of Hemingway's letters as well as his horse saddle. One plaque, I found interesting: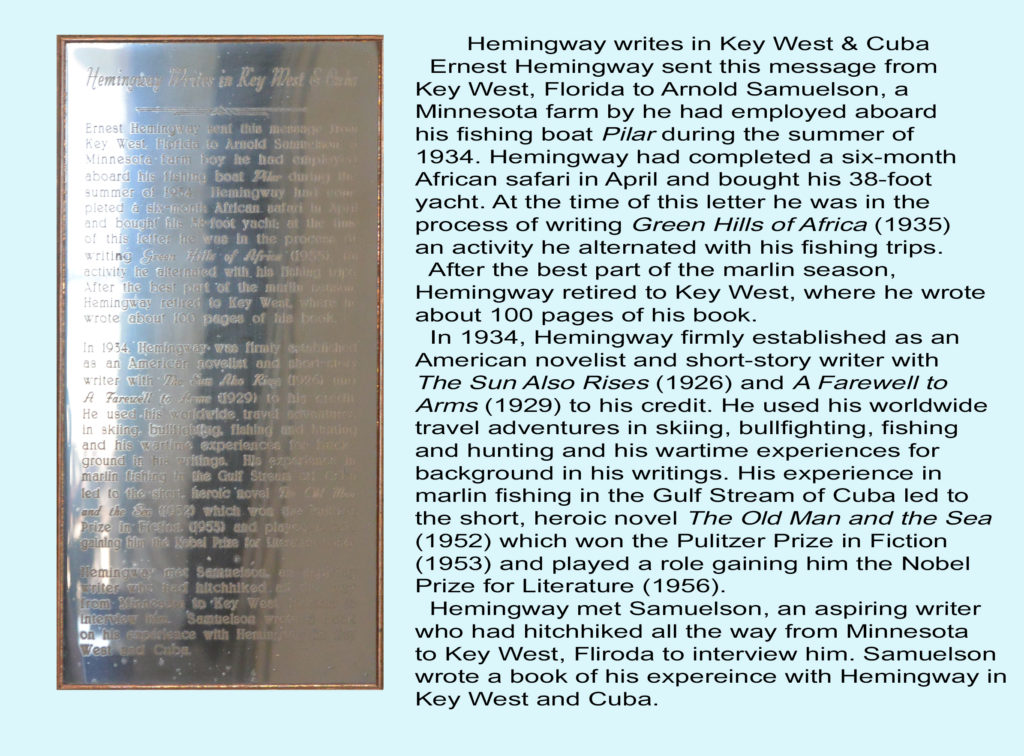 Upon my return home, I learned that the person to whom Hemingway wrote the letter (picture of the letter is missing from my Key West photos, somehow), Arnold Samuelson, was born in North Dakota but was living in Minnesota when he decided to hitchhike from Minnesota to Key West, all because he had read Hemingway's books and short stories. Samuelson's story is interesting and you can read about it here, if you'd like.
We proceeded to the giant Southernmost Point buoy, where we stood in line for about 15 minutes to get our picture taken. The couple ahead of us were dead giveaways with the woman's Mrs. backpack. They were on their honeymoon and we took each other's pictures.
As we proceeded down Duval Street (the main street with all the shops and interesting things to see), we encountered what you might expect to see on Duval Street. Tourists and a hippie car.
While the women found Coach store (60 percent off retail) deals, the men found us all some fabulous ice cream at Kilwin's. Here's our ice cream scooper wearing bunny ears – it was two days before Easter when we were there. Turns out, Laurie, our ice cream scooper, was from Pillager, Minnesota (near Brainerd). I asked her if she missed living in Minnesota. "Not once in the 20 years I've lived here."
Speaking of Easter, some Key West residents decorate their houses.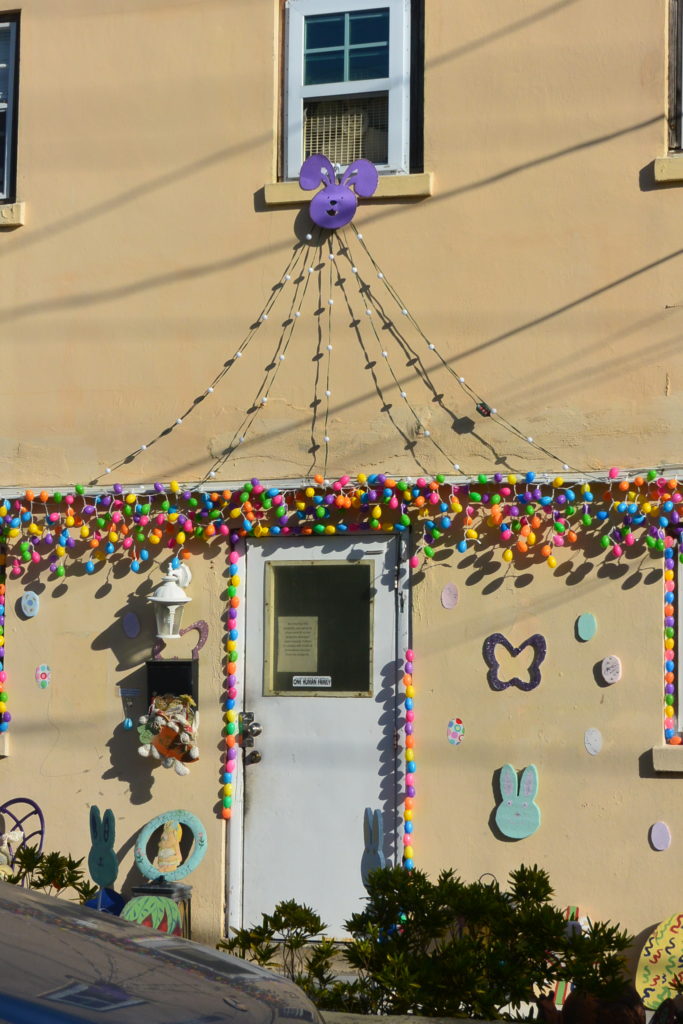 One place I wanted to see was Sloppy Joe's Bar (we just walked by so no pic) as I had read about it in this FABULOUS cookbook I brought with me to the Keys, The Flavors of the Florida Keys by Linda Gassenheimer.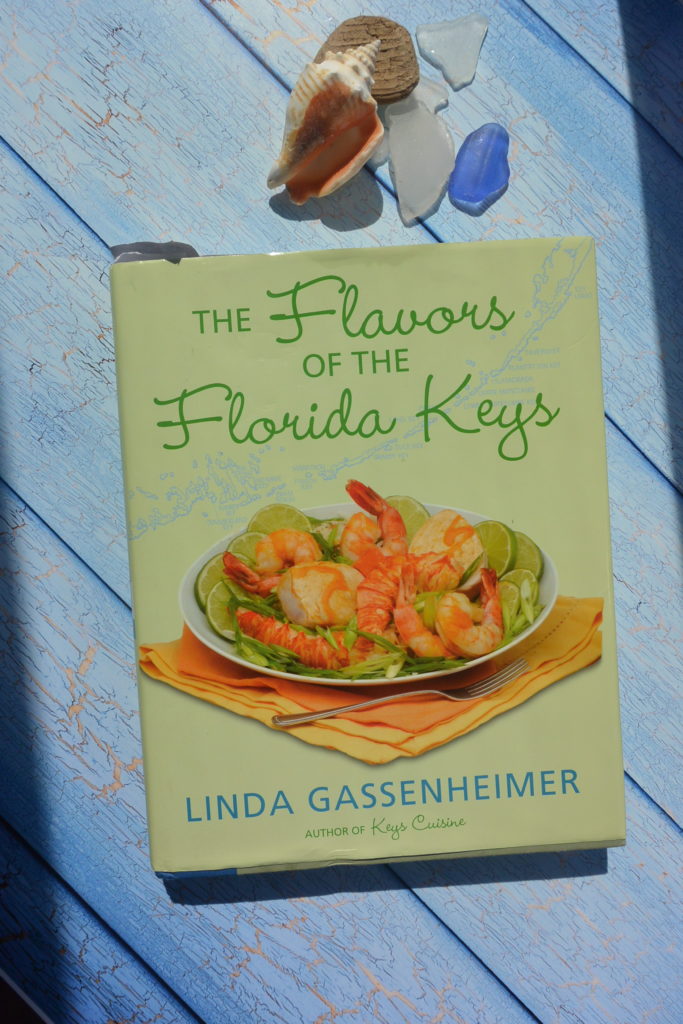 There are some absolutely delectable recipes Gassenheimer has collected from famous restaurants up and down the Keys. You'll make these recipes over and over, even if you're not in the Keys. My favorites: Pina Colada, Pirate's Painkiller, Fish Lazy Days with Key Lime Butter Sauce (Lazy Days is a restaurant in Marathon. Note: I made this with chicken instead of fish. I doubled the Key Lime Butter Sauce and, yes I did, used nearly a whole bag of key limes in the sauce. Seriously fabulous recipe). And while my favorite Key Lime Pie recipe is still Gourmet magazine's recipe, you will definitely want to make Gassenheimer's Louie's Backyard Chocolate Brownie Creme Brulee. (Honestly, the brownie recipe is to die for, plus how fun is using that little blowtorch to brown the cream?) Each recipe tells a tale of how the recipe came to be. For example, I did not know the Sloppy Joe sandwich came to be called such because of Ernest Hemingway. Supposedly, back when Joe "Josie" Russell was running Sloppy Joe's Bar (he also was Hemingway's pilot on Pilar as well as fishing mate), Hemingway commented about his buddy's bar saying, "Joe, you run a sloppy place. You should call it Sloppy Joe's," and thus Sloppy Joe's Sandwich was born.
As always, the Key West Lighthouse stands tall and beautiful.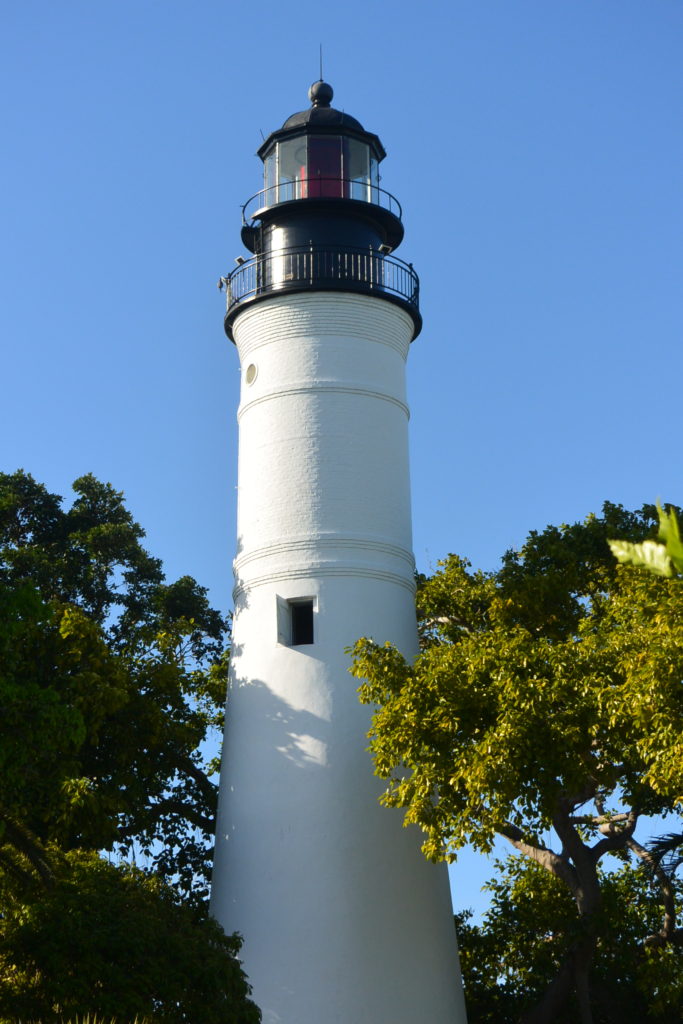 One place Peggy and Sue and were at least able to get in to see but not tour was Truman's Little White House, where many a president has visited.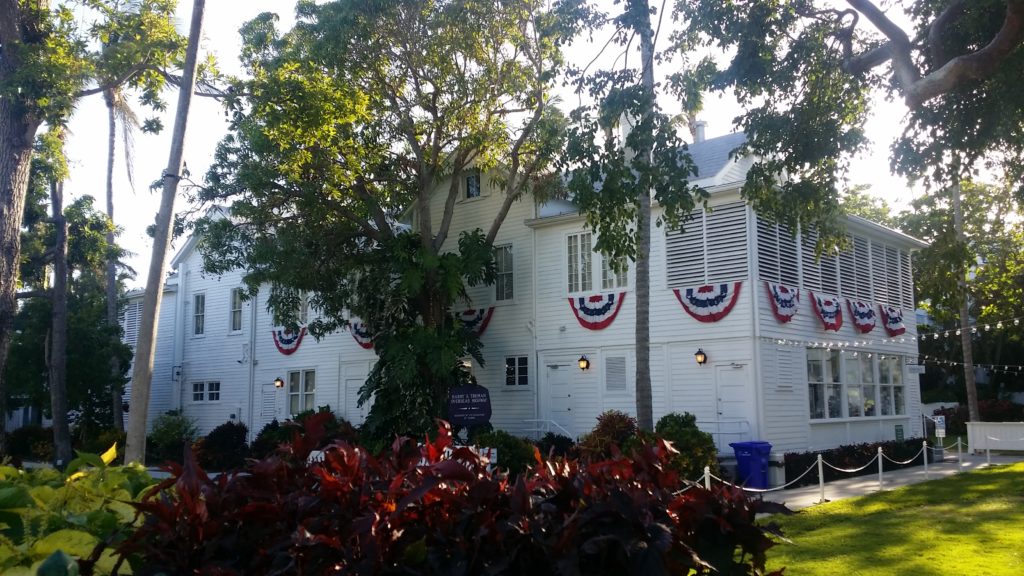 This is a gated area and all the gates but one were closed. We begged a favor of the guy at the gate and he let us in for a quick tour. The beautifully manicured streets were empty. All except for this darling couple who were having a photoshoot done before they got married an hour later. After we'd taken this picture, they hopped aboard that bike and rode down an empty street, her dress gently wafting in the breeze, the photographer, no doubt, getting some amazing shoots. It was this lovely little quiet and special moment in time the five of us shared with one another. They were adorable and I wish them every happiness.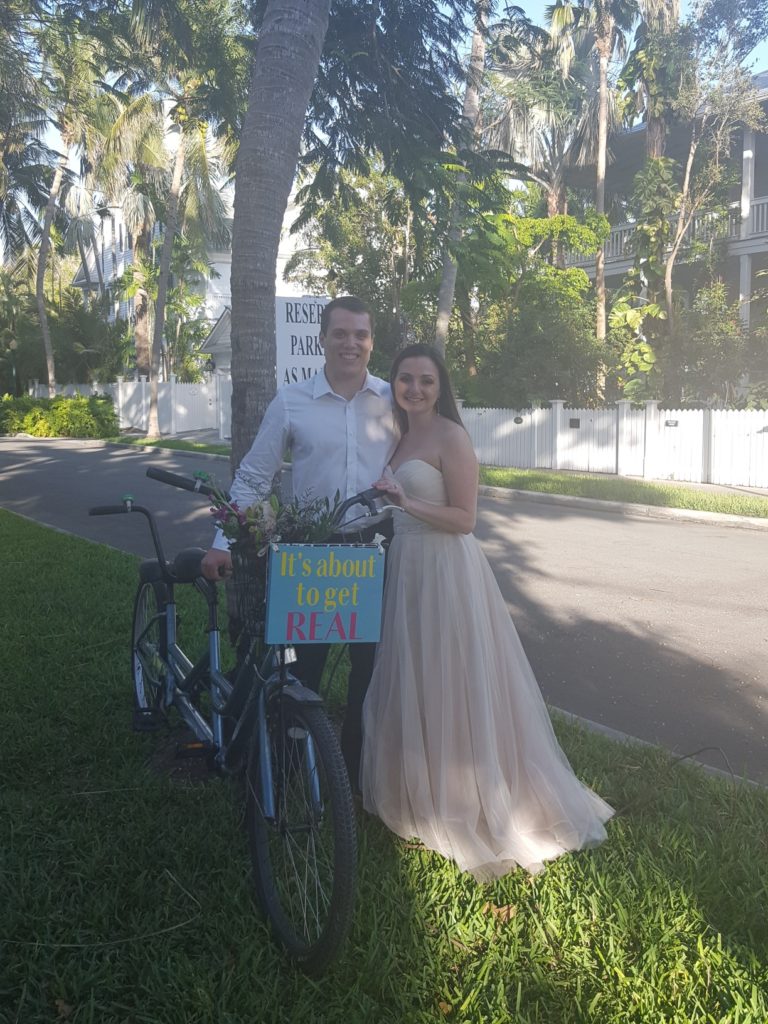 Peggy was on a mission. She wanted to find a piece of jewelry the color of the Keys water. Well, Sue and I were game for that. We walked into KW Jewelry and the shop owner had 50 percent off on everything in the store. Well, let's make a deal! Here's what Peggy found. It is stunning and looks like the color of the water in the Keys.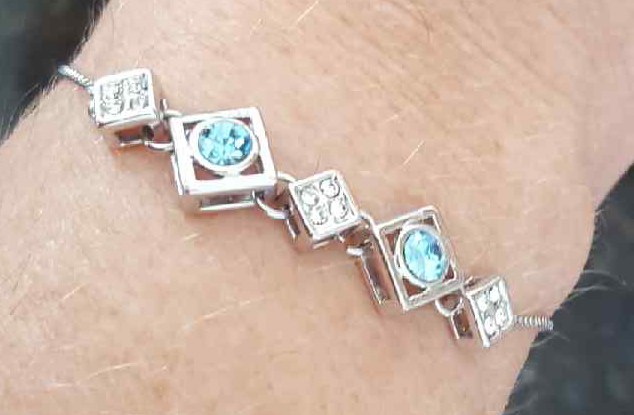 I too, found some beautiful things. Ever since my sister-in-law Jenny came home from Maui this winter and I saw her Larimar jewlery, I knew its color held the colors of the sea for me.
Two new visits to places this year, for me. The Lilly Pulitzer store – super cute, happy colors and happy store. Not too far from there is a place Sue's daughter, Layna, told us about: Papa's Pilar Rum Distillery.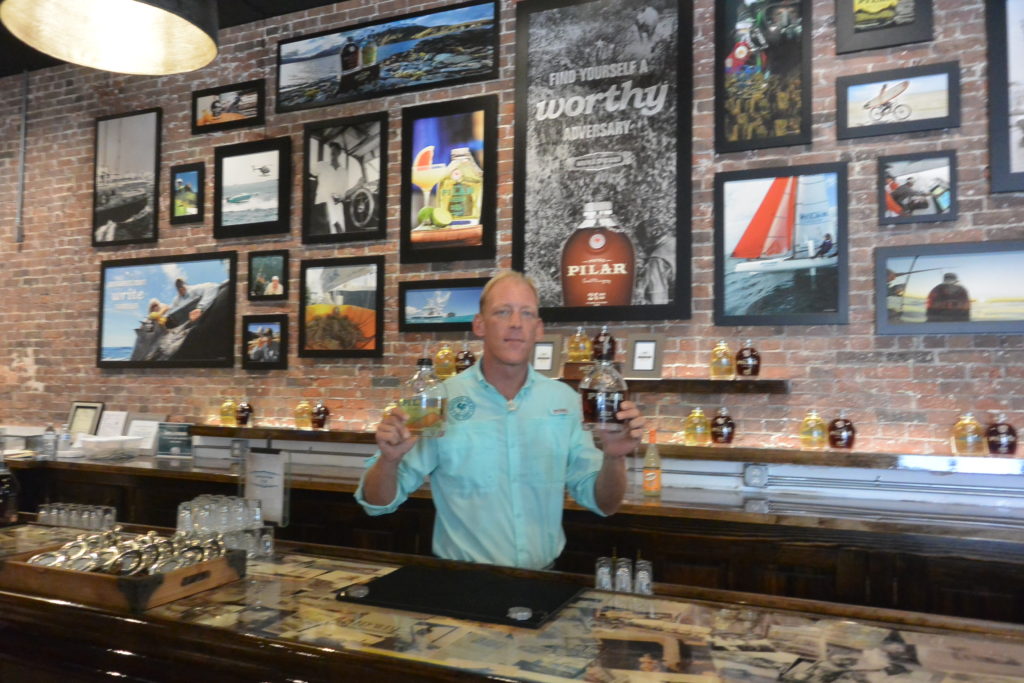 Ah, wow. Loved the dark rum. And the person tending the rum tasting said that he never mixes American Coca-Cola with the rum and only uses Mexican Coca-Cola because it is made from cane sugar, not the American processed variety. I looked on the Internet about this and found conflicting stories. I am curious about this, though. In the ceiling is a painting of "Old Man and the Sea" but it is so large, I could not capture it all in one picture. Here are the two pieces. Thought it was a fabulous rendering of that story. (Pardon my picture-taking skills here. I could not figure out how to merge these two pictures together.)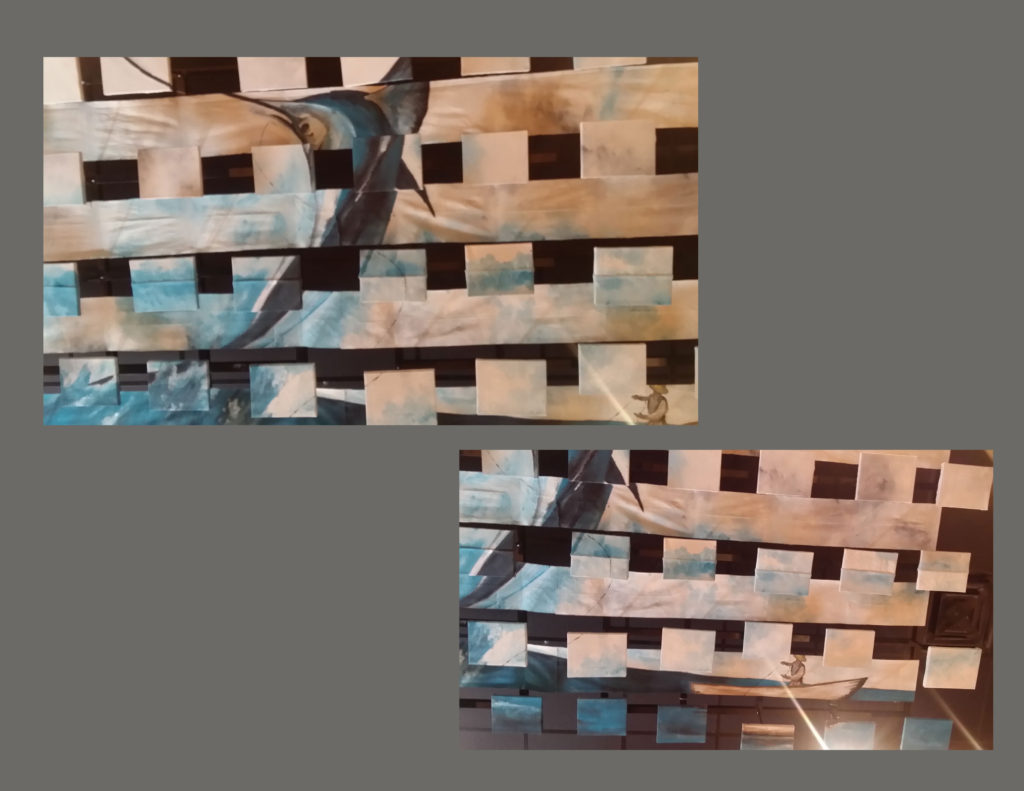 Also, the distillery is asking for people to send in pictures via email, of people drinking their Papa's Pilar Rum. They are planning on doing an updated version of this and need our images.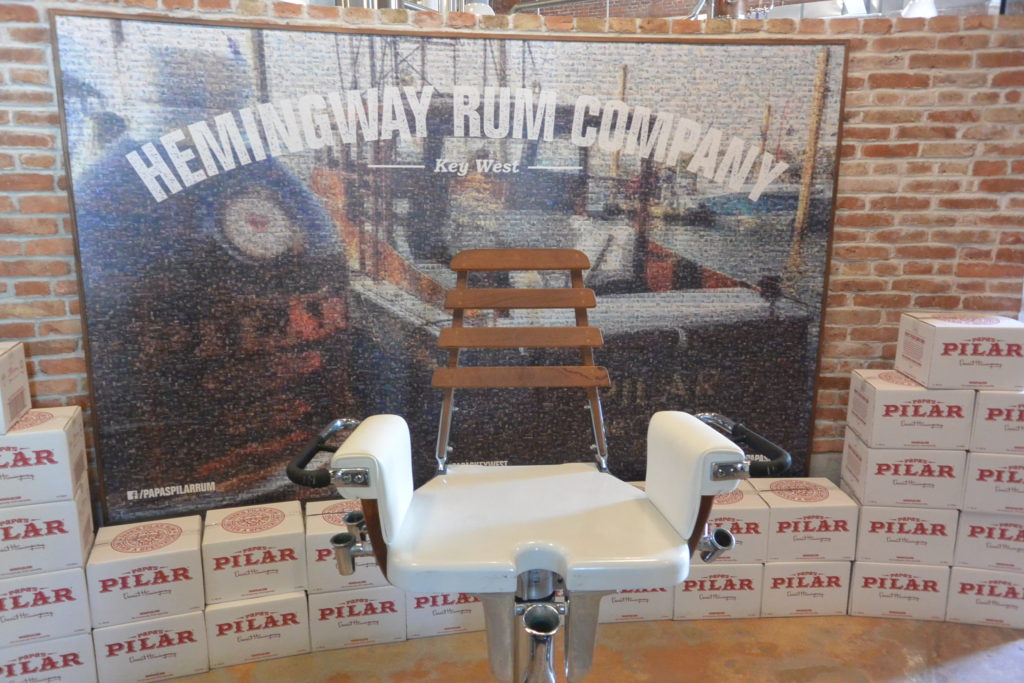 There was so much to see and do. Two last things. We dined at Old Town Mexican Cafe, which has the best sangrias and margaritas.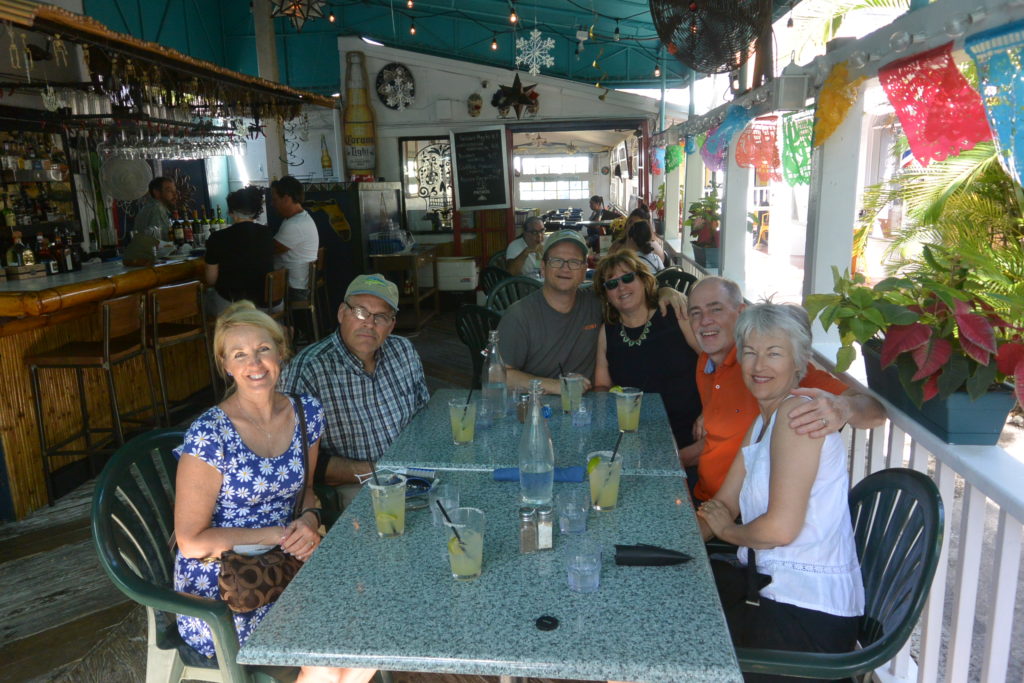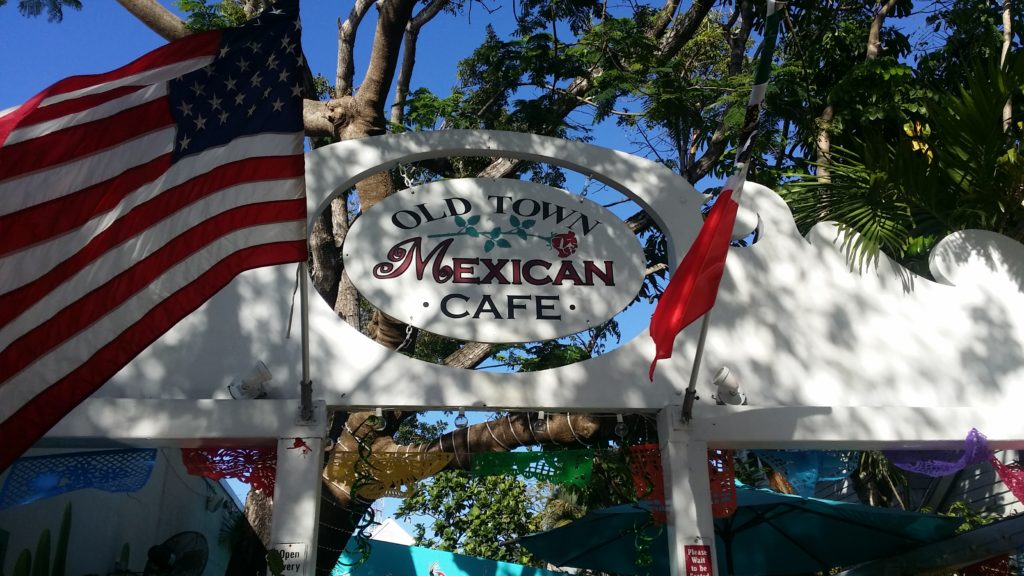 And lastly, as we walked to Mallory Square to see the sun bring down the day, we fell upon this giant statue created from the famous picture on V-J Day August 14th, 1945. If you want to read an interesting story about this famous picture, here you go! It's a pretty funny story. She's not a nurse but a dental assistant and she was an Austrian citizen who'd been shipped to the U.S. by her parents to be protected from Germany's invasion of Austria during World War II.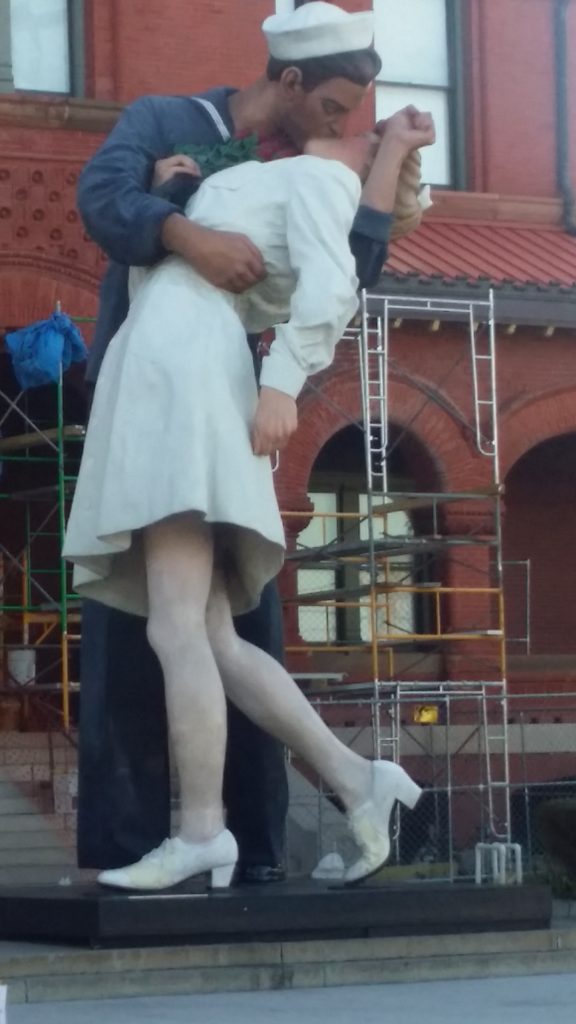 And, as always, we ended our Key West trip by watching the sun end our visit.
Ernie as it right. Where shall we go next year, gang?
Julie Saffrin is the author of numerous published articles and essays. Her latest book, BlessBack: Thank Those Who Shaped Your Life, explores the power of gratitude and offers 120 creative ways to journey toward positive, lasting change.