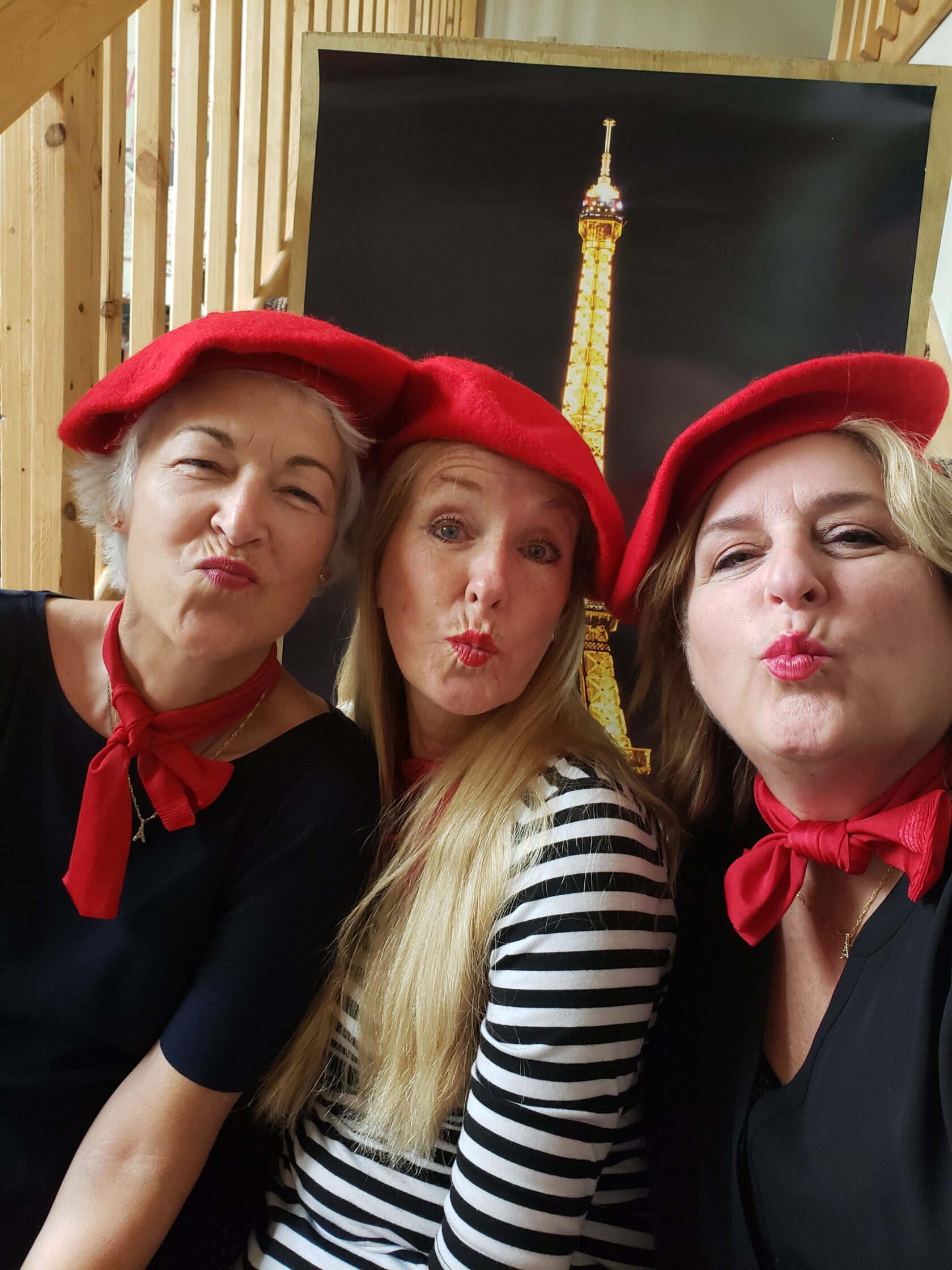 In previous blog posts, I've mentioned that my husband and I gather once a year at our cabin with our friends from way back – Randy and Peggy Hamann and Sue and Kris Mestad.
This too-long year, 2020, corona-virus year, Rick and I self-isolated ourselves as much as possible from others and decided that we'd quarantined ourselves safely enough for our friends to venture a risk and come to the cabin. They had also done self-isolating.
In June 2020, Kris and Sue were supposed to be on a 17-day trip through the French Riviera and Italy. Their plans were squashed in a devastating way with COVID, with countries shutting down commercial air travel. They were so sad that their amazing travel plans went kaput. They took a financial loss as well as the place they had reserved would not refund their deposit.
Peggy called me shortly after our learning of this news and said, "What if we surprise Sue and Kris with a French dinner at the cabin?" I know a great idea when I hear one. We began our planning. I borrowed some sheer draperies, along with some twinkly lights and silver-rimmed votive candleholders from a friend (Thank you, Becky!). On Facebook Marketplace, I scored an iron bistro table and chairs for $20, an Eiffel Tower lamp for $8, and little Eiffel Tower necklaces for $5. I made up some signs, ordered some red berets, and got to planning the menu. Peggy and Randy bought another bistro table and made up an amazing Eiffel Tower, designing it together and painting it so we'd be dining "in the shadow" of Gustav Eiffel's marvelous creation.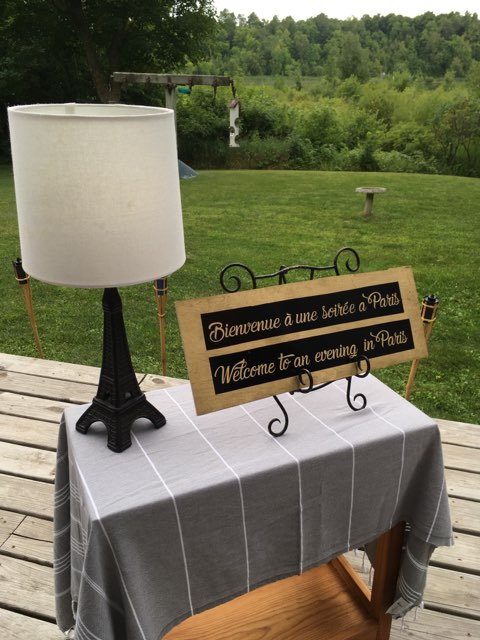 We mostly dress casually when we're together for the cabin weekend, but I told Sue to dress in something dressy casual and have Kris wear a collared shirt. Sue got a little suspicious at first, but then I told her it was the tenth anniversary of our annual cabin weekends and that I wanted to do a little something special that first night they arrived. Lucky for me, she totally bought the story.
Randy and Peggy came a day early so we could decorate the cabin before Sue and Kris arrived on Thursday, August 6th. Peggy walked in the door with fake mustaches she'd found at the dollar store and red scarves she'd made for everyone and brought her china, and tea lights, which made the tables beautiful.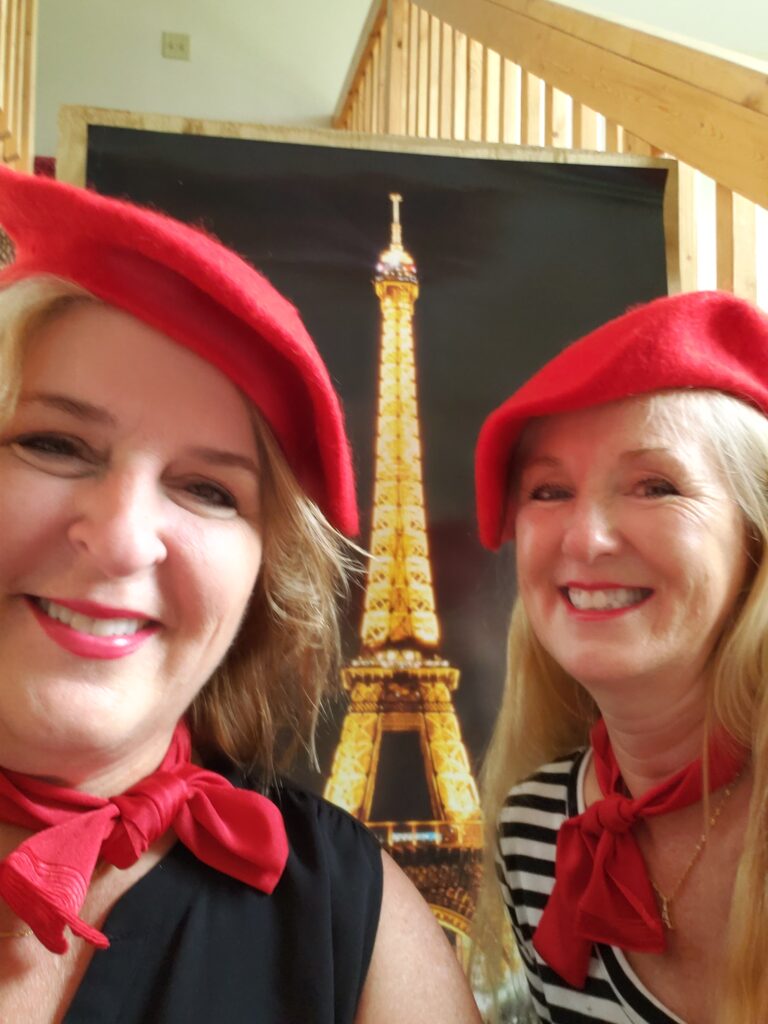 Rick and Randy got to work putting the sheer drapes and twinkly lights around our little structure on our deck.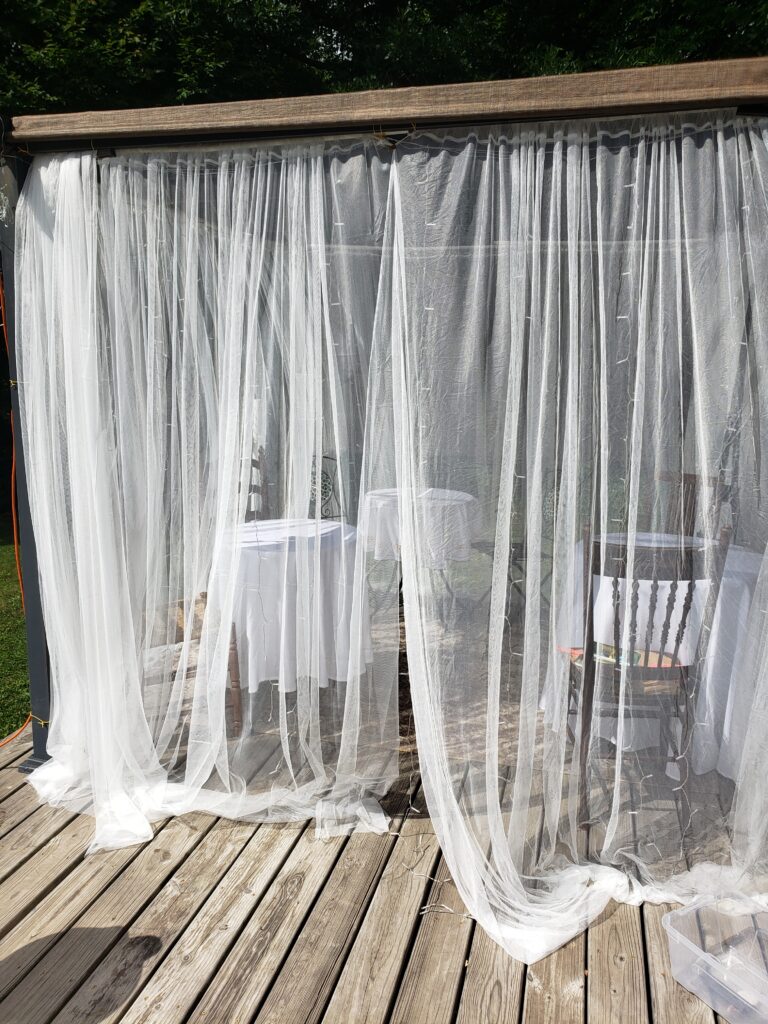 I'd had a couple of pictures blown up to poster size and we set them on easels.
I turned our menu in to "Le Menu."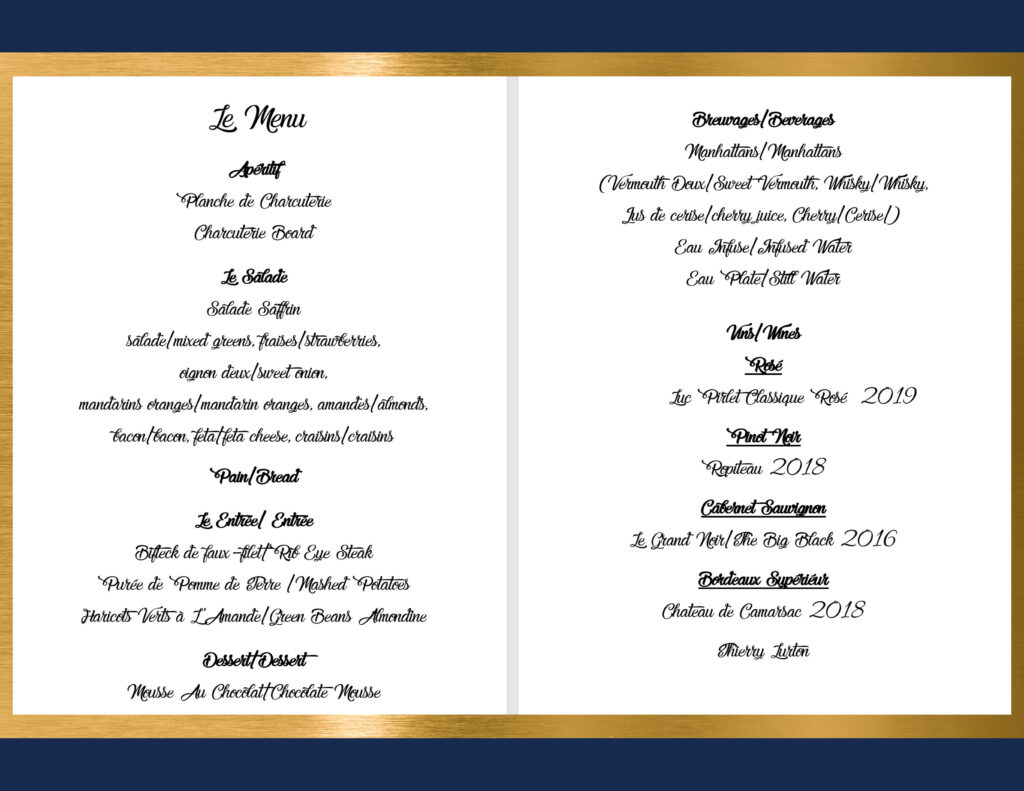 and yes, made Mousse Au Chocolat. Instead of using the suggested semi-sweet chocoate bar, I used a same-ounce milk-chocolate bar with toffee chips. Yeah, it was delish.
Before our eyes, our cabin was turning into something, well no, not like being in the South of France, but a place and time set apart from corona-virus-worry and boredom. Peggy clipped some shrub roses and miscellaneous flowers and I found three glass tubes in which to place the flowers. Rick made three square holders for them, drilling a hole in the center of them for the flower tube vases and we were set.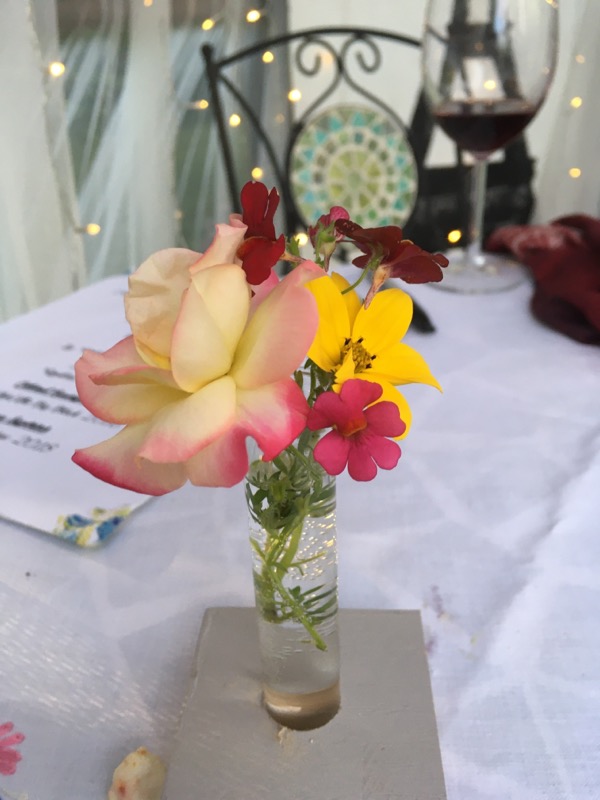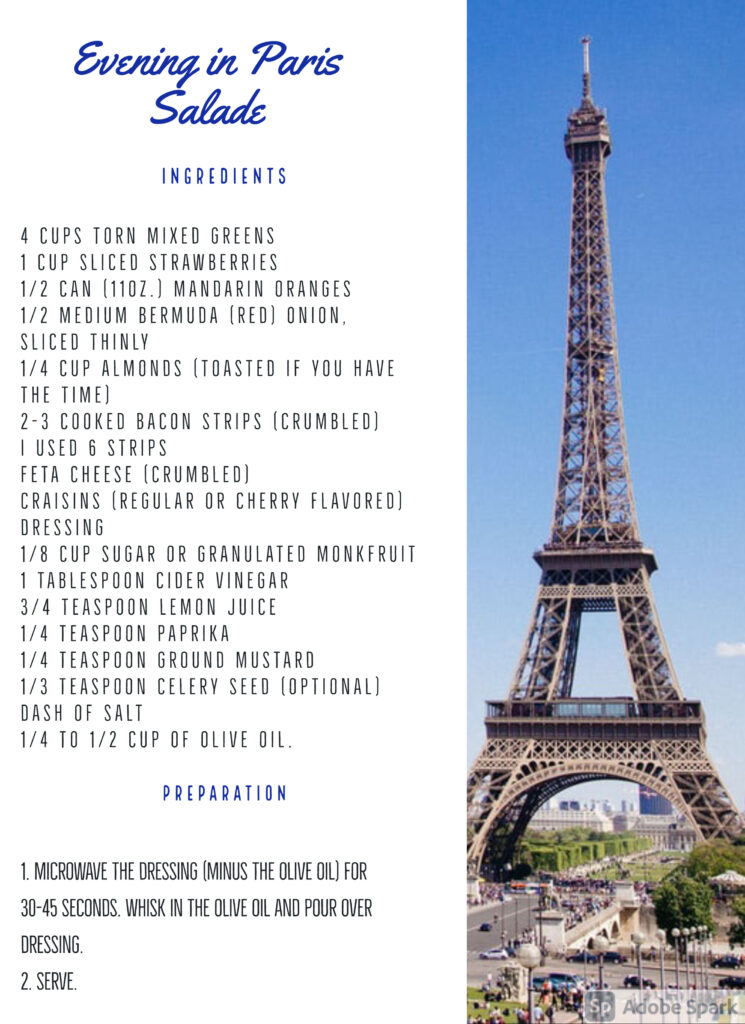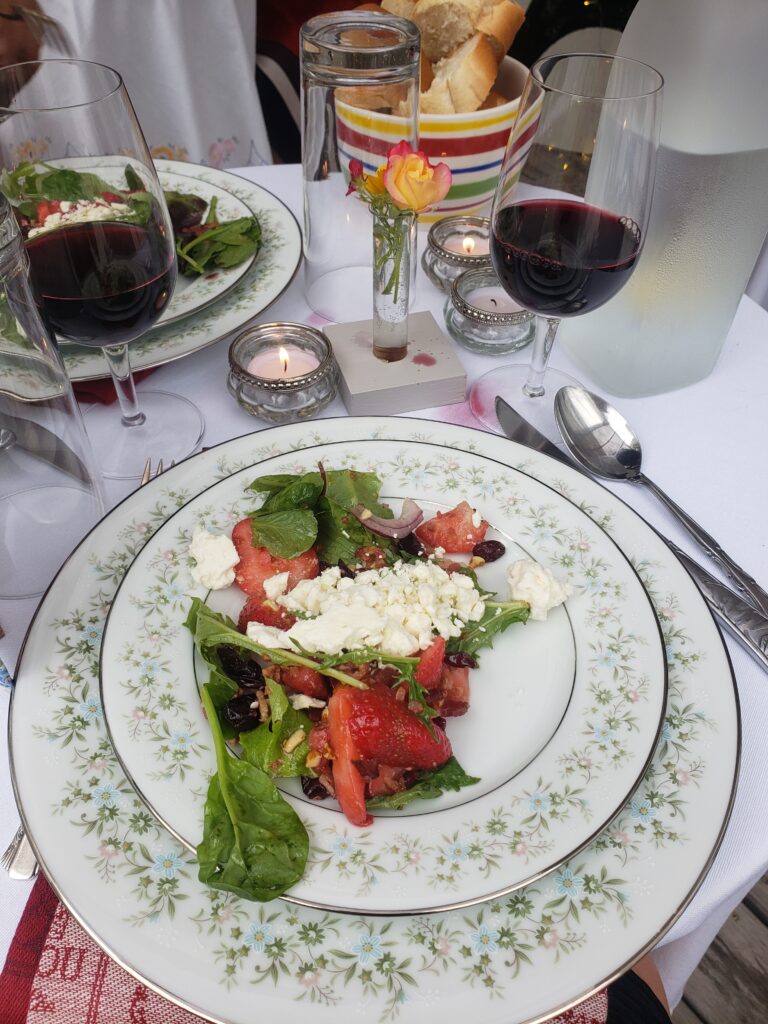 Thursday afternoon arrived and so did Kris and Sue. And surprise them we did — totally catching them off guard. We put some red lipstick on Sue and a 'tasche on Kris (which he had to pivot to be a unibrow as he already has a mustache.)
And we were off to an Evening in Paris on our Minnesota deck.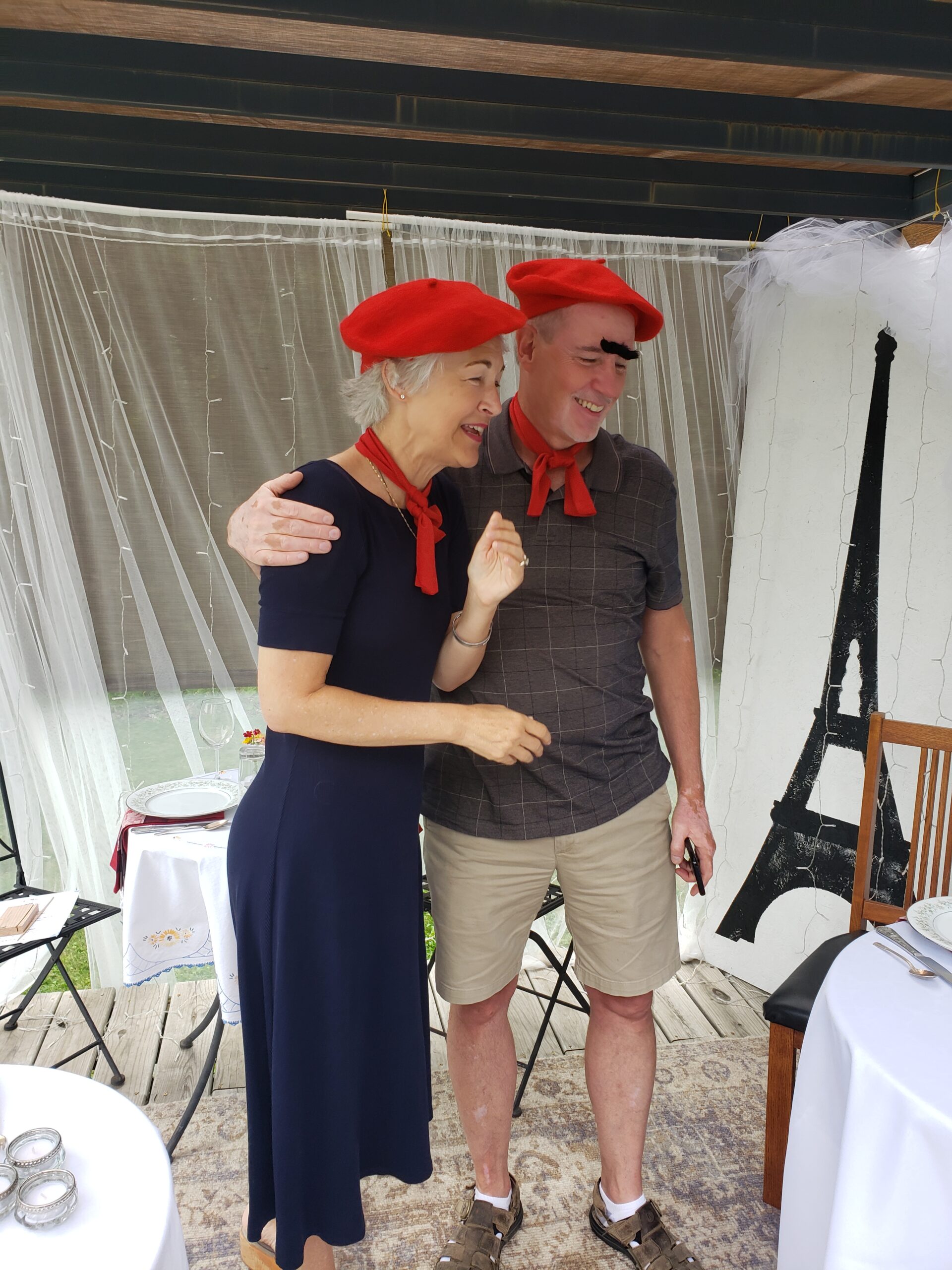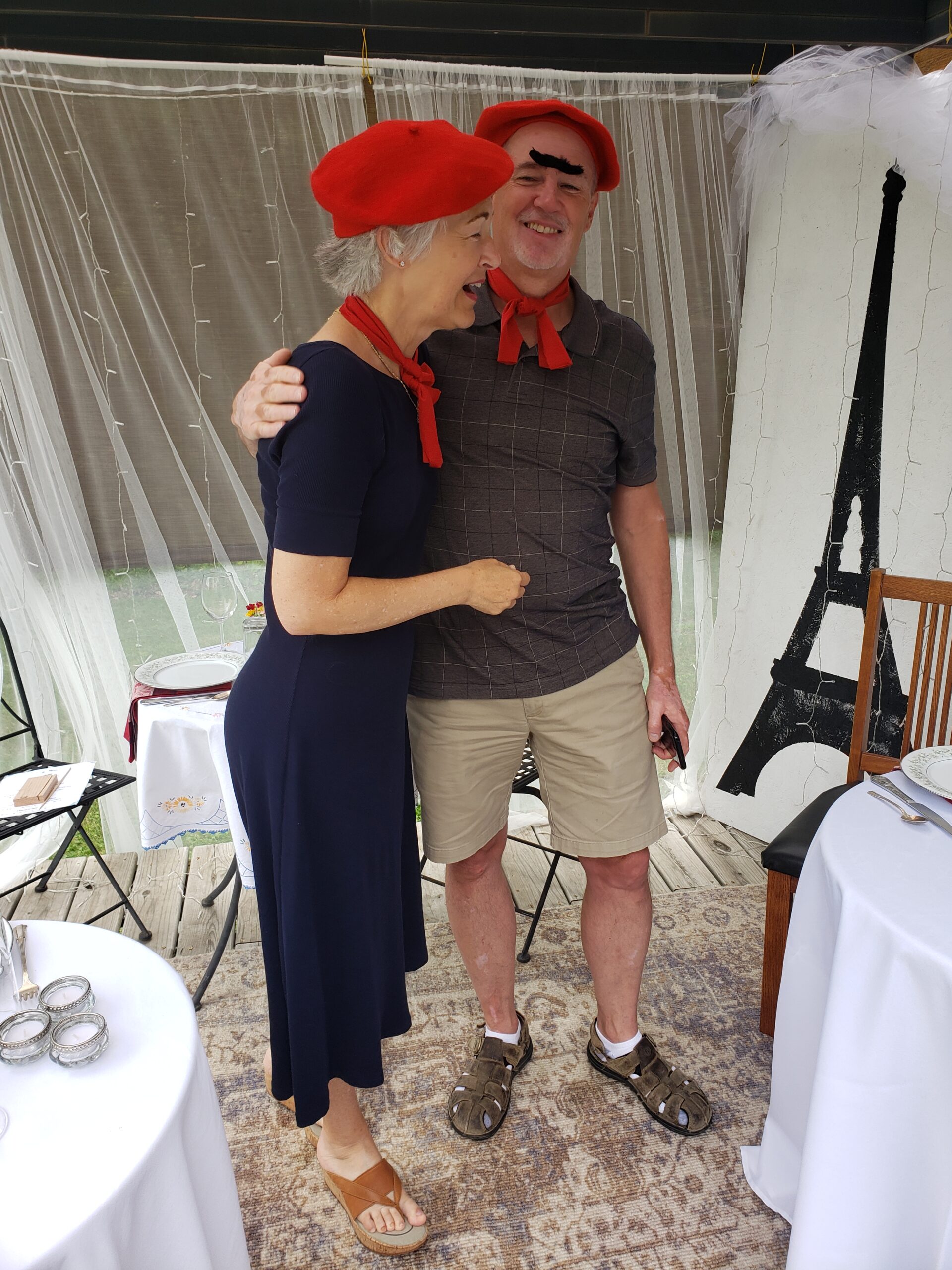 The Steak Chef, Rick, bringing the ribeyes to the table.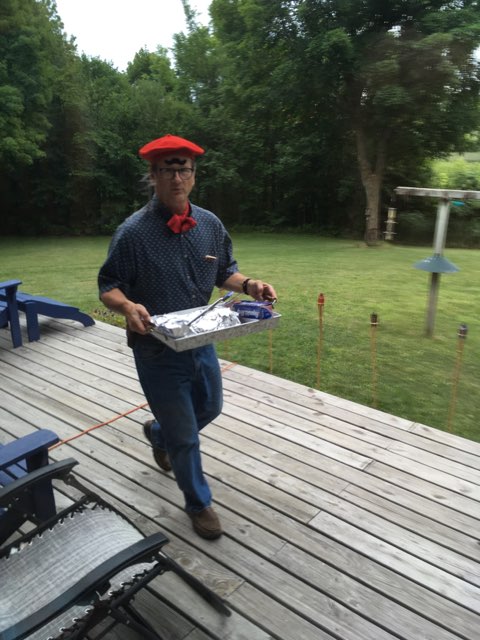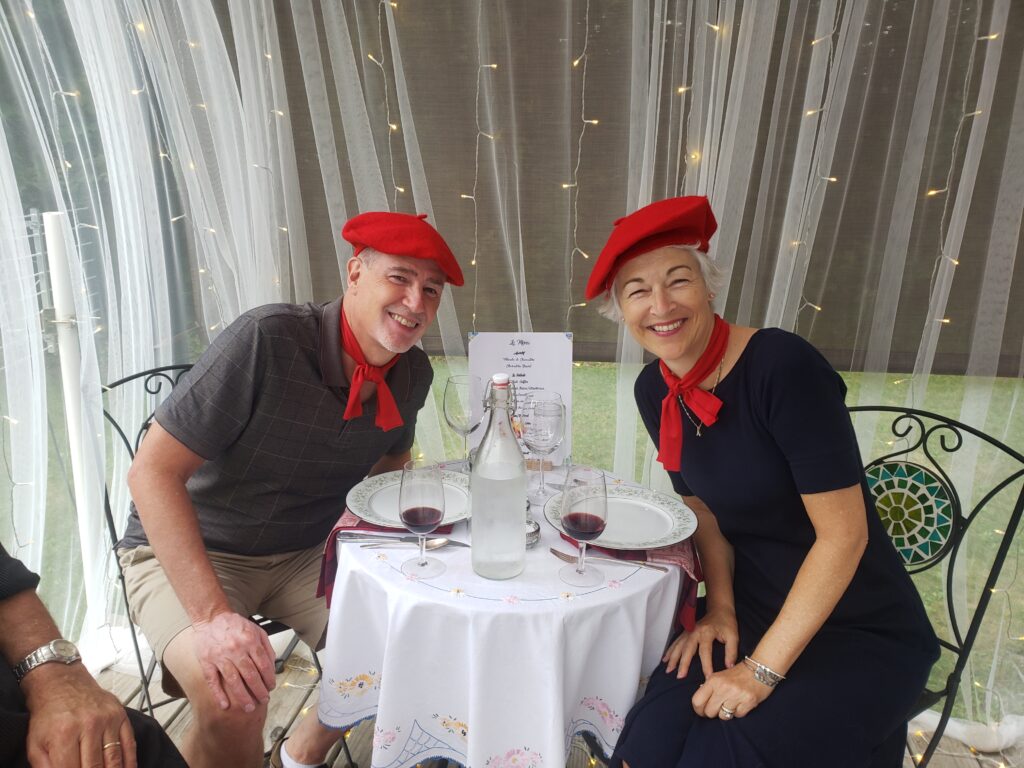 Kris and Sue Mestad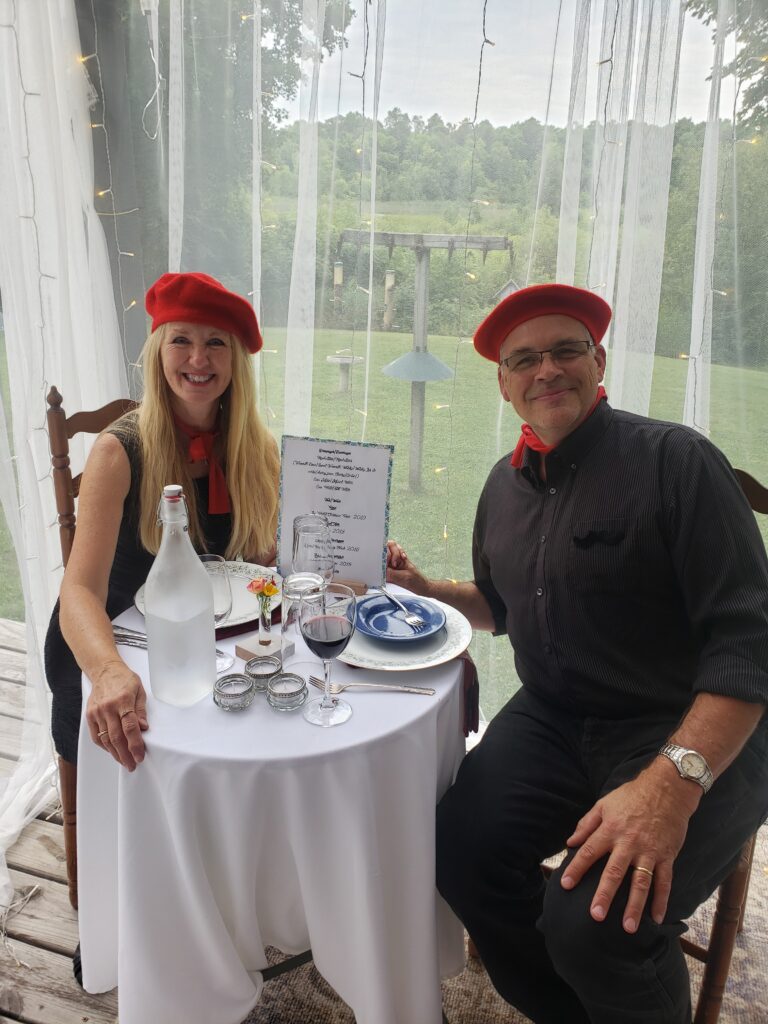 Peggy and Randy Hamann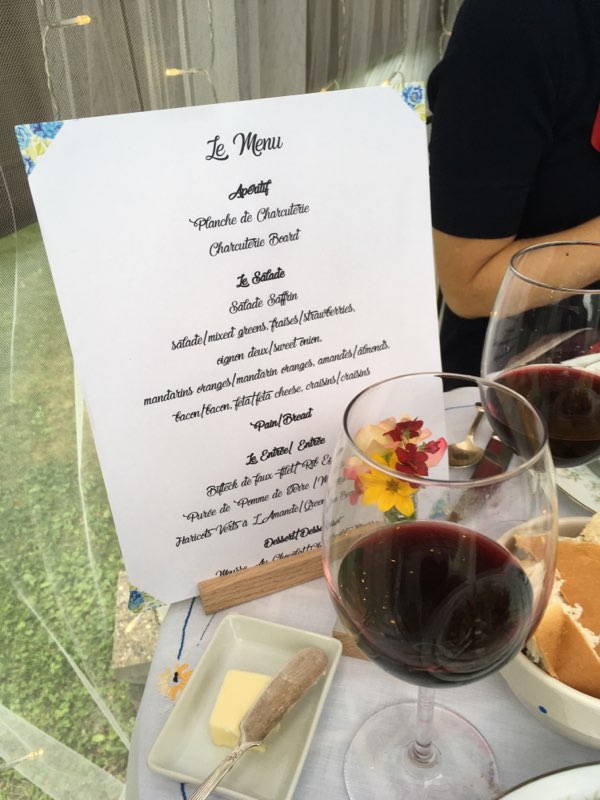 Even though we were in Minnesota, as day turned to evening, the six of us felt a world away. (The sheer drapes acted as a good barrier against the mosquitos too.)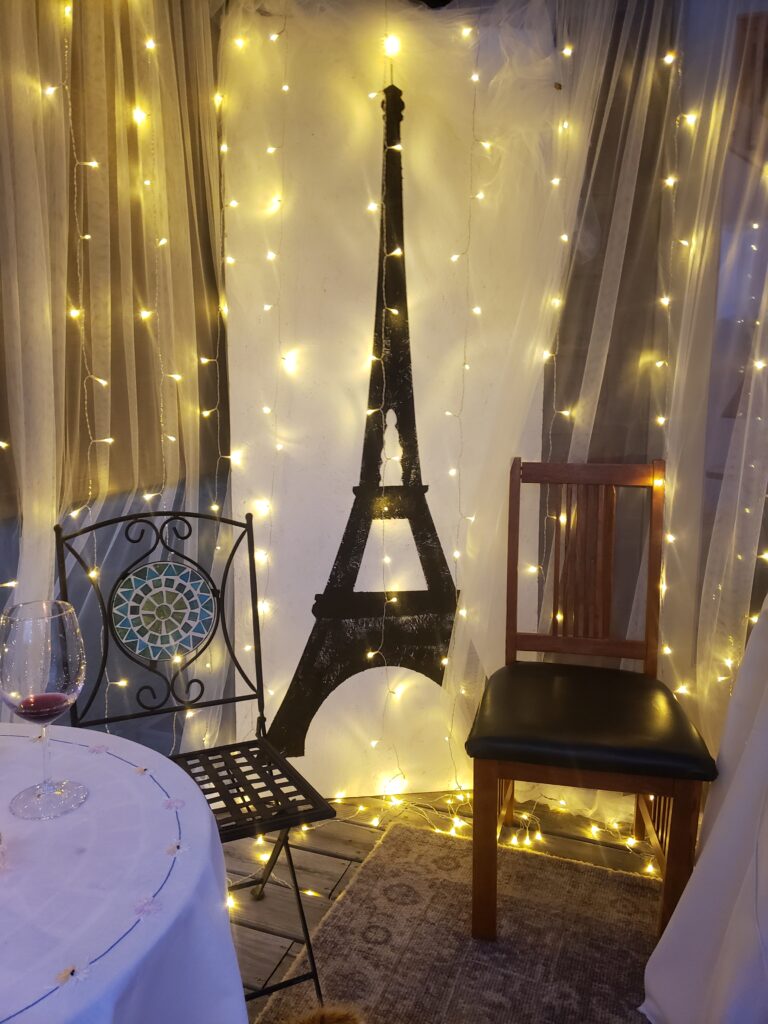 Randy and Peggy's Eiffel Tower
As Robert Frost made famous in his poem, The Road Not Taken, the road he had taken had "made all the difference." While there have definitely been some hard moments in 2020, having this simple meal enclosed in twinkly lights and sheer curtains went a long way to shifting our mindset and reminded us that gathering with good friends is a blessing not to be taken for granted, missed, or delayed. Taking time to enjoy life's simple treasures like a glass of French wine, a fabulous ribeye steak, a charcuterie board, and a romantic evening under "man-made" twinkling stars, really is what life's about. It's pausing, it's celebrating, it's surprising and being together that matter.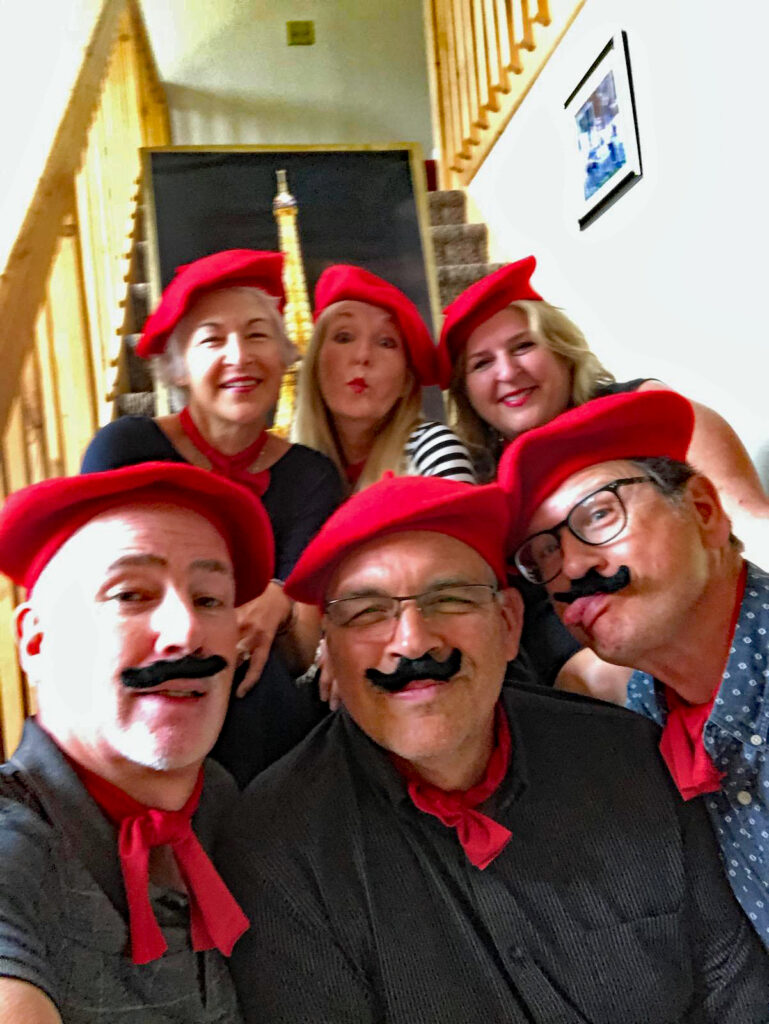 Here's to hoping you find some "Salut" moments in 2020!
Bon Appetit!
Julie Saffrin is the author of numerous published articles and essays. Her latest book, BlessBack: Thank Those Who Shaped Your Life, explores the power of gratitude and offers 120 creative ways to journey toward positive, lasting change.