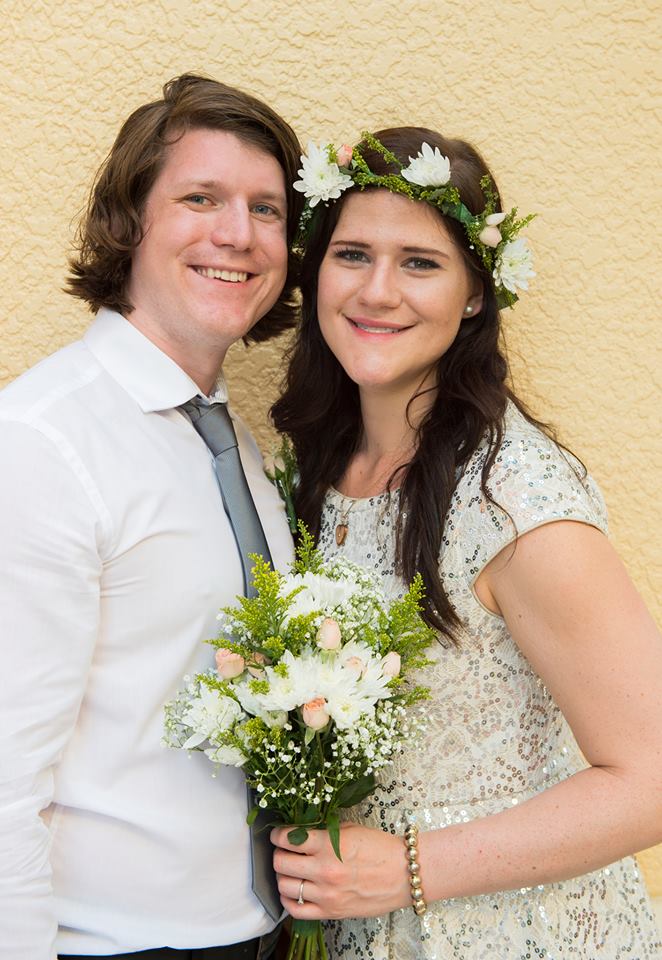 As some of you know, I love to give baby and bridal showers. I especially love to give them when they are for children of lifelong friends and family. It's my action-based BlessBack®, my thanks to those who have played a significant role in my life. I wanted to do something special for my friend, Ann.
By the way, BlessBack®: Thank Those Who Shaped Your Life is still on sale for 99 cents today through this evening when the price goes up to $1.99. Get your e-book copy on Amazon here.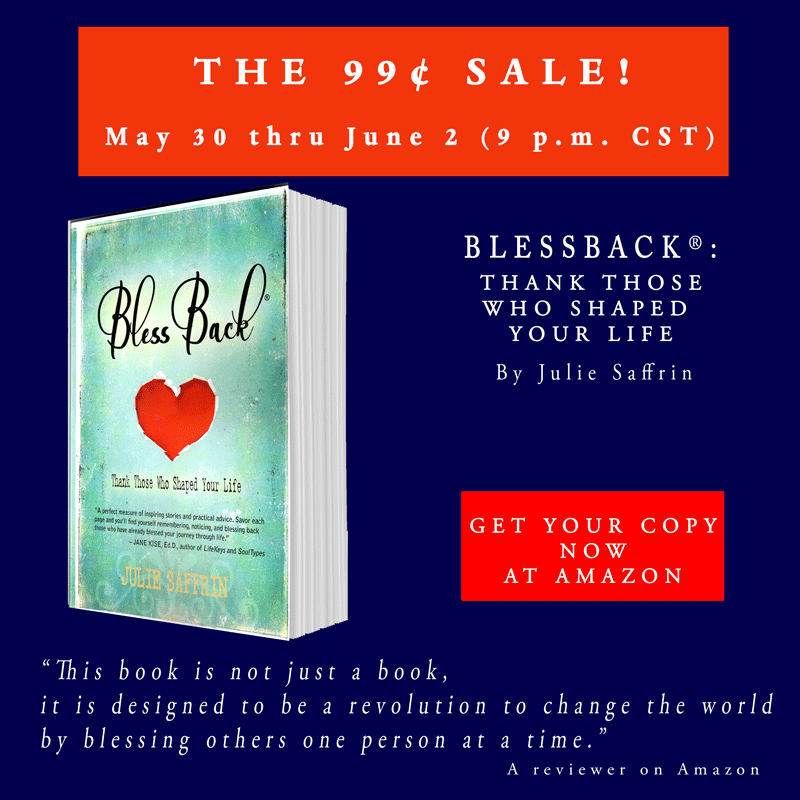 My friend's daughter became engaged to Krister – just a great, genuine, real-deal guy from Norway. (They met on Tinder while he was staying with a college friend in Miami. Madeline was in Naples at the time.) Upon my first introduction to Krister – via messaging back and forth on Facebook – I liked him immediately. His gentle manner and kindness reminded me of my Norwegian heritage. My Cornish-English father, gone to Heaven now 15 years, used to say a Norwegian saying, which he learned from my mom's mom, Alma Score (Skaaret in Norwegian) Otto. The saying went something like, "Horsten store de till." I always wondered what it meant and asked Krister about it. I, no doubt, gave him a good chuckle. He replied, "Hehe, yes! They are saying "Hvordan står det til?" It's "How are you?"
He was generous in helping me to find where my relatives came from in Østerdalen, Norway and to find the Stave church (the link takes you to the Kvikne Kirke church, which still stands, pictured below, built in 1662) in which my grandmother's grandparents raised and baptized their children and for which I've long had a photograph that begged for its backstory.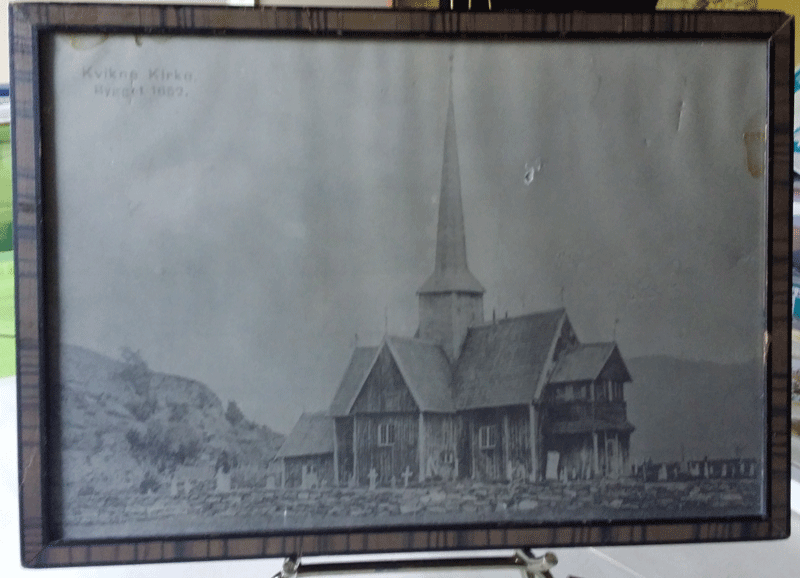 He helped me translate my Aunt Inga's Bible and to actually find online the Skaaret farm which still is a farm that people can visit. I'm not sure how many times-removed, cousin-wise, I am from my Norwegian relatives. Ironically, Krister has relatives about 70 miles from my doorstep, in Mankato. How crazy and small of a world is it, or what?
All this to say, I wanted to make this a very special shower for Madeline and Krister.
With all the hoop-jumping Krister needed to do to marry Madeline, a citizen from the United States who lives in the United States, the road to marriage was long and expensive. Their initial wedding date was delayed and because Madeline lived in Florida, I, in Minnesota, could not get her here before their wedding day.
Which, turned out to be okay, because Krister was able to experience and participate in his first bridal shower.
To host this shower, I enlisted the help of my good friend, Becky Berg, who is one of the most creative people I've ever met.  Using the Diffusion of Innovation Theory of Innovators, Early Adapters,  Early Majority, Late Majority, and Laggards, Becky is one of the 2.5 percent of those who are Innovators.
This is so important when you want to give a shower to a bride who is also among the 2.5 percent of the population who are Innovators. Madeline Farni used to work at Anthropologie. She doesn't just put together her outfits. Madeline redesigns her clothes. She's not afraid to tear a collar, shred some fabric, replace a button with lace or sew new fabric on to another, to make it her own style. Now she's married to a photographer. I think the two of them will set the world on fire.
Invitation Design
When I sent Madeline three Pinterest boards of possible bridal shower invitations, I knew I'd get back a bridal theme of something…that I'd never done before. A bohemian look. What I loved about this idea was, 1) I was presented with a challenge to step outside of the box. and 2) I had my theme with which to design a shower. I contacted etsy shop owner INVITEDbyAudriana, and within a day, she'd created an invitation.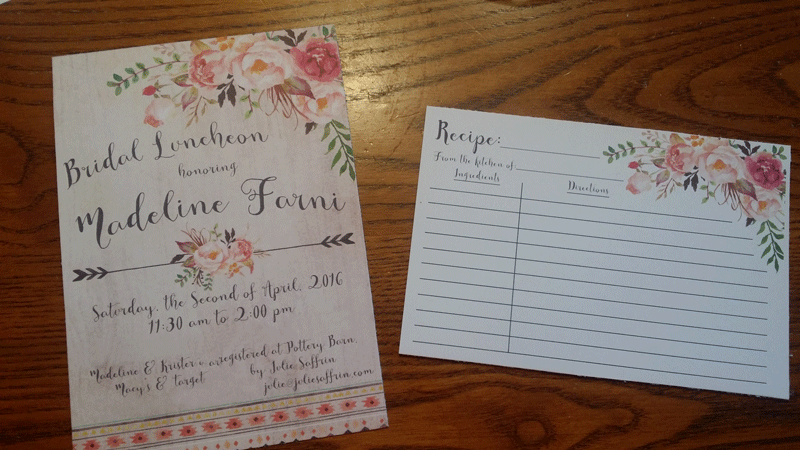 I forwarded the pdf to OfficeMax/Depot and had them print the cards on #80 copy and cut them to 5&7 size. (note: the image looks funny because I removed my personal information 🙂 Here's a link to what Audriana advertises in her Etsy shop.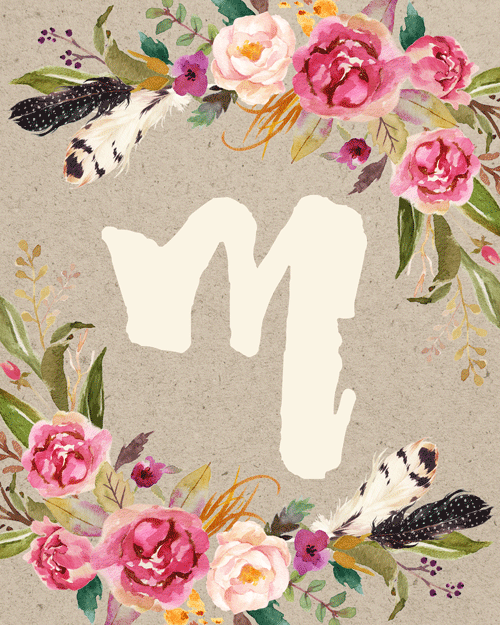 I also ordered a recipe card, "M" notecards and a "Welcome to Madeline's Shower" sign.) Office Max/Depot did a wonderful job creating a glossy sharp invitation.
Decorations
Once inside, the women were greeted by two signs. One was a welcome sign, made of a frame from a thrift store. The frame was originally gold so Becky simply distressed the frame with wild strokes of white paint then scuffed it with sandpaper and let it dry. I painted the glass with black chalkboard paint and affixed the poster Audriana had created and that I had Vistaprint make onto the chalkboard-painted glass.
The other sign was for whom we were all gathering with a sweet note in Norwegian from Krister, to his bride.

This old window is one Becky found on put-your-debris-by-the-road city curbside pickup. A little black chalkboard paint,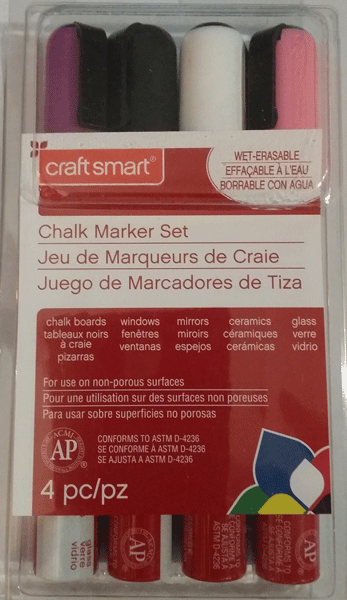 and some marvelous washable Chalk Markers I found at Target completed the task.


The bunting above was made from fabric already shaped and punched with holes. I simply added some jute string, tied some random Bohemian-style fabric strips between the linen bunting, and added gold-tipped feathers I found at Michael's. I punched a tiny hole in the quill part of the feather, then put a small metal circle through it so I could attach it to the bunting. A gold-dipped feather shows more clearly in the picture frame below. The clips on the bunting can be found here.
For the frame below, Becky and I wanted to bring Krister, Madeline's husband, into the picture. Krister, is from Bergen, Norway. I found an old Norwegian map, traced a heart around it and Becky edged it with a brown marker to frame the place (a 12-mile hike up a mountain to Trolltunga, where he screamed out, "Madeline! Will you marry me?!) Michael's sells linen scrapbook-sized. We glued it to a frame, wrapped some lace around it and I shrunk the invitation image down and printed them off on labels and used a heart-shaped punch to shape them.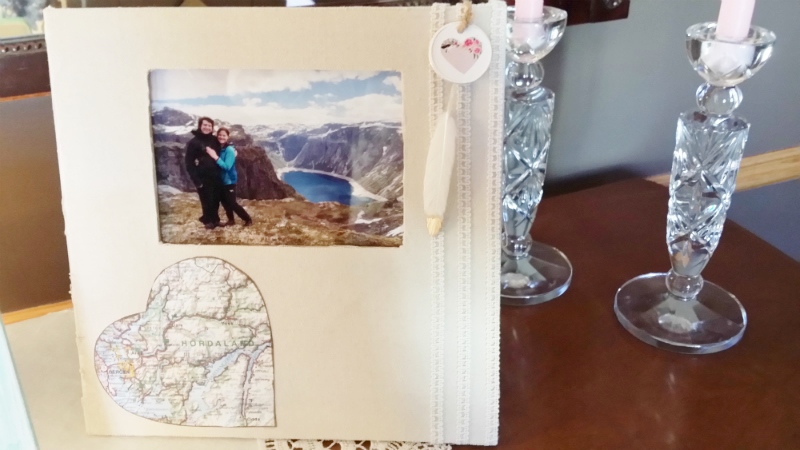 The multicolored frames are the dollar frames from Michael's.
We painted them in bright Bohemian colors and used Mod Podge to affix the lacy paper.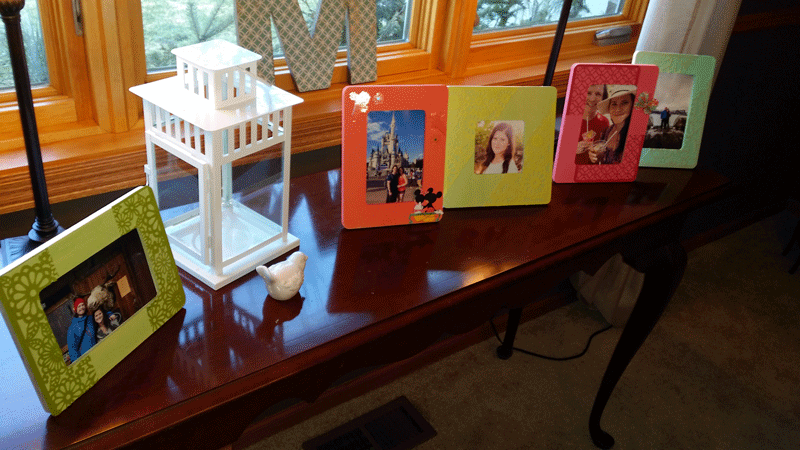 When Becky came to create decorations for the shower, she brought along a framed piece of wire. What on earth were we going to do with that?
This: (hooks were purchased in the curtain section of Ikea.)

When Becky and I had shopped weeks earlier, she made me buy a square with string on it. What did she have in mind, I asked in the store. "I don't know yet, but we'll think of something." No, I wouldn't, but she would and I'd done this enough times with her to know that she would indeed have an idea arise while in the creating process.
While she and I stood in the aisle of Michael's, another woman watched us discussing shower ideas and said she too, loved to give showers and was giving one for a family member. We all got our cellphones out to show one another pictures of previous showers. She had even had her pictures published in a Twin Cities bridal magazine. It is so fun to connect with other women to see the creative beauty they bring into existence – if only for a moment in time. Here is what Becky did with that square flat "box."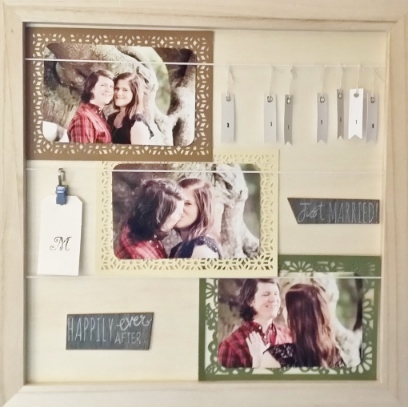 In the picture below, I found a frame at a thrift store. Becky took it outside to paint it, I thought, white and then distress it. But Becky is an Innovator and she knew we were having a Bohemian shower. The frame up close, was the coolest blend of turquoise and white and splattered colors I've ever seen.
Favors
Each woman present received for a party favor a handmade soy candle scented with lily of the valley in a cardboard container, decked out Bohemian-style.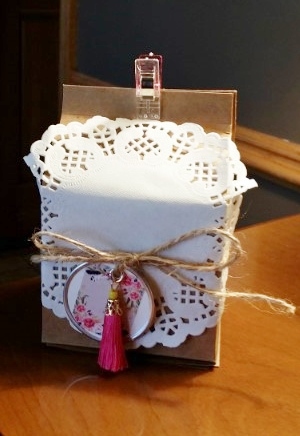 Food
The menu was all do-ahead food.
Mimosas
Chicken Pasta Salad
Mini Croissants
Miniature Caprese Salad Cups
Lemon Curd-Blueberry Yogurt Parfaits
Roast Beef and Asparagus Roll-Ups
Lefse, with butter, cinnamon-sugar and sugar
Chocolate Raspberry Bread (which my son, Sam, made)
Kransekake
Roll-Out Cookies, cut in loon and moose shapes (Recipe will be in a future blog post.)
Coffee
Mimosas
Simple, but delicious. Equal parts chilled champagne and orange juice.
Chicken Pasta Salad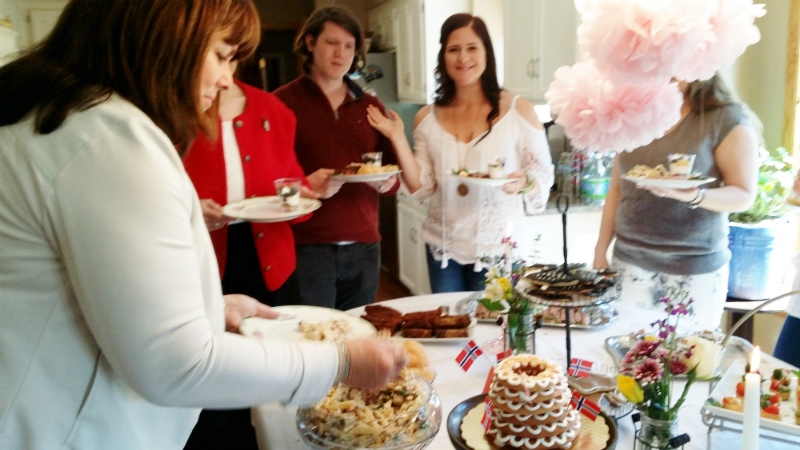 I first had this salad at a graduation party. I begged for the recipe. I have no idea whether the mom hosting the party made it up or not.
You will love this recipe for its do-ahead aspect. I doubled this recipe for the shower.
Chicken Pasta Salad Ingredients:
1 6-serving box pasta (penne or bowtie)
3/4 – 1 cup mayo (I used the light version)
1/2 bottle poppyseed dressing (I prefer Annie's or Newman's Own)
1/4 cup crumbled feta cheese (I used lowfat version)
1/2 cup Bermuda red onion (I used 1/4 cup as I think the onion can tend to overwhelm this salad)
1/4 cup toasted almonds (I doubled this amount as I love the almond flavor in this salad)
Handful of dried cherries or craisins (I love the dried cherries in this salad and use the Craisin version of dried cherries. When I double this recipe I am very generous, like, I use the whole bag)
1 cup of spinach leaves, washed, dried and chopped in big chunks
1 broasted chicken (or 2 cups) (I tend to stay away from store-bought broasted chicken, due to the high salt content, but using them really does simplify things.) I buy my chicken breasts, lay them on parchment paper on top of a jelly roll pan, brush them with olive oil and lightly salt and pepper them then bake at 350° for about 40 minutes, then cut the chicken into 1-in chunks. You can also shred the cooked chicken if you prefer.)
Cook pasta, drain, rinse. Mix mayo with the dressing then toss the remaining ingredients all together and you're good to go. Put in party crystal bowl then refrigerate until ready to serve.
Miniature Caprese Salad Cups
I purchased Siljan's Crustades (pastry cups) at a local upscale grocer in Chanhassen, Minnesota. I like them better than phyllo cups as they are smaller and their roundness seems to set up these miniature caprese cups in a prettier way. You can find them here on Amazon, but they are pricy. Try your grocer. I have heard Walmart has them, but I can't substantiate it.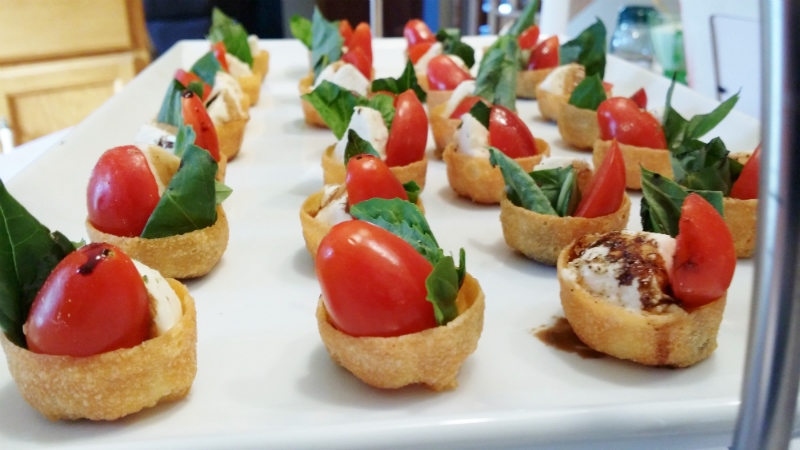 Miniature Caprese Salad Cups ingredients:
Soljan's pastry cups
Fresh basil leaves, cut into 1-inch pieces
grape tomatoes, sliced lengthwise in half
small fresh mozzarella balls, quartered
1/2 cup balsamic vinegar
1 tablespoon honey
One hour prior to serving, mix balsamic vinegar and honey together in small saucepan and bring to a boil, and simmer for 7 minutes until the mixture has the texture of syrup.
Place the cups on a cutting board (not on your serving platter as the balsamic-honey mixture will make a mess of it.)
Place basil piece, half a grape tomato and a quartered mozzarella ball into each pastry cup.
Using a small spoon, drizzle, the balsamic vinegar-honey concoction over each cup.
Place the cups on a serving tray, refrigerate until ready to serve.
Lemon Curd & Blueberry Yogurt Parfaits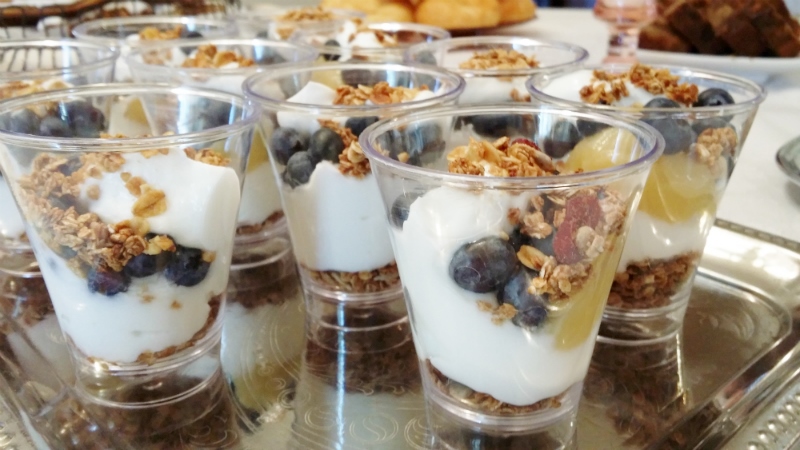 I used these plastic cups from Party City as they were just the right serving size to go along with the rest of the luncheon menu.
Lemon Curd & Blueberry Yogurt Parfait ingredients. Makes about 20.
20 5-oz. plastic glasses
A quart-sized tub of vanilla yogurt. (I used a blend of one vanilla yogurt and one of honey-flavored yogurt. The honey flavor is delicious with the lemon curd)
granola
blueberries
lemon curd
Place a tablespoon of granola on the bottom of each cup.
Place two tablespoons of yogurt onto the granola.
Place a tablespoon of blueberries onto the yogurt.
Place a dollop of lemon curd on the blueberries.
Repeat, place on serving platter, and refrigerate until ready to serve.
Roast Beef and Asparagus Roll-Ups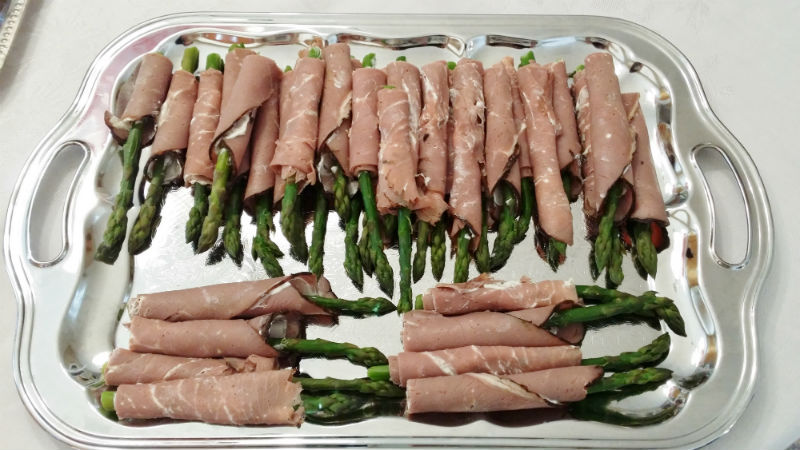 This recipe is adapted from Food.com's Asparagus Beef Roll Ups. Serves 20
Roast Beef and Asparagus Roll Up ingredients:
30 fresh asparagus, trimmed of their tough white ends
a small jar of prepared horseradish
1 8-oz tub of spreadable cream cheese (I have used both the garlic and herb version and the chive and onion blend. I prefer the chive and onion blend.)
4 tablespoons of grated Parmesan cheese, (you can substitute Gruyere, or omit the cheese completely, if desired.)
1 pound of freshly sliced roast beef (I prefer less rare for this recipe. I also try to buy Boarshead as it has less salt than some other brands. You can use prosciutto in place of the roast beef, but I find it trickier to work with.)
1. Boil water in a saucepan, place asparagus spears into the pot, and boil 2 minutes – just until the spears are a bright green, are tender, but still have a crispness to them. Do not overcook.
2. While the spears cook, fill a large bowl with ice and water. Use tongs to remove the spears from the pot and plunge into icy water to quickly cool. Remove within a minute.
3. Lay the spears on paper towels and gently wipe dry.
4. Shred the cheese and add it to the cream cheese and horseradish blend and stir all together.
5. Cut roast beef slices in half.
6. Lay roast beef on flat surface. Spread the softened cheese and horseradish blend onto the roast beef.
7. Place asparagus spear at one end of the roast beef and roll, ending with the last of the roast beef portion underneath the roll-up.
8. Repeat for all spears.
9. Place on platter and refrigerate until ready to serve.
Chocolate Raspberry Bread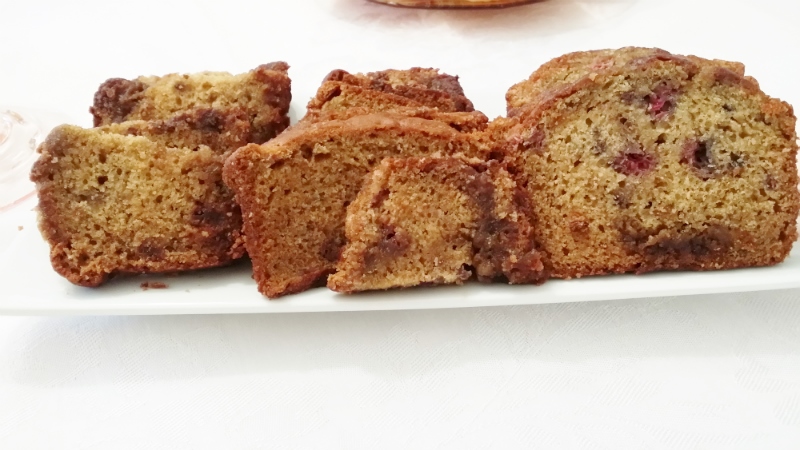 My son, Sam, is an awesome cook. He made this bread and it is delicious. It is adapted from Cooking Comically.
Chocolate Raspberry Bread ingredients
Dry ingredients
2 cups all-purpose flour
3/4 cup brown sugar
1/4 cup sugar
1 teaspoon baking soda
Wet ingredients
2 cups raspberries
3/4 cup milk
1 egg
1/4 cup butter
1 teaspoon vanilla
2 tablespoons vegetable oil
1 cup milk chocolate chips or chunks (Sam used Ghirardelli, but you could use Hershey's bar, broken up, if needed.)
Mix dry ingredients together in a bowl. In a separate bowl mix the wet ingredients together.  Make a well in the dry ingredients and pour the wet ingredients into the center of the well. Mix. Add chocolate chips. Put batter into a greased bread pan and bake at 350° for 50 minutes to one hour. Test with a toothpick in center of bread. If it comes out clean, it's done.
Kransekake
This delicious Norwegian dessert, I thought, was also traditionally served in Norway as a wedding cake. Krister corrected me. In his family, his mom makes kransekake all the time for dessert. He had not heard of this being a Norwegian Wedding Cake. Kransekake is a layered dessert. It tastes like a delectablem moist, and chewy almond cookie – in the realm in chewiness but not in taste or texture of a Coconut Macaroon. Because I don't have the proper pans to make this dessert, I ordered a small kransekake from Taste of Scandinavia in Bloomington. It was just outstanding and Krister complimented me on my kransekake – nuts, I had to admit I'd bought it. Taste of Scandinavia even included the Norwegian flags on the dessert, which Krister loved.
Lefse
What would a Norwegian do without lefse at the table? I bought the potato treats at Taste of Scandinavia and again, they was perfectly delicious. Lefse is traditionally served rolled up and each person then spreads butter on it and either sprinkles sugar on it or a cinnamon-sugar blend. It is rolled up again and eaten. Yum.
The gang. The woman second in on the right in the back row is a mom friend of Madeline's. She was Marta in the original "Sound of Music," featuring Julie Andrews and Christopher Plummer.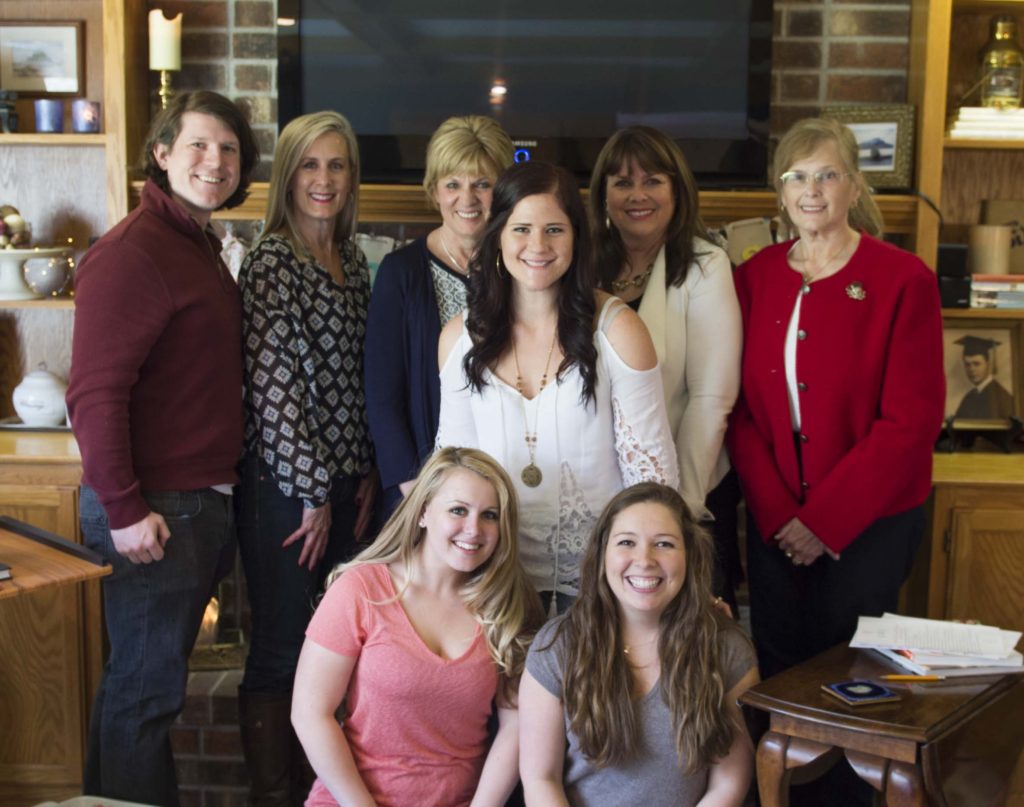 Debbie Turner did the flowers for my son, Sam, and his wife, Hallie's, wedding. They were beautiful. You can order flowers for your special occasion from her here or on her Facebook page here.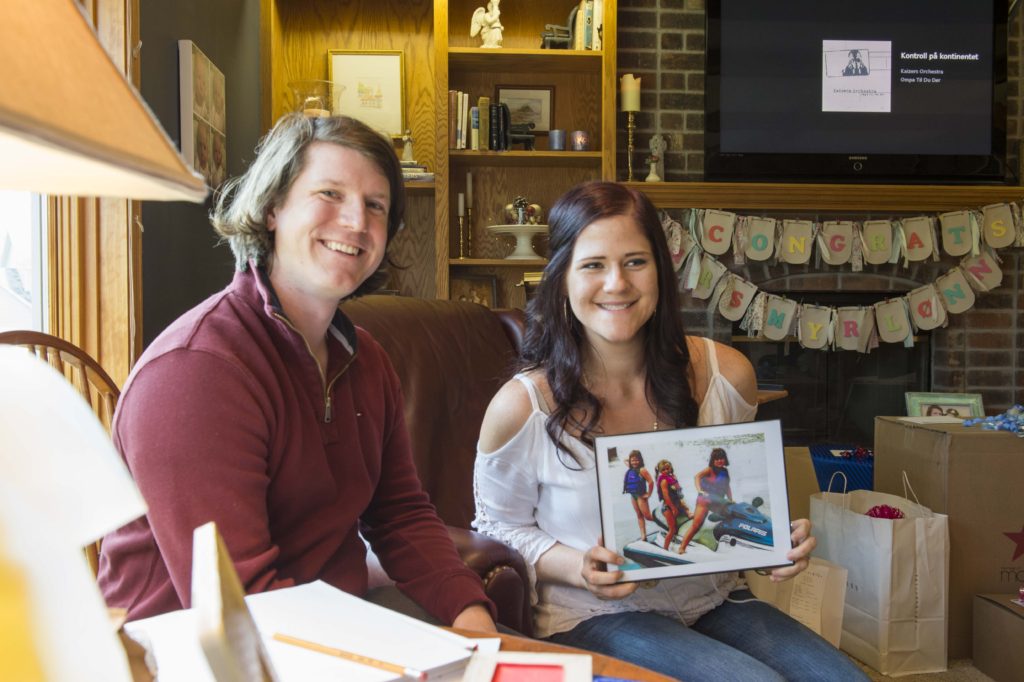 I asked Krister to name all the places they had been together since they had met. He gave me quite a list. Etsy shop owner Fussy Mussy Designs came through with a beautiful wall hanging for the newlyweds.
Roll-Out Loon and Moose cookies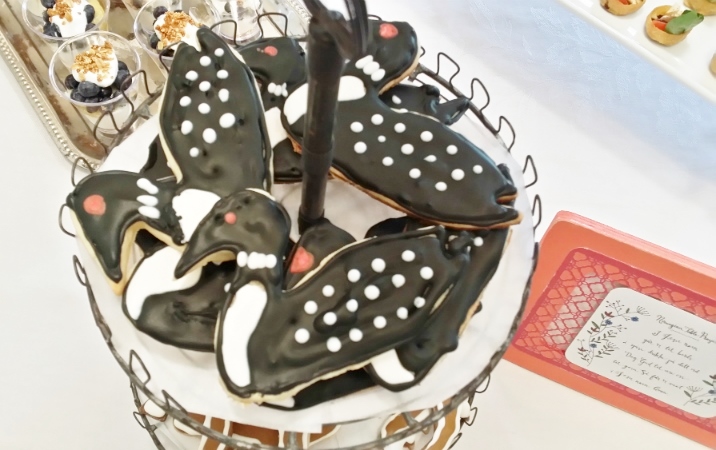 This is a very long recipe, given to me by an author friend I've met on Facebook. I will feature this recipe in my next blog post. Stay tuned!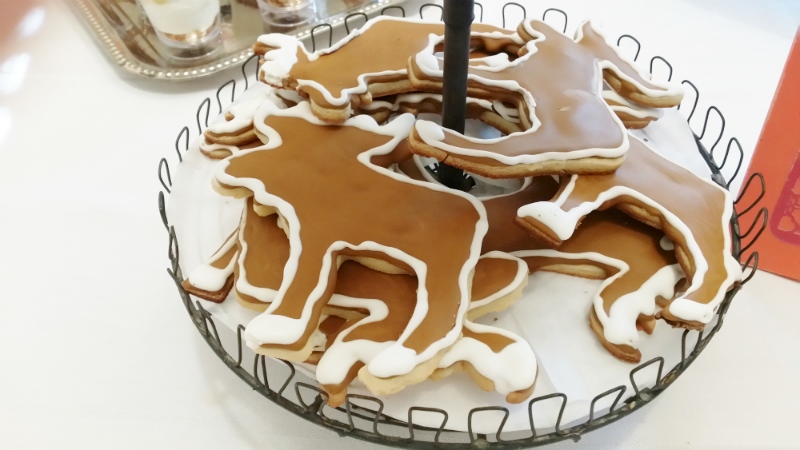 All in all, our time together at Madeline's Bohemian Norwegian Bridal Shower Extravaganza was very special. I wish the newlyweds much success as they start their new life together as husband and wife.
Julie Saffrin is the author of numerous published articles and essays. Her latest book, BlessBack: Thank Those Who Shaped Your Life, explores the power of gratitude and offers 120 creative ways to journey toward positive, lasting change.