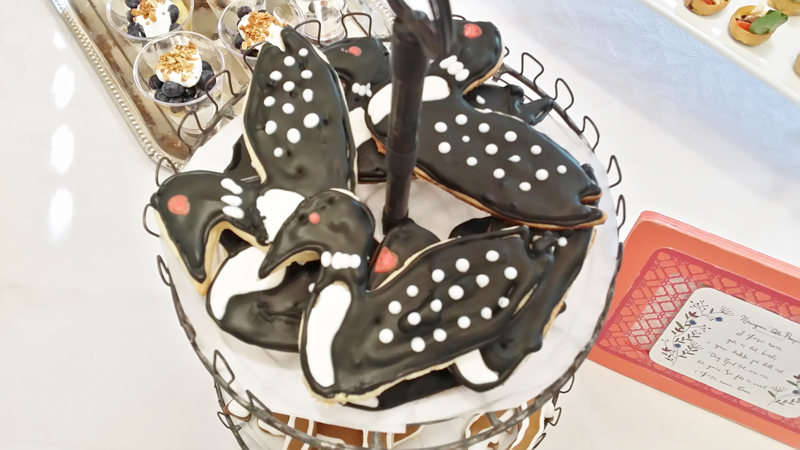 On yesterday's post, I shared recipes from my Bohemian Norwegian Bridal Shower Extravaganza. I also promised I'd share the recipe for the Loon and Moose cookies.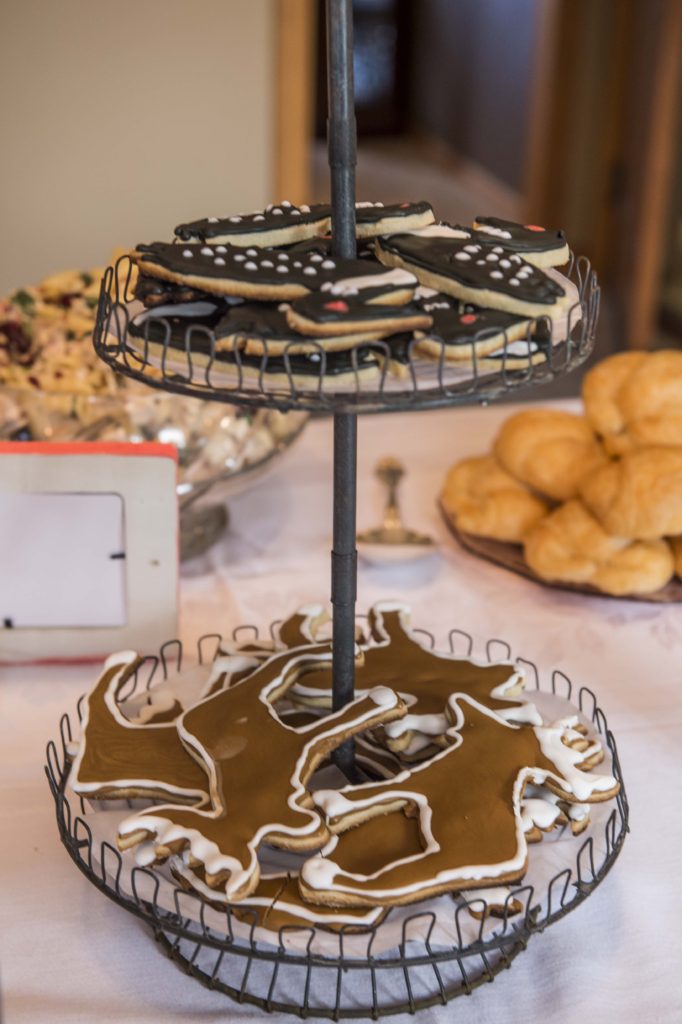 Today's post is all about how to make the Loon and Moose cookies. You can make whatever kind of cut-out you want with this dough, but I guarantee you, these amazing-tasting rolled sugar cookies will be a hit at your next event. Whatever your reason, be it a shower or summertime gathering with friends, you'll be asked for this recipe.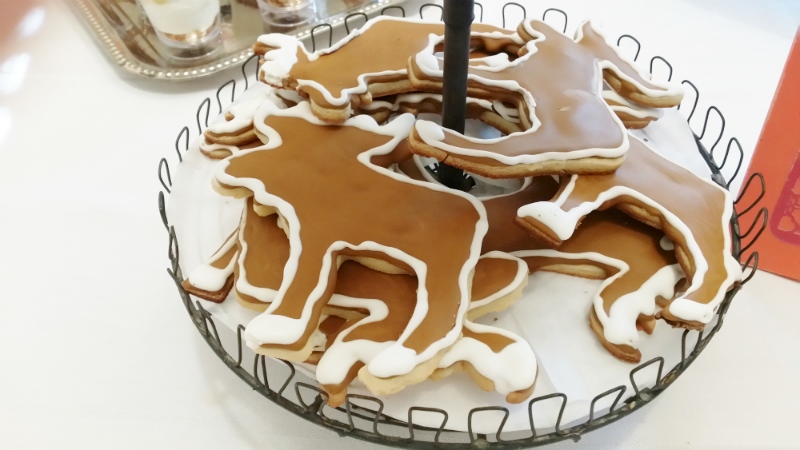 I made the loon and moose cookies because the loon is Minnesota's state bird and the moose symbolizes Norway. I had the loon cut-out. The moose I wanted was at Ikea. I drove to the Mall of America to Ikea and yup, they were out. I had to order the moose from Amazon so they could have it shipped in time for me to make them for the shower. Here's the one I ordered.
I've made these cookies for different occasions. For someone's bridal shower.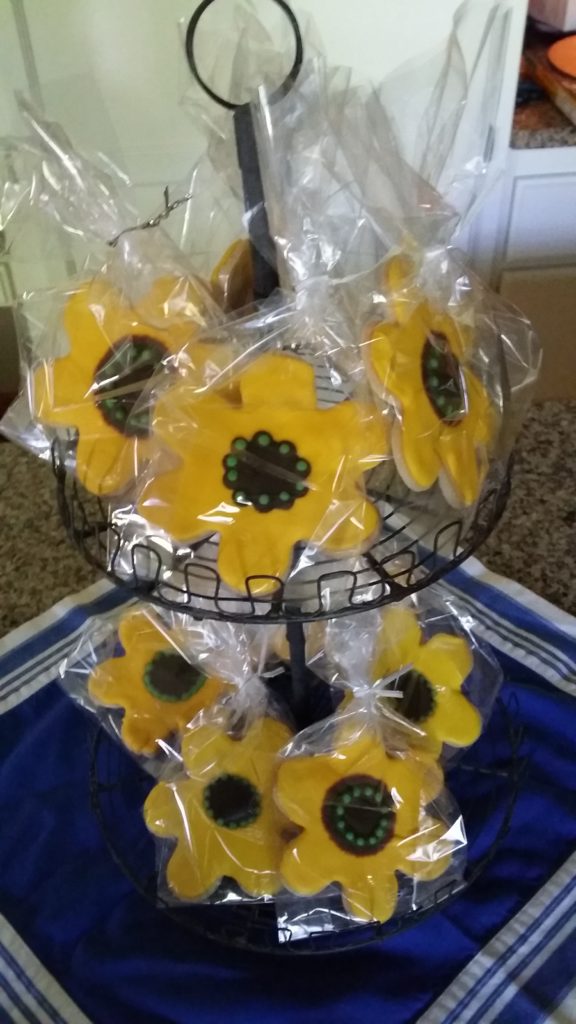 For Fourth of July: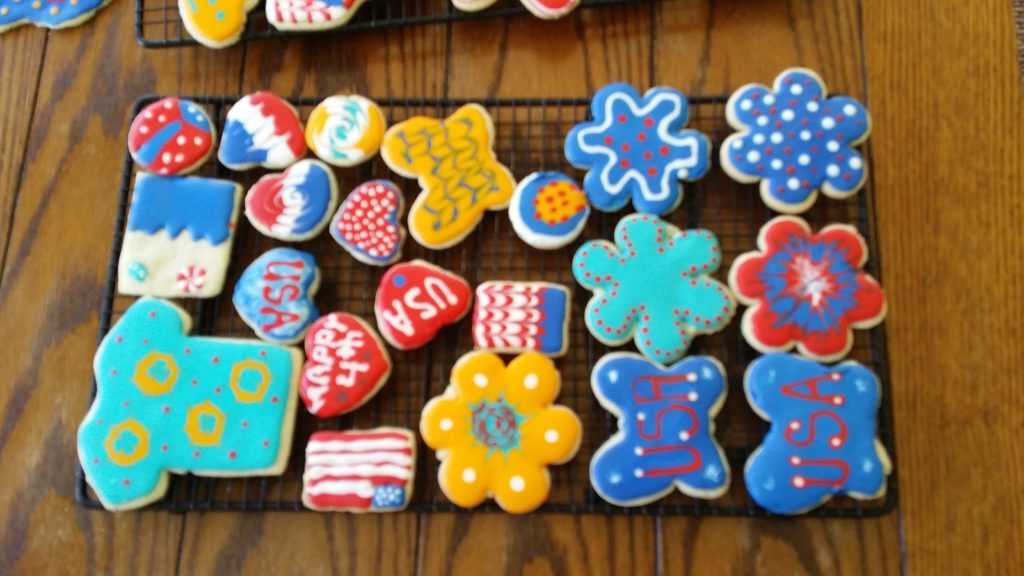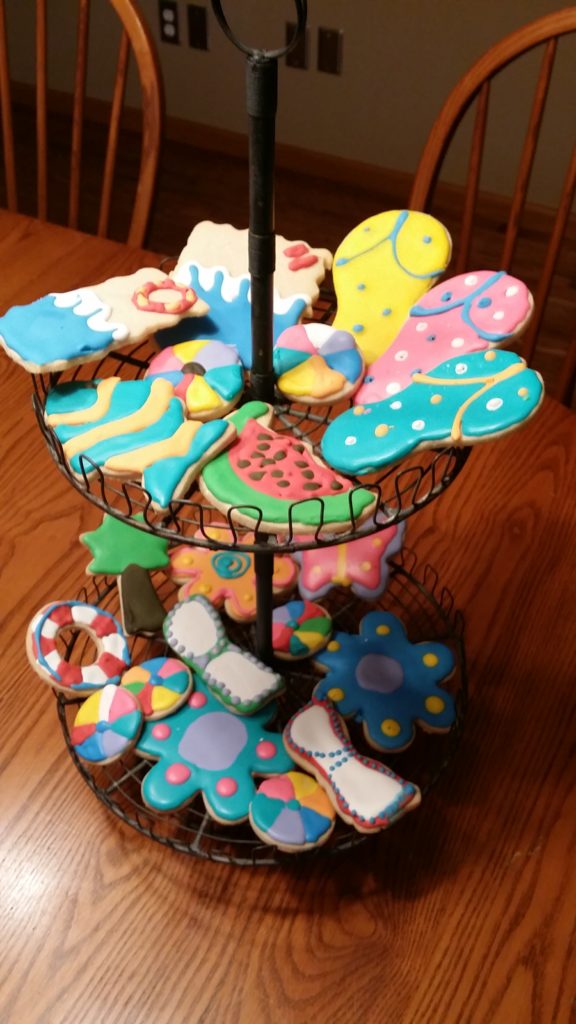 For another bridal shower, this one the bride was from Minnesota, hence the loon again; the groom is from Australia, and here's the kangaroo I used: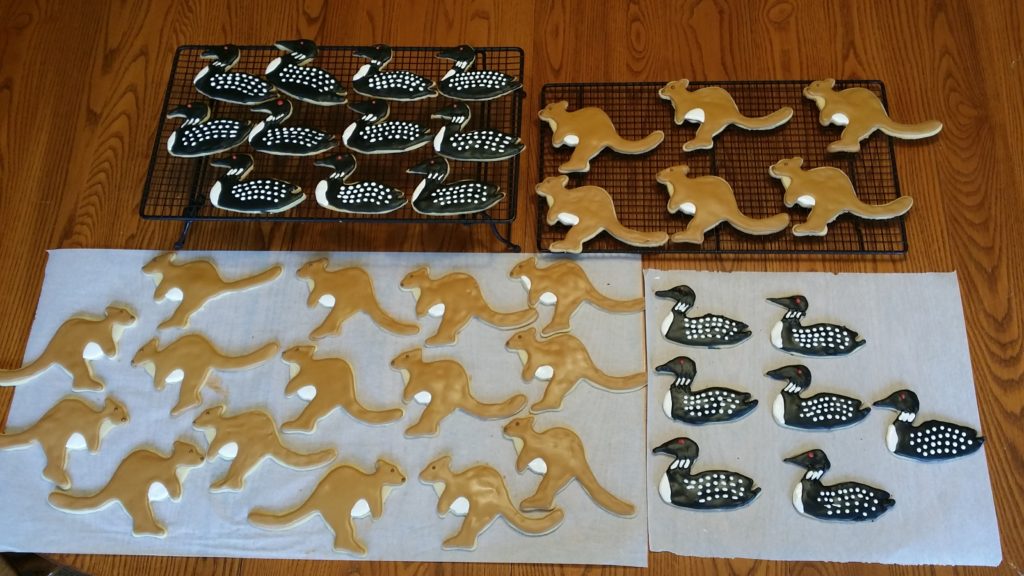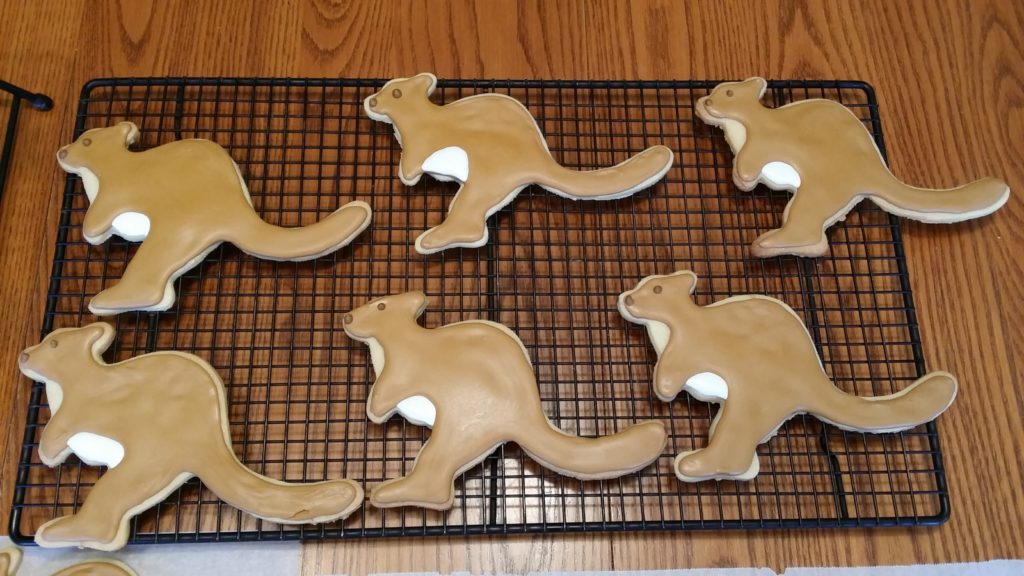 I got my cousin, Connie, in St. Joe, Indiana making them too. She made these for a baby shower.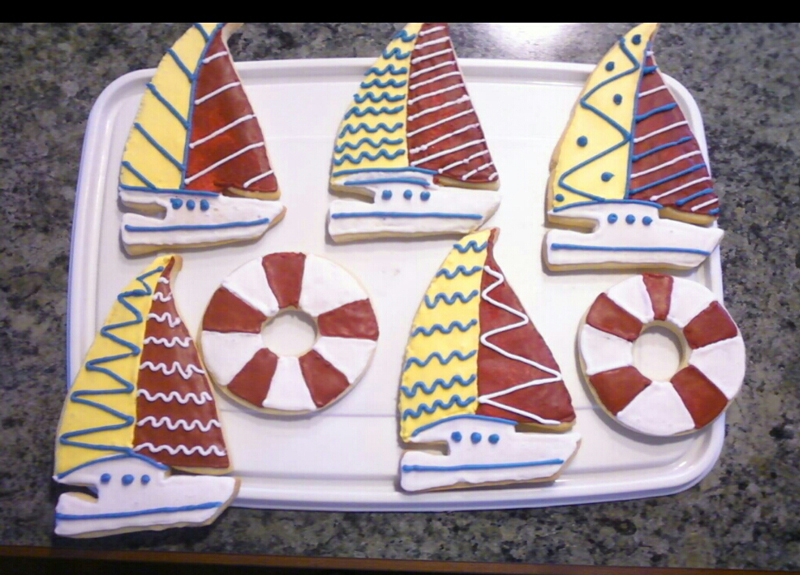 This blog post is a tribute to Janice Thompson, who shared with me her rolled sugar cookie recipe, her royal icing recipe, and gave instructions as to how to "flood" a cookie with the icing.
I met Janice Thompson on Facebook several years ago. Janice is a prolific writer who tells tales that delight and makes one mindful of the good kinds of people who exist in this world. Best of all, Janice puts out at least one new book a year so you can feel good all the time. Here's a link to her website.
In addition to her being an author, Janice, for many years, had an incredible in-home baking business. It may be that Joanna Gaines' decorating abilities, Magnolia Market, and Fixer Upper Show are the reason Waco exists.
In my book, Janice Thompson's melt-in-your-mouth cookies and cakes, as well as her decorating abilities with frosting, a bag, and a cone-shaped tip, are the reason Houston is on a map. Put Joanna and Janice in business together and you've got the reason for Texas. Here's some proof:
Janice graciously gave me permission to share her recipe with my blog friends. (In her words, "I could care less, girl; just invite them to sign up to receive my newsletter.")
Here's the link to Janice's newsletter. Make yourself happy and entertained. Just do it. (Her wacky facts about herself are worth it alone.)
Here's Janice's recipe, pretty much verbatim as to how I received it from her:
Janice Thompson's Rolled Sugar Recipe.
1 cup real butter, softened
1 extra large egg (yes, make the "extra" trip to get them. Take my word for it, the cookies will not turn out as well if you don't.)
1 cup powdered sugar
½ cup granulated sugar
1 teaspoon real vanilla extract
½ teaspoon almond extract
3 cups flour
1 teaspoon baking powder
dash of salt (this will depend on whether you use salted or unsalted butter)
Mix the butter, egg, powdered sugar, granulated sugar, vanilla extract, and almond extract together and set aside.
In a separate bowl, whisk together the flour, baking powder and salt.
Add the flour-baking powder-salt mixture slowly into the butter-sugar mixture.
Scoop up the dough and put in a gallon-sized baggie to chill for at least an hour. If you're in a hurry, just put it into the freezer for about 15 minutes.
While you're waiting, you can make the royal icing. As Janice tells it, "It's a pain to make!"
Once the dough has chilled, remove from the refrigerator and roll out the dough.
Preheat the oven to 375°. Bake the rolled-out and cookie-cut dough for 10-12 minutes.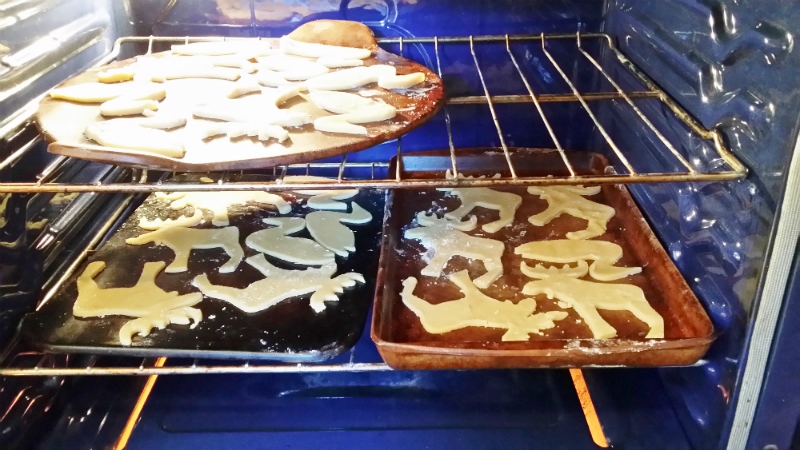 Cool cookies on racks being careful not to break the cookies. Wait until they've cooled to frost with the royal icing.
Janice's Royal Icing
Ingredients:
4-1/2 tablespoons of meringue powder (I have found this at my local grocer. William-Sonoma sells one; so does Amazon.)
1 teaspoon cream of tartar
1 teaspoon vanilla extract
1/2 teaspoon almond extract
1/2 cup plus two tablespoons water (According to Janice, if you like a lemon-flavored cookie, you can substitute 1/4 cup water with real lemon juice. If you do that, omit the almond extract. Note: I have not tried this.)
1 bag of powdered sugar (about 7-8 cups total. Don't worry about measuring your bag. Just make sure there are no lumps. Janice often sifts hers in advance to make sure there are no lumps. I confess I've never done so.)
Mix everything but the powdered sugar together until frothy (about a minute).
Add the full bag of powdered sugar. Blend the powdered sugar (carefully) into the wet ingredients then mix non-stop on low for TEN minutes. NO longer because it gets too foamy. You'll see soft peaks, like a meringue.
When it's done make sure it stays covered because it dries out almost immediately.
You'll need to divide the royal icing in half and make two separate consistencies:
One for piping (the consistency of toothpaste)
The other for flooding the cookies (about the consistency of poured honey). Janice uses piping bags to pipe (with a #2 tip) and plastic bottles for the flood icing. (I just use pastry bags.) You can divide it into separate bowls to add your colors after you get your consistencies right.
"Like I said," Janice told me, "it's complicated…but if I can do it, anyone can!"
As for the icing process (and flooding) Janice recommends, as do I, to go to YouTube to learn how to work with the icing and how to flood a cookie. "You can learn so much," Janice wrote. "Literally, everything I've learned, I've learned from YouTube videos!"
Here are a couple images as to how I decorated cookies, in process.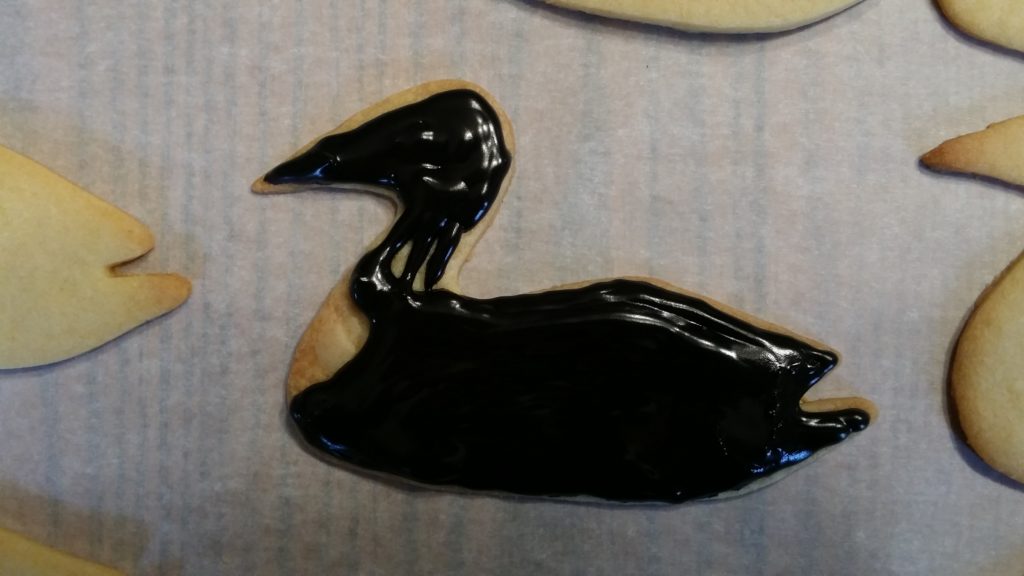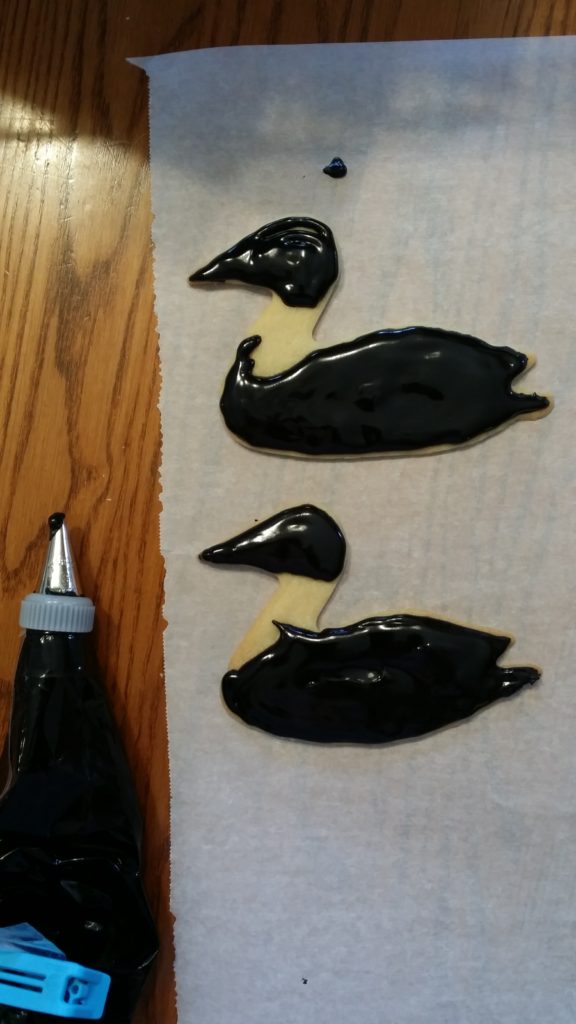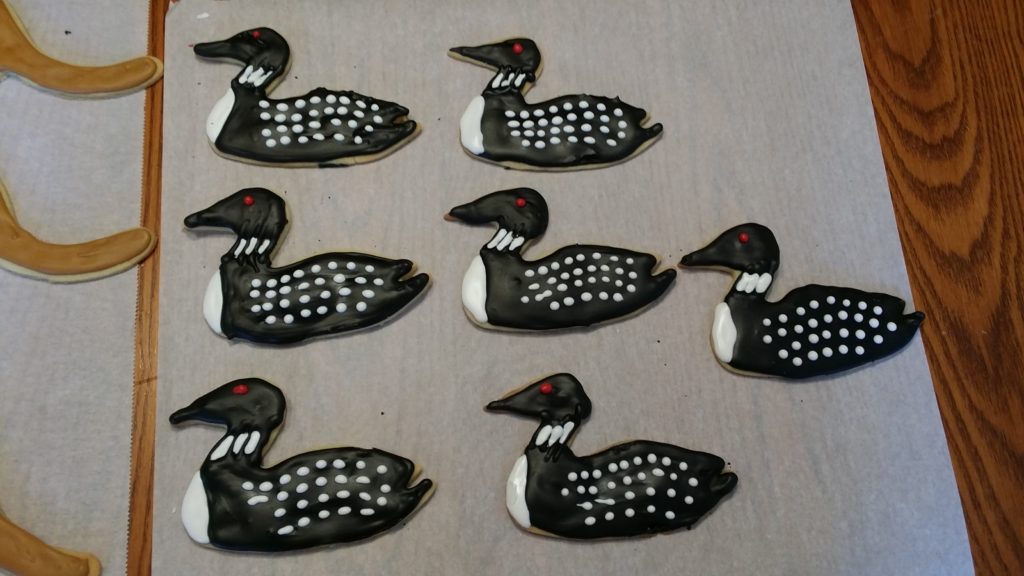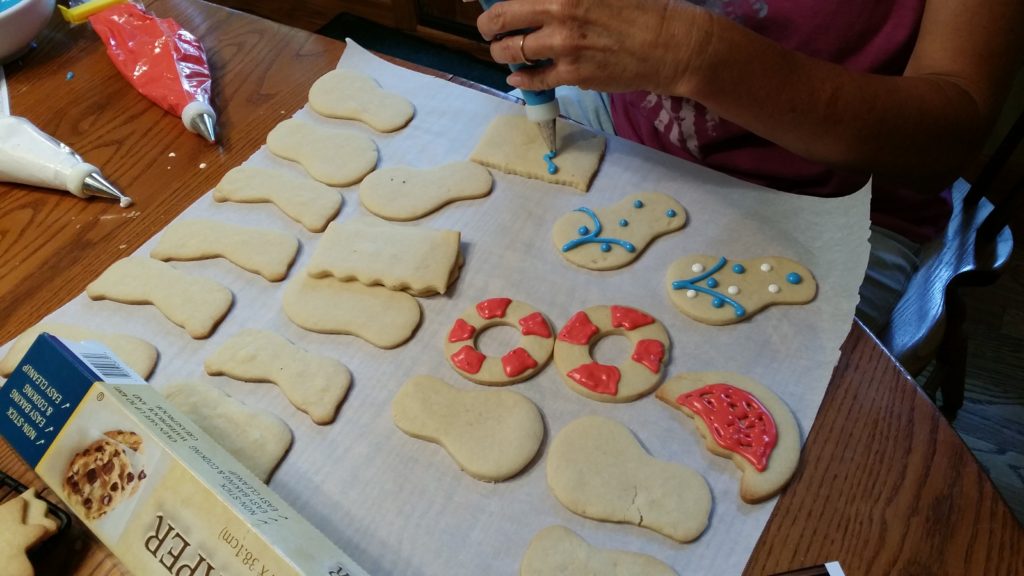 I highly recommend watching some videos as to how to "flood" a cookie, as it is tricky. Also, do let the cookies, once frosted, set up before you place them in an airtight container in between layers of tin foil or wax paper. These cookies freeze well.
Here's the video to flood a cookie Janice recommends. https://www.youtube.com/watch?v=M9Tru7c32i0
Happy cookie baking and thanks, Janice, for sharing your recipe with us.
Julie Saffrin is the author of numerous published articles and essays. Her latest book, BlessBack: Thank Those Who Shaped Your Life, explores the power of gratitude and offers 120 creative ways to journey toward positive, lasting change.