Description
As you nestle around a fire, pick up a pen and these Winter Wonderland postcards and send a note to someone.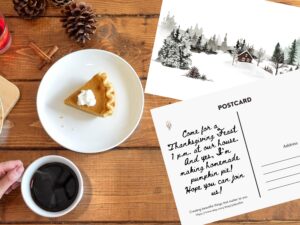 Write to your favorite person, friend, parent, grandchild, aunt or uncle. Use them as a quick keeping-in-touch card, a thinking-of you-card, a get-well card, a miss-you card, an invitation, a note to penpals – even as a birthday card. Makes a great gift for young children learning to write – to practice the art of writing, sending, and receiving posts in the mail.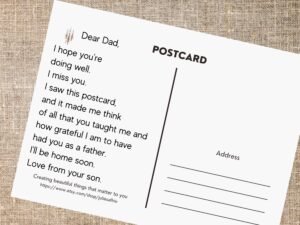 These 10 tranquil postcards  were created with both the sender and recipient in mind – they're perfect for gift-giving, or hostess-giving – even as a stocking stuffer.
Each postcard measure 6″ wide by 4″ tall an d use postcard stamps (but yes, you can put a first-class stamp on them.).
There are two options from which to choose:
Winter Wonderland Postcards With Animals
Winter Wonderland Postcards Without Animals
You will receive a set of 10 Postcards enclosed in a cellophane wrapper and mailed in a sturdy cardboard mailing envelope.