Description
This whimsical 15 oz. French Coffee Mug is perfect for those who love iconic Paris images. It's perfect for those who love French macarons, the Eiffel Tower, Notre Dame, the Louvre, Chanel, croissants, pain au chocolate, crepes, French cafes, French wine, Versailles, and other symbols we associate with France. Whether you've been to France or not, you'll love this French Mug.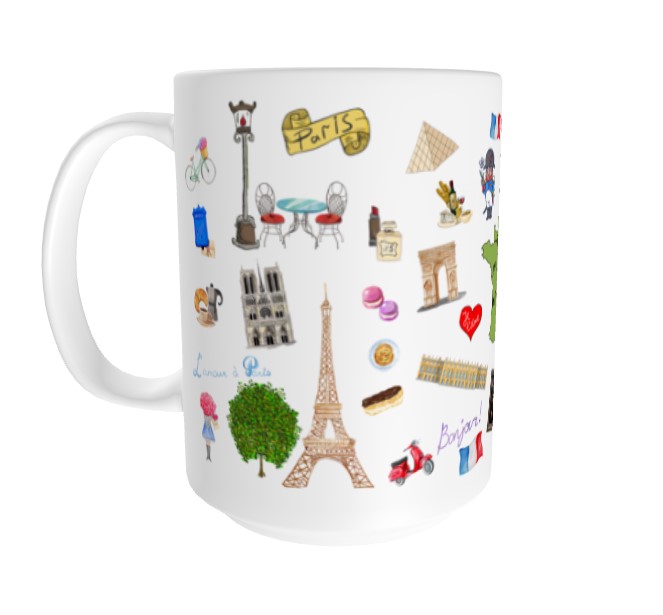 The outside of the mug is glossy and will protect your images from the microwave and dishwasher.
Here are the details for this 15 oz. mg. If you are looking for a smaller mug, please see the listing for the 11 oz. mug.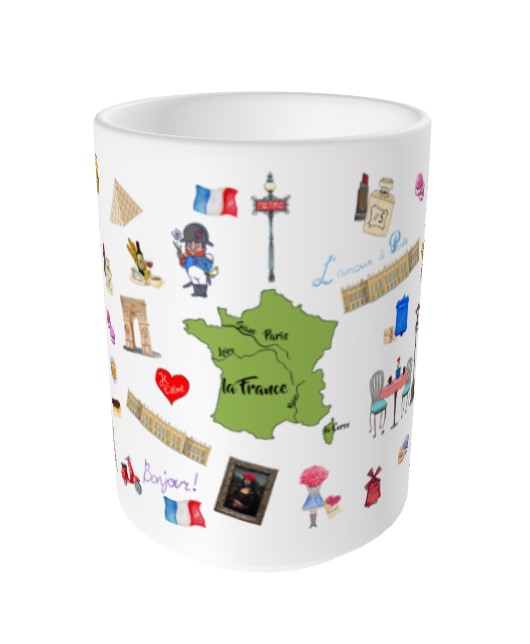 • Ceramic
• 15 oz mug dimensions: 4.7″ (12 cm) in height, 3.35″ (8.5 cm) in diameter)
• Dishwasher and microwave safe
Also, please note that this is a print-on-demand item and therefore cannot be exchanged, returned, or refunded. If there is something wrong with the mug when you receive it though, please do let me know, and i will work to remedy the situation.
Please allow time for shipping delays. Lsat day to order this is Dec. 8th to arrive by Dec. 22nd.
Merci Beaucoup.