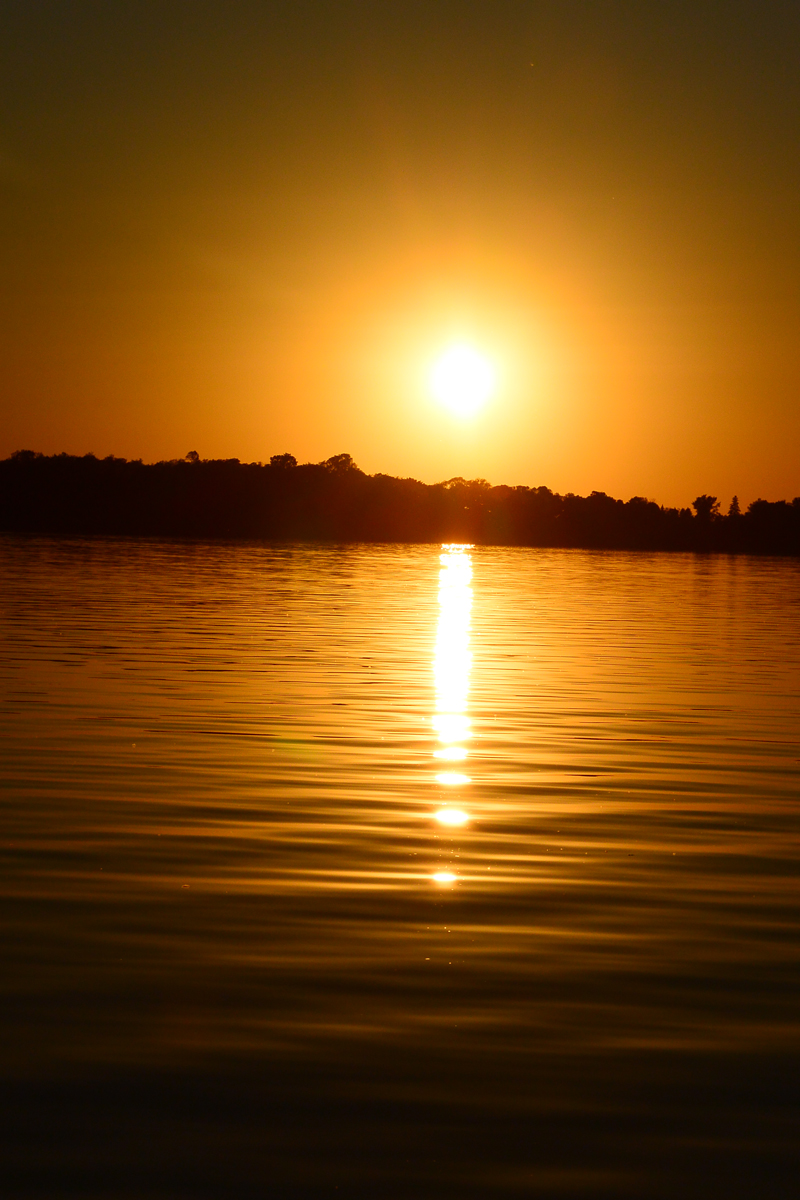 2016 marks the tenth year we have owned our cabin on Dead Lake in Ottertail County, Minnesota.
When we first bought the place, our three sons, Sam, Joe, and Jake, joked that the reason the lake was called Dead was "because there were no girls on it."
I, too, was surprised the first time we circled the lake. With the exception of a handful of resorts, very little noise or activity was to be seen or heard. Notta one ice cream shop or restaurant to motor up to on this 7,500-acre lake was to be found.
The lake, it turns out, is an environmental one. Which means to a social person like me who doesn't fish, that if I wanted a place on the lake to enjoy a meal on the water, I would have to create such a place.
A couple years into owning our lake place, Sam suggested we buy a pontoon. We found a 22-footer in nearby Alexandria and trailered it home.
Owning a pontoon has made a huge difference in how I experience lake life, both as a writer and in the summertime, how we entertain. I think my family feels the same way. The pontoon is our floating entertainment center.
As a writer, I have been known to bring my notebook, journal or laptop to the pontoon during the day, set the bimini top up and curl myself in a shaded corner to write.
In the evenings, whether we have friends or family up, or invite lake neighbors over, the pontoon most always beckons to be invited. The pontoon gives me the best of best worlds: Being with the important people in my life and being on the water. And those aboard get to enjoy nature's display in peace and quiet while we have our sunset dinner cruise.
And I have truly come to appreciate life on an environmental lake. It is, actually, amazing. Take for instance, these past couple of days.
We invited friends Doug and Mary Martin, and Tim and Terry Sullivan, over for a dinner cruise.
Mary brought her famous salad and Terry made a perfect apple pie. I made a simple appetizer, Miniature Caprese Salad cups, Roast beef asparagus roll-ups, and the main course, Chicken bundles and potato bundles. Both recipes were given to me by friend and fellow dinner cruiser, Peggy Hamann.
Here is the recipe for
Peggy's Chicken for Pontoon Dinner Cruisin'
4 chicken breasts
4 Tablespoons oil
4 tablespoons soy sauce
2 tablespoons lemon juice
1 tablespoons brown sugar
2 cloves of garlic, minced
1 teaspoon dried basil
dash of pepper
Wash chicken and pat dry. Marinate in sauce for 4 hours. Cut double-layer of foil, sized for each chicken breast. Set chicken onto foil sheets, spoon a little of the marinate on top and wrap tightly. Grill 6-7 minutes per side. You can also bake the chicken in the oven at 350° for 35 minutes (which is what I did.) Serve with potatoes.
Potato Bundles
I used two packages of potato fingers, but you could easily buy regular potatoes.
4 potatoes, or the equivalent if using potato fingers.
Butter
Salt and pepper
1 garlic clove, minced, spread amongst 4 potatoes
Aluminum foil
Tear foil square for each potato. Chop potatoes into cubes and set on each foil. Place tablespoon of butter, cut into four little squares, onto each foil sheet of potatoes. dust each potatoes with a smidgen of garlic. Sprinkle with salt and pepper. Secure the foil around the potato mixture and place in 400° oven and bake for 50 minutes. Serve hot.
I cooked the chicken separately. I placed the chicken on parchment paper and onto a jelly roll pan and baked them at 350° for 35 minutes. I then warmed them for 15 minutes alongside the potatoes while they cooked.
To keep them warm, I used a Pampered Chef insulated zippered canvas container-bag.
Mary Martin served her scrumptious salad. Here's her recipe, verbatim 🙂 Thanks, Mary, for sharing!
Mary Martin's Salad
I use several different type of baby lettuces (red & green makes it pretty) including spinach and romaine to give it body as too much soft lettuce will cause it to be soggy.
Depending on the season I add the following ingredients:
Spring/Summer sliced or chopped strawberries, feta chunks not crumbled as that gets lost in the salad, minced red onion, scallions and caramelized pecans or almonds.
Fall/Winter sliced or diced seasonal apples (I like honey crisp or granny smith) and dried cranberries or dried cherries with red onion, feta chunks and caramelized nuts.
I chop everything ahead of time and keep it in separate containers. I usually mix in the strawberries or apples and 2 onions and then dress the salad with Brianna's Blush Wine Vinegarette. In order to keep the salad from getting overdressed I pour the dressing on the sides of a large salad bowl and then use salad tongs to gently toss until the lettuce is lightly coated. I top it with chunks of feta and nuts and serve right away.
I did not get a chance to get Terry's delicious apple pie recipe before I left town, but I can share my mother-in-law's Apple Pie Recipe, which is just as delicious.
Gert Saffrin's Apple Pie recipe
Ingredients for Pie Filling
five tart apples
1 cup sugar – ¾ sugar
2 T flour
½ t. cinnamon 1 tsp.
¼ t. salt
sprinkle lemon on apples
butter
Bake at 400° 50 to 60 minutes
Ingredients for Fabulous Pie Crust
Makes 1 crust
1 cup flour
1/4 teaspoon salt
1/4 cup butter cut in tablespoon-sized chunks
3 tablespoons of cold water
In food processor bowl, combine flour, salt, and butter. Cover and whirl until the ingredients resemble coarse crumbs. While the processor whirls, toss the cold water in all at once and continue to process until the mixture forms a ball. Put crust on flour-dusted board. Roll crust out and then place in pie tin. Makes 1 crust. Double for Apple Pie. Doubles easily.
After we ate, we simply enjoyed enjoyed each other's company and in nature, what God had to show us.
Two nights later, we took my brother, Mark, and his wife, Jenny, on a twilight cruise.
Again God and his creations did not disappoint. These are untouched photos I took of one night on the lake.
If you have any recipes that you've tried on your boat or camping that would work well for a dinner cruise, I'd love for you to share them in the comments section.
Hope you are having a glorious summer, and that you too, take time for moments with friends and family.
Here's the video of the loon parents – nervously asking us to move – which we did.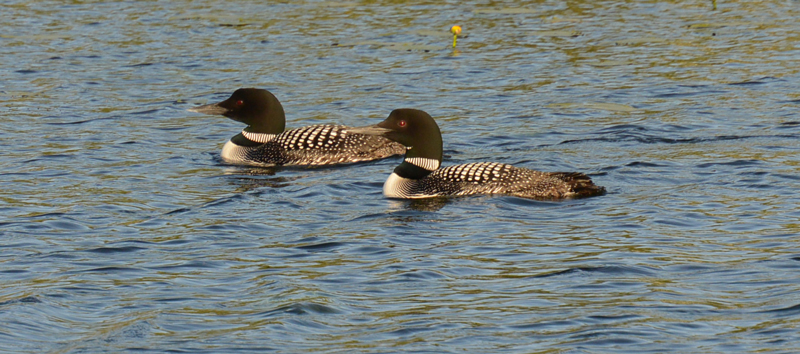 These days, you can find me in the following places online:
Julie Saffrin's Social Media Links
Website: https://juliesaffrin.com
Facebook: http://facebook.com.JulieSaffrinAuthor
Bloglovin: www.bloglovin.com/blogs/julie-saffrin-13965849
Instagram: http://www.Instagram.com/JulieSaffrin
Pinterest: http://www.pinterest.com/gadhill/
Twitter: @gadhill   http://www.twitter.com/gadhill
BlessBack®: Thank Those Who Shaped Your Life http://www.amazon.com/dp/B008F0CJQ0
Kissing the Shoreline:  http://www.amazon.com/dp/B00NEV11R4
21 Days of Joy: Stories that Celebrate Mom https://www.amazon.com/21-Days-Joy-Celebrate-Devotional-ebook/dp/B01CXEQQ2G
Author page on Amazon:
http://www.amazon.com/author/juliesaffrin
Flipboard.com/saffri2014
LinkedIn: http://www.linkedin.com/juliesaffrin
Julie Saffrin is the author of numerous published articles and essays. Her latest book, BlessBack: Thank Those Who Shaped Your Life, explores the power of gratitude and offers 120 creative ways to journey toward positive, lasting change.